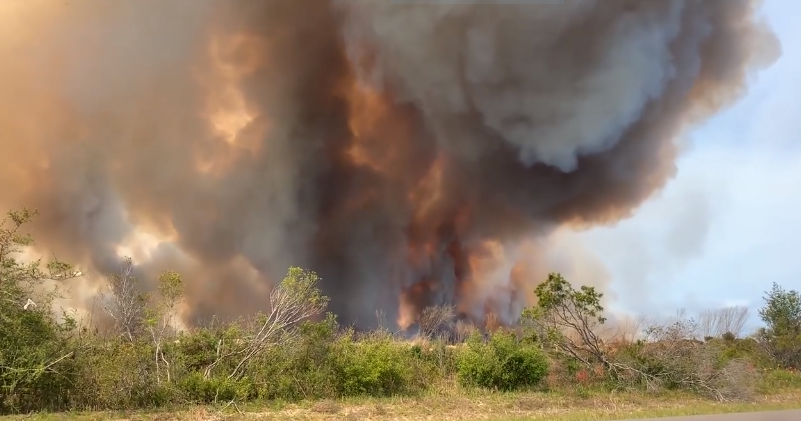 Fried wants more resources for the Panhandle.
The impact of Hurricane Michael, now officially recognized as a Cat 5 storm, was devastating for Florida's Panhandle.
Over $25 billion in damages have been incurred. And even with a new season of storms brewing, Michael's price tag is not finalized.
More devastation looms for the storm-stricken region in the form of potential wildfires of an unprecedented scale.
"Seeing this first hand, there are no words," said Agriculture Secretary Nikki Fried in a video release from her department highlighting risks ahead.
#HurricaneMichael made landfall in North Florida as a Category 5 storm, one of the most powerful to ever strike North America.

6 months later, Panhandle communities still wait for help that hasn't arrived — and time is running out.

Watch our new mini-documentary. pic.twitter.com/QSQXaxgWf4

— Commissioner Nikki Fried (@NikkiFriedFL) April 22, 2019
"America's Forgotten Disaster," according to the accompanying media release, "documents Commissioner Fried's tours of Panhandle communities devastated by Hurricane Michael, features visually powerful reminders of the damage to forests and timber farms and the looming threat of wildfire, and includes reactions from state legislators who participated in the visits."

Indeed, the storm-swept forests, bereft of leaves, look like so much kindling. "Clearing these lands of fallen timber as soon as possible must be a high priority," Fried says in the video.
The video is timely, released on the same day when Gov. Ron DeSantis appealed to President Donald Trump for more federal aid.
"I am officially requesting an increase in federal funding for Hurricane Michael recovery from 75 to 90 percent," DeSantis said. "Since my first full day in office when I visited Northwest Florida, it was clear that the efforts to rebuild and recover were far from over.
"An increase in the federal share will help Northwest Florida tremendously and I thank President Trump for his previous commitment to fully fund the first 45 days of recovery from this storm. I look forward to continuing to work with the President to ensure Northwest Florida completely recovers," he added.
Florida Emergency Management Director Jared Moskowitz noted that the requested allocation upgrade "will provide critical savings to Panhandle communities during their recovery."
CFO Jimmy Patronis added that "this increased funding would make a major difference in recovery … every dollar will help this area get back to some level of normalcy before the next storm hits." 
Indeed, the communities need all the help they can get.
As the Washington Post reported this month, housing shortages are such that locals compete with construction workers for units, and that the losers of those resource battles live in structures unfit for human habitation.