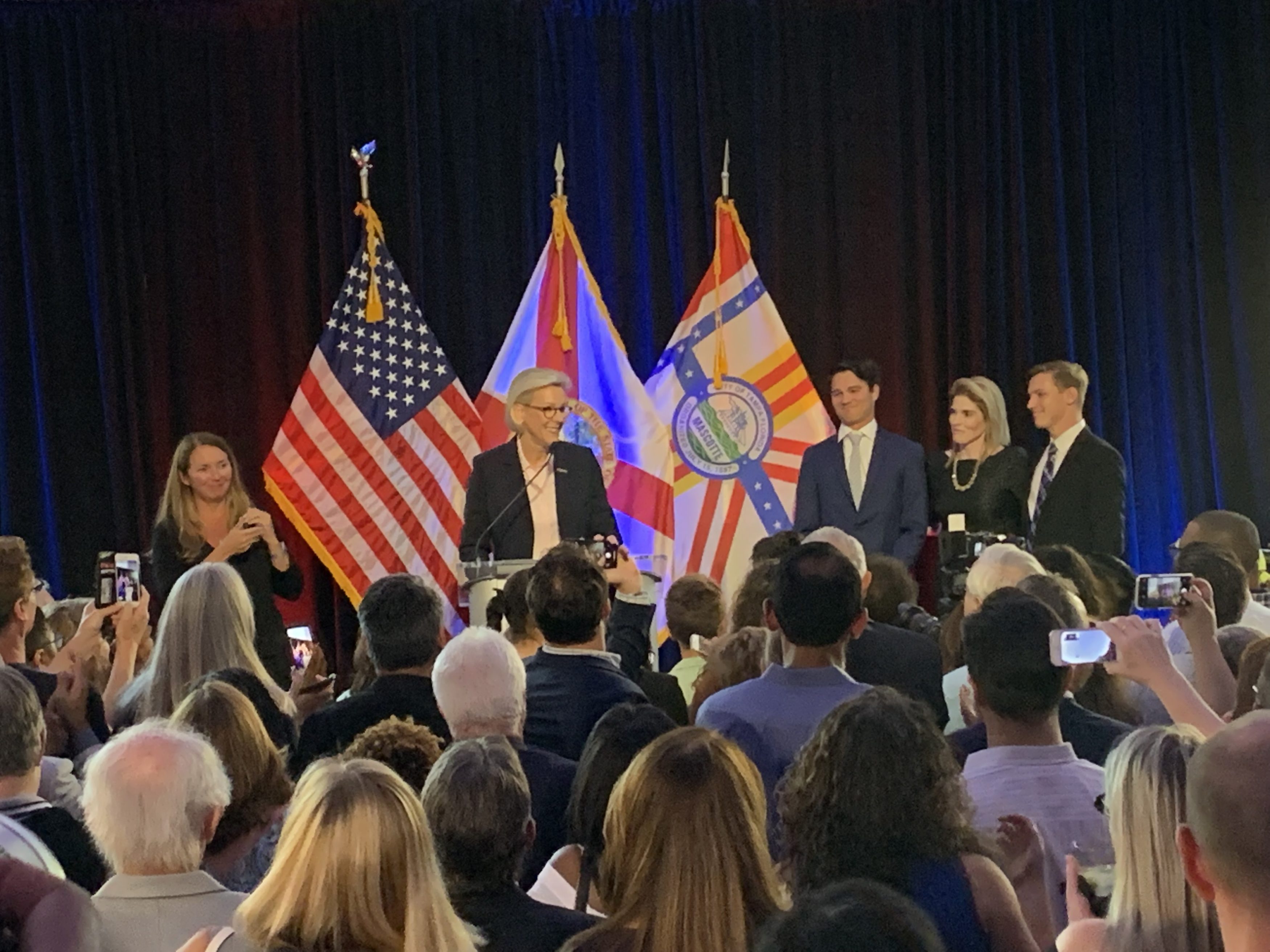 Castor's victory is not a surprise.
Former Tampa Chief of Police Jane Castor will become the city's next Mayor after trouncing her opponent, David Straz, 73 percent to 27  percent in the runoff election Tuesday.
Castor's victory is not a surprise. She entered Tuesday's election with a commanding lead. One poll put her 36 points ahead while another put her at a 23 point advantage. Castor made the runoff 33 points ahead of Straz.
Castor's victory was almost immediately apparent when results from vote by mail ballots dropped shortly after polls closed. With only those results, Castor led 74 percent.
Castor's victor serves as a referendum on heavy spending and intense negativity that marked the last six weeks of the race to succeed Mayor Bob Buckhorn.
"It sounds a resounding message to the nation — that Tampa celebrates its diversity and lifts everyone up," Castor said.
Straz, a retired banker who made his millions in the banking industry, spent about $5 million of his own money in the race. Much of that money paid for a spate of digital, television and print ads attacking Castor over her track record as Tampa's top cop and criticizing her for accepting campaign donations from a host of deep-pocketed special interests including about $200,000 from entities affiliated with Tampa Bay Lightning owner Jeff Vinik, who is behind the Water Street Tampa development under construction in downtown.
Straz's strategy not only didn't work, it failed miserably. He focused most of his campaign efforts trying to paint Castor as an untrustworthy politician entrenched in Tampa's "good old boy" network.
He launched attack after attack claiming Castor had intentionally deflated crime data to make it look like crime rates in the city were lower than they actually were. He did so without proof and continued the attacks even after a 2007 state audit supported Castor and the Tampa Police Department's use of Uniform Crime Report methods to track crime.
Straz also tried to build a campaign around criticism that Castor was part of a "cabal" in the city that showed favor to wealthy developers who contributed deeply to local elections, supporting candidates who would return the favor with city contracts.
Despite Straz's repeated claims that Tampa City Hall needed to be swept of "fluff" and turned over to a political outsider, Tampa voters sent a strong message Tuesday that they are happy with the direction the city is headed. That message supports previous polling that showed nearly three-quarters of the city thought it was headed in the right direction.
Castor's message took heed and focused its campaign on not only furthering the successes of the current administration but building on those wins by expanding growth and revitalization into the long-neglected communities of East and West Tampa.
Her ads touted her experience running the city's largest department and focused on issues facing voters like transportation, climate resiliency, jobs, affordable housing and economic development that were largely ignored in Straz's campaign.
Castor will be the first openly LGBTQ Mayor in Tampa and in the entire Southeast U.S.
"A lavender ceiling was shattered in Florida Tuesday night — with voters overwhelmingly electing Jane Castor the first openly lesbian big city Mayor in the Southeastern United States. Both LGBTQ people and women face tremendous obstacles in running for public office, but Jane's victory shows lesbian candidates can win citywide office with a strong record of public service and policy priorities that align with their constituents," said President & CEO of LGBTQ Victory Fund and former Houston Mayor Annise Parker.
"While voters chose Jane because of her vision for Tampa, her willingness to be open and honest about her life lent her an authenticity that voters are drawn to not just in Tampa, but across the nation. That is why an unprecedented number of lesbian candidates are plowing through crowded primaries and winning big-city mayoral races this cycle – putting us on track to make 2019 the Year of the Lesbian Mayor."
Voter turnout in the race exceeded both the March 5 Municipal Election and the 2011 runoff between Bob Buckhorn and Rose Ferlita. Turnout this race was 23 percent. It was 22 percent in 2011 and just 20 percent last month.
Castor takes office May 1.