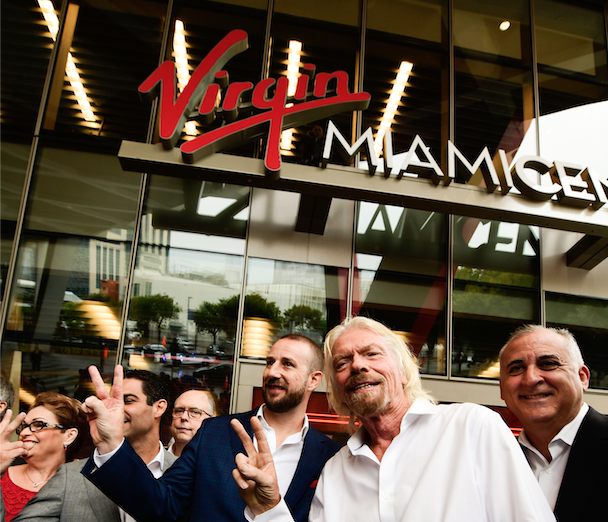 Virgin Trains sees clear tracks now for its railroad from South Florida.
Virgin Trains USA is instructing contractors to break ground in a matter of weeks for its planned higher-speed passenger train railroad stretching from South Florida to Orlando.
The company, which runs private passenger trains linking Miami, Fort Lauderdale, and West Palm Beach, closed its bond sale last Friday to raise $1.75 billion to help pay for construction of the 170-mile line, which will double-track and upgrade the existing railroad from West Palm Beach to Cocoa, and build all new tracks from there to the Orlando International Airport.
Virgin Trains USA, formerly known as Brightline, and before that as All Aboard Florida, has given limited notifications to proceed to its construction contractors to begin work in May, and intends to issue the full notifications to proceed soon.
Virgin Trains USA expects construction to run through late 2022, and has previously stated it expects to start the private, higher-speed passenger rail service connecting Florida's two biggest tourism centers in late 2022 or early 2023. The Orlando train station already is built at the Orlando International Airport, awaiting trains. Virgin Trains USA also plans to build a train maintenance facility at the airport.
In a news release, Wes Edens, co-founder and co-chief executive officer of Fortress Investment Group and chairman of Virgin Trains USA, declared the successful bond sale as "an affirmation  that our vision for passenger rail holds great promise and highlights a tremendous appetite in the private markets for large-scale transportation and infrastructure projects.
"Connecting Miami and Orlando makes tremendous business sense, but even more, it provides a public benefit to the state of Florida including thousands of jobs that will keep the state economically competitive for decades," he continued.
The $1.75 billion in private activity bonds were sold to 67 different investors, with Morgan Stanley as the underwriter. To sell those bonds, which are exempt from federal taxes, Virgin Trains USA needed approval from both the Federal Railroad Administration and the Florida Finance Development Corp. It received the former last year, and the latter approval less than three weeks ago. All totalled, the company says $4 billion is being invested in the project, all of it private money.
That latest approval and Friday's successful bond sale closure essentially cleared the tracks for the Orlando line, ending five years of contentious opposition fought in public, in courts, and in Tallahassee and Washington. The opponents, largely from the Treasure Coast counties that will be ride-over territory for trains reaching speeds of 110 mph, raised concerns about safety in their communities with 110 mph trains heading through congested areas, about local governments' obligations to maintain crossings of private railroad tracks, and skepticim about the company's financial chances. The trains will be capable of going even faster, up to 120 mph, along the new tracks to be built from Cocoa to Orlando, though little of the opposition has come from Orange County.
Virgin Trains USA has committed to putting a station in the Treasure Coast within five years from the start of operations to Orlando, possibly in Stuart, Saint Lucie or Fort Pierce, and also discussed, more broadly, a possible station in Brevard County, though none of those stations was included in the prospectus Virgin Trains offered for the public activity bonds sale to get the train up and running.
The prospectus discussed plans for tickets between Orlando and South Florida costing about $100, and the train being capable of making the trip in about three hours and 15 minutes. By 2023, after the South Florida to Miami route is opened, Virgin Trains projected about 3 million annual short-distance riders along its South Florida stretch and about 3.5 million long-distance riders coming from or heading to Orlando, according to the prospectus. That would work out to about 250,000 short-distance passengers per month.