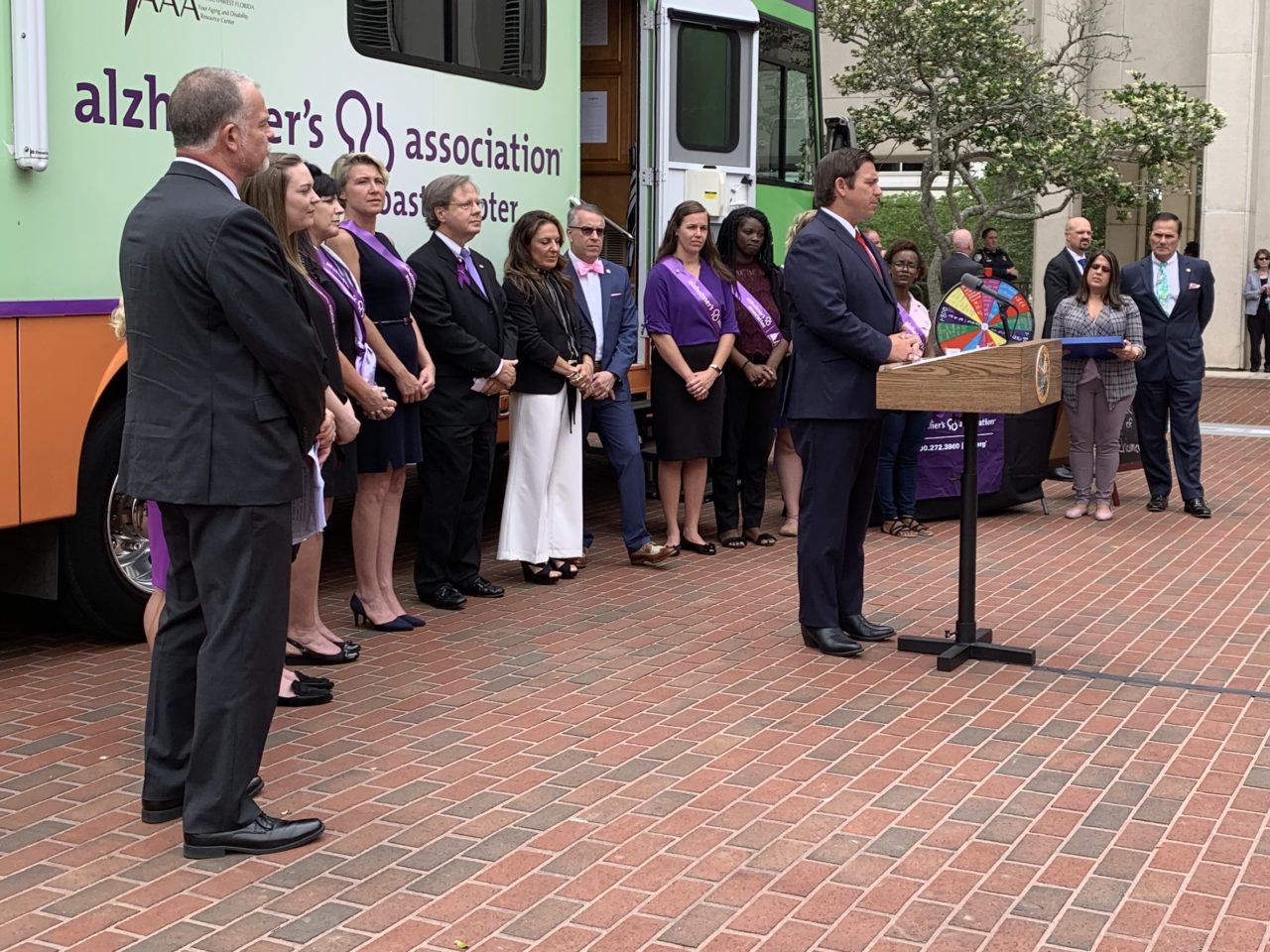 "We need to finish it."
Gov. Ron DeSantis on Wednesday suggested he would call lawmakers back to Tallahassee in Special Session if they don't resolve appeals of his suspensions of Broward Sheriff Scott Israel and Okaloosa Superintendent of Schools Mary Beth Jackson.
Senate President Bill Galvano later rejected that intimation, saying only the Senate can reconvene itself to handle executive suspensions.
The state Supreme Court recently rejected legal challenges by both elected officers, meaning their cases are back before the Senate, which is constitutionally charged with reviewing and either removing or reinstating suspended officials.
"We have time left," DeSantis told reporters, speaking after an Alzheimer's disease awareness event in the Capitol courtyard. "They need to go and vote on those. I think the people in both communities — I was just in Okaloosa County — people were wondering why action hasn't been taken."
"Both of those lawsuits were frivolous and now they need to be judged according to the Florida Constitution," added the Governor, a lawyer and Ponte Vedra Beach Republican. "So we're hoping we'll see that. And if it doesn't happen, then you know, we may be bringing them back into town for a little bit."
DeSantis, who took office in January, suspended Israel for neglect of duty and incompetence in the wake of shootings at the Fort Lauderdale Airport and at Marjory Stoneman Douglas High School.
He suspended Jackson for dereliction of duty, after a recommendation from Education Commissioner Richard Corcoran, citing grand jury reports of her failure to put procedures in place on abuse reporting and removal of teachers facing allegations involving the health or safety of students.
When told that the current timeline of Jackson's case would go beyond next week's scheduled Sine Die, DeSantis said, "Well, we need to finish it."
He gave lawmakers fair warning in his State of the State speech last month, saying "why any senator would want to thumb his nose at the Parkland families and to eject Sheriff (Gregory) Tony, who is doing a great job and has made history as the first African-American sheriff in Broward history, is beyond me."
The Governor appointed Tony, a Coral Springs Police Department veteran, as Israel's replacement.
On Wednesday, DeSantis added the cases are "going to be disposed of one way or another relatively soon. If they don't do it by the time they leave, then you know, maybe they'll be back in a little bit later … to do it."
Later Wednesday, Galvano said his chamber had "handled those issues as expeditiously as we can."
"In order to fulfill due process, the parties had the right to go into the judicial branch, which they did," he told reporters after a Senate floor session. "Now we have moved forward with a special master proceeding. The role of removing or reinstating is unique to the Senate … and only the Senate has the ability to convene itself to fulfill executive actions."
He added the chamber could come back on its volition to review findings in both cases, "but there's no commitment."
The Governor also opined on other topics:
— As of Wednesday, the House and Senate in budget conference had agreed on funding for VISIT FLORIDA, the state's tourism marketing arm, that would keep it going only for a few more months.
"I can't veto non-action," DeSantis said. "They have to take action to keep it going. I put a provision in my budget … and I've talked with (legislative leaders) and said, 'if it's something you have problems with, then let's come back next year and debate it.' But to just let it let it sunset is not something that I've supported."
— He was equivocal on a gambling deal out of the Senate that reportedly includes a new revenue-sharing deal with the Seminole Tribe. He and House Speaker José Oliva have both said this week that they had read a "draft outline" of the proposal; neither sounded sanguine about passing a bill this year.
"My attorneys are going through it," DeSantis said. "We're going to meet with people from the Seminole Tribe; I want to meet with the pari-mutuels, who obviously are affected by it … This is a major, major deal. (It's) not something to be entered into lightly."