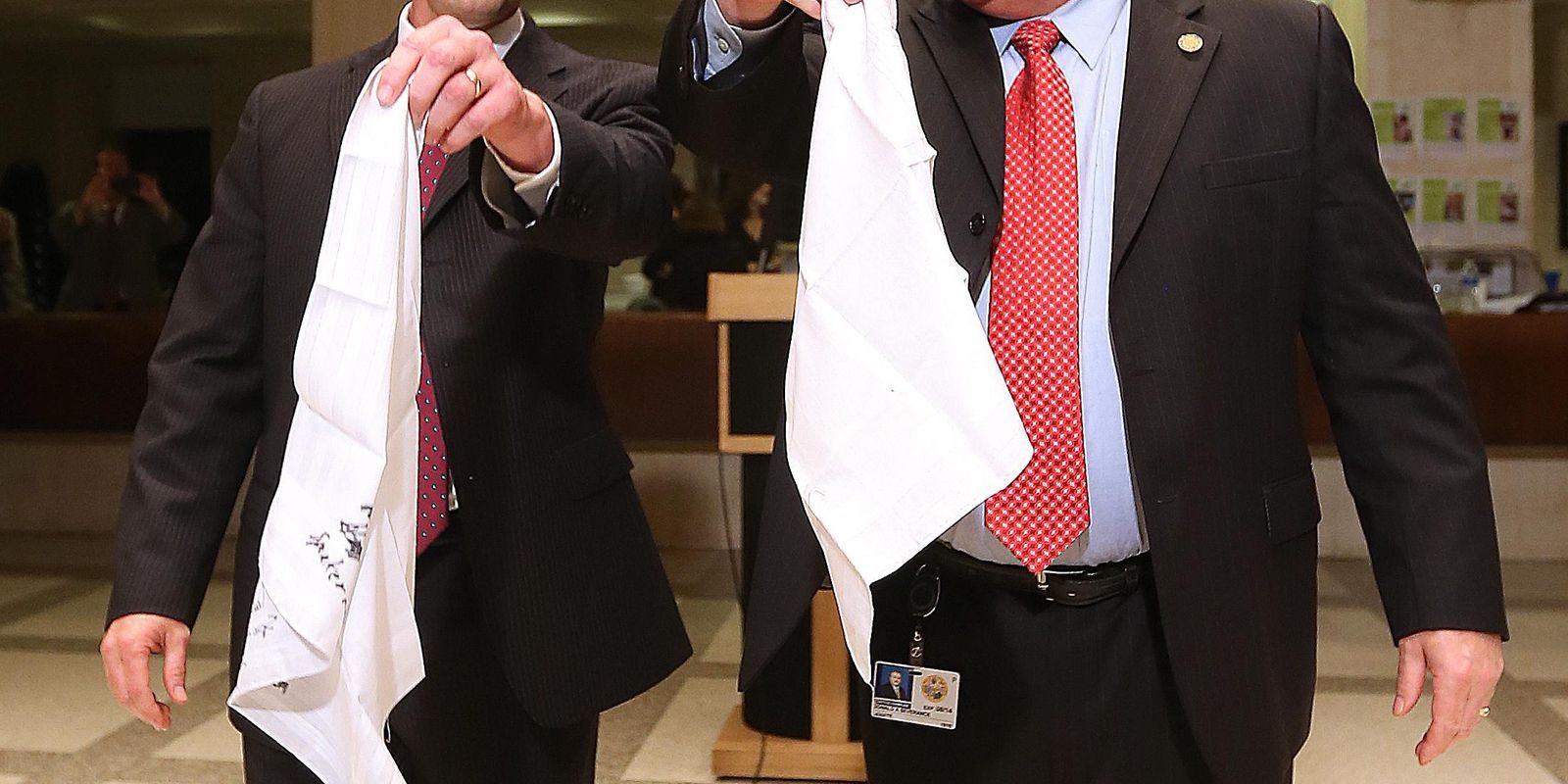 From Visit Florida to arming teachers, there's plenty left to debate.
With five days remaining in the 2019 Legislative Session, there remain a significant number of issues still on lawmakers to-do list. So expect more late-night sessions, some horse-trading and a mad dash to Sine Die.
Here are the 14 questions that need answers this week.
What's the future of Visit Florida
The most significant moment in long-running debate about the future of Florida's de facto tourism agency likely came Friday. That's when Speaker Jose Olive suggested he would allow a one-year reauthorization, if only so Gov. Ron DeSantis could see how "unnecessary" it was.
Yet, the House hasn't reauthorized the agency. A bill (HB 6031) filed by state Rep. Mel Ponder never received a committee hearing. Oliva said the measure may need come up a different way, whether that means picking up the Senate bill or rolling reauthorizing into an implementing bill.
"I'm just thankful to see where we are," said Ponder, a Destin Republican. "This is good news for Visit Florida just to know they are back in play."
Will Florida change its citizen initiative process?
The House has led the way here, passing legislation (HB 7111) that will severely hinder the ability to govern through citizen initiative. State Rep. James Grant, a Tampa Republican and a vocal critic of constitutional amendments on principle, wants to outlaw paying petition gatherers and significantly restrict how they handle signatures.
Last week, the House heavily debate but ultimately passed the bill 71-41. But the bill hasn't progressed in the Senate. There, companion legislation (SB 7096) narrowly passed one committee but has not been scheduled for a floor vote. While senators approved other reforms like eliminating the Constitutional Revision Commission, another avenue for ballot measures, it remains unclear if this will be heard.
Can chambers reconcile their voter restoration bills?
Lawmakers looked to establish a though process when it comes to implementing Amendment 4, but the process has proved contentious thus far. Voters by an overwhelming margin said felons should have their voting rights restored once they complete sentences and restitution, but it's that last part that proved controversial. Elections supervisors have already started signing felons who self-proclaim their sentence complete into voter rolls. Grant says the state needs to do more. But his House-passed legislation (HB 7089) has been derided nationally as a "poll tax" for associating court costs with individuals rights getting restored.
On the Senate side, state Sen. Jeff Brandes, a St. Petersburg Republican, has legislation (SB 7086) that includes costs, but significantly fewer of them. "This is a dance with the House," Brandes told colleagues last week. But it's one that must move from a waltz to quick-step as session's end draws near. The Florida Rights Restoration Coalition, a force behind the amendment, certainly favors the Senate language, but it's still unclear what will reach the Governor's desk.
Does a so-called sanctuary cities ban need teeth?
The evening the Senate passed a ban on so-called sanctuary cities (SB 168), state Sen. Joe Gruters, a Sarasota Republican, sounded ebullient. The House passed measures the past couple years but language never reached the Senate floor before being sponsored by a close ally of President Donald Trump and the chairman of the state Republican Party. But then, the bill looks greatly different from a House version (HB 527), which includes punitive measures for local officials who stray from the ban. Plus, a rogue amendment carving out exceptions for the Department of Children and Families got approved on the Senate floor over Gruters' objections.

When reporters asked Speaker Oliva about that amendment, he seemed surprised, and wished the two bills lined up together. When asked about the Senate language leaving it to the Governor to punish local officials rather than setting consequences out clearly, Oliva voiced even more skepticism. "Offhand, it doesn't sound like something I'd be too enthusiastic about," Oliva said.
But Gruters remains bullish. "We still have a couple hurdles," Gruters acknowledged. "But it's a big deal we passed this."
What will a new voucher program look like?
Speaker Oliva sounded considerably more optimistic this week when it came to school choice. After the Senate passed an expansion for K-12 education vouchers, the House leader embraced the measure. "We like the position it's in," he said.
The School Choice Movement also gave a strong endorsement to Senate language (SB 7070) crafted by state Sen. Manny Diaz, a Miami Republican. "We are thankful school choice has a champion like Manny Diaz Jr., and we are grateful for the Senate's support today," said organization chair Erika Donalds.
Senate President Bill Galvano said he will continue to monitor House legislation, and there are a number of bills over there touching on the substance of SB 7070. But it appears the remaining questions around expanding school choice this year involve hows and whens, not ifs. 
Will more tax money goes towards charter schools?
Included within the $102.4 million tax-cut package approved late Thursday by the Florida House, there's a provision requiring school districts give up money raised through local tax referenda to charter schools. It's going to be a closely watched item when it comes to matching up the Senate and House budgets this week.
Senate President Galvano's office said he plans to work closely this week with Sens. George Gainer and Kelli Stargel to finalize the Senate's tax relief package. The Senate chamber has already passed some education bills including Diaz's K-12 bill and a higher education bill from Stargel.
What path lays before First Steps Act?
A bill from Brandes has moved into a comprehensive criminal justice reform package encompassing several measures into the same legislation (SB 642). "This bill will ensure that dangerous criminals remain behind bars, while low-risk offenders are diverted to less expensive, more effective sanctions," Brandes said in a news release. "It will reduce crime, increase resources for law enforcement, and serve as the first step towards achieving our shared vision to create the best criminal justice system in the nation."
Galvano's office said to expect that bill to hit the floor Monday on Special Order. So what's that mean in the House? Oliva did hint in a press gaggle Friday that the chamber had evolved to a point where reform felt urgent. He noted not long ago, both political parties sought to look "tough on crime."
But recently, Oliva said the chamber started asking "does this actually make our communities safer?" But there's differences between the chambers regarding such issues as "Truth in Sentencing." Brandes bill allows convicts to get out earlier. And while both chambers want to look at thresholds for charged like grand theft, the chambers want different amounts still.
Will teachers start packing heat?
The Florida Senate approved the most controversial recommendation of the Margery Stoneman Douglas High School Public Safety Commission, namely arming teachers. Honestly, it's hard to imagine the more conservative House passing up the red meat chance. But when the measure reaches the floor this week, expect Democrats to keep up the fight.
"We've seen School Board after School Board decide against arming teachers," said Margaret Good, Deputy Democratic Leader. "Students and parents say they will feel less safe knowing teachers are carrying guns. If keeping our students safe truly is the priority, our Legislature should provide funding for highly trained law enforcement officers."
House legislation (HB 7093) was temporarily postponed on the floor last week but expect lawmakers to take a shot at it before session ends. 
What happens with 'safety net' hospital dollars?
One of the most significant budget and health care fights this session centered on funding for rural hospitals, but it appears the House and Senate resolved their differences.
A high-profile dispute over hospital payments ended with lawmakers agreeing to redirect about $9.5 million from a pot of money that is used to supplement payments for 28 hospitals that treat the largest numbers of Medicaid patients in the state, reports the News Service of Florida. The Senate has originally wanted to spread $319 million in Medicaid across hospitals through the state. The House in contrast had a plan to cut Medicaid rates across the board.
Justin Senior, chief executive officer of the Safety Net Hospital Alliance of Florida, said he's still reviewing details but feels like the deal reached between chambers may be better than either Chamber proposed originally. The plan must still get approval from Galvano and Oliva, but Galvano's office feels confident that will happen by Tuesday evening, allowing the budget to be completed next week.
How much more Hurricane Michael funding will head to the Panhandle?
Congress has been locked in a seemingly unbreakable stalemate regarding a relief package for last year's hurricanes, wildfires and floods. While Washington continues to argue, it appears Florida cannot count on any relief before Friday's end of session.
Sen. Bill Montford, a Tallahassee Democrat, and other Panhandle lawmakers are dedicated to finding $600-$700 million to cover that gap in federal recovery efforts. "We know what the solution is," he said. State Rep. Loranne Ausley, another Tallahassee Democrat, said it's "the people in this building in the waning days of the session making sure that we put our money where our mouth is and not forget the people of the Panhandle."
Their efforts include a loan program for farmers, money to repair hospitals and provide mental health services, and combat potential forest fires in the 500,000-acre stretch where 95 percent of the trees were blown down or uprooted. They're also looking for an additional $14.1 million to help school districts repair damaged buildings and provide services to students.
As of Friday, the House had not accepted the proposal, though a deal will surely be reached. But Senate Appropriations Chair Rob Bradley said what Florida needs most is for Congress to get its act together. He told reporters earlier this week Florida has responded to Michael with more dollars than it normally would have to shell out already. At some time, the federal government needs to step up, he said.
Who can prevent forest fires?
Well, Smokey the Bear has one answer— only You. But the real fight in Tallahassee this week will be about budget enough money to fight forest fires while trees knocked down by Hurricane Michael continues to fuel awful blazes.
Agriculture Commissioner Nikki Fried wants an additional $39 million for disaster preparedness to ready the statee for the summer's wildfire season. "We're used to fighting fires when the trees are vertical, standing up. But they're now blown down, on the ground, making access difficult," explained Fried. She wants to spend that on new firefighting equipment instead on relying on Forestry Division equipment that dates back to before any Cabinet members were born.
But will Fried get the money? Lawmakers so far have not satisfied that disaster funding request. And Galvano's office wants the budget set by Tuesday.
What does Florida Forever mean to lawmakers?
Gov. DeSantis wanted $100 million for Florida Forever this year, but he probably won't get it. At the last committee-level conferences between the House and Senate, neither chamber offered even half that amount. The Senate still had a $41 million transfer to the Florida Forever Trust Fund. But the House had less than that being budgeted when the line item got bumped up to Appropriations chairs Sen. Bradley and Rep. Travis Cummings.  
At this point, it's hard to imagine the number going up. But plenty of other environmental spending projects won approval in both chambers.
What constitutes 'texting while driving'?
It's a pretty simply question for House members. That chamber approved legislation upgrading driving while tapping into your smartphone into a primary offense. The Senate then took up the House legislation last week and added some amendments. Now the bill touches on issues like school zones and construction zones, and also put more strict 'hands-free' rules in place under certain conditions, expanding the bill beyond the simple act of texting.
The Senate alone prior plans to include other distracting driving measures. But there still will need to be some reconciliation with the House on the issue.
Who gets access to voter records?
Voter records can be accessed in Florida by anybody from reporters to political parties to the guy behind flvoters.com. But a bill (HB 281) passed without a nay vote in the House that would limit access to phone numbers and addresses only political entities.
The bill failed in the Senate by a 24-16 vote on Friday, but word is the legislation could rise from the dead later this week. That's because state Sen. Tom Lee, a Thonotosassa Republican and the Senate sponsor of companion legislation, wants to give it another go.