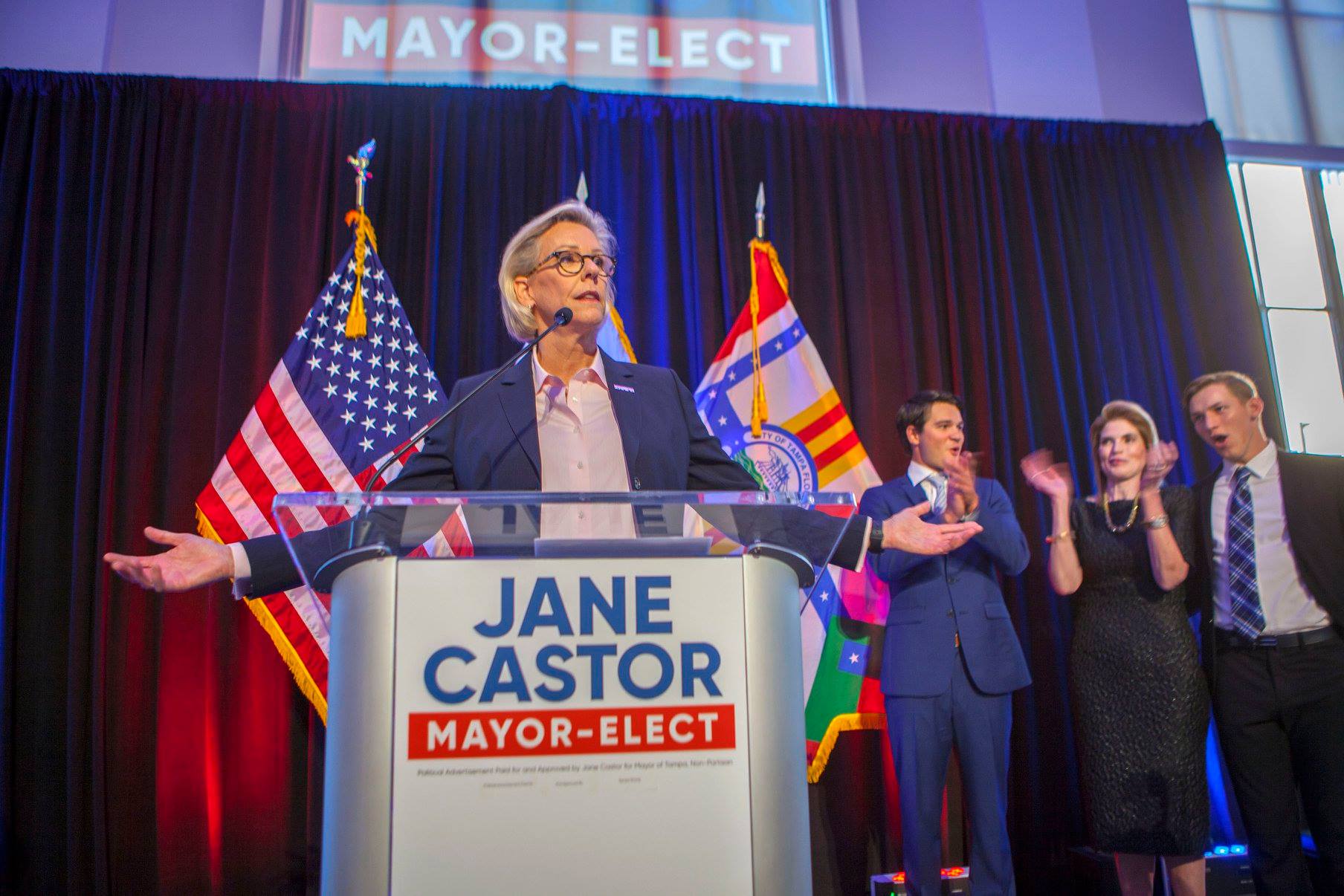 Castor's election and upcoming swearing-in is a big deal for Tampa.
Jane Castor will take the oath of office just eight days after being elected Tampa Mayor in a landslide victory over philanthropist David Straz. 
Castor will officially take the torch from current Mayor Bob Buckhorn this Wednesday at 10 a.m. That's at Armature Works, 1910 N. Ola Ave.
Castor's election and upcoming swearing-in is a big deal for Tampa.
Her election gained national attention last week as she became the third lesbian mayoral candidate this year to win a race.
The exposure put Tampa front and center on MSNBC and made headlines in just about every major national publications including CNN, ABC, NBC, CBS and the New York Times.
Castor is also the first mayor in decades who doesn't live in South Tampa, which could signal good news for those north of Kennedy Boulevard.
South Tampa has long been heralded as Tampa's home for the affluent, but Castor's home is located just outside of Seminole Heights in an area once plagued by blight.
She's promised to shift the downtown-centric focus of the past eight years to other parts of the city struggling with poverty. Castor has publicly said the successes of the Buckhorn administration's downtown revitalization efforts will afford her the opportunity to begin similar work in neighborhoods like East and West Tampa.
Newly elected City Council members will also take the oath of office at the ceremony Wednesday. That includes newcomers Joe Citro, John Dingfelder, Bill Carlson and Orlando Gudes.
Citro is replacing Mike Suarez in the citywide District 1 seat.
Carlson won his race during the March 5 Municipal Election with more than 50 percent of the vote. He'll be sworn in to represent District 4 in South Tampa, replacing Harry Cohen who is leaving office due to term limits.
Dingfelder will replace Yvonne Yolie Capin who is also term-limited out of her citywide District 3 seat.
Gudes narrowly defeated Jeffrey Rhodes last week for the District 5 seat representing downtown and parts of East Tampa. He'll replace Frank Reddick.
Charlie Miranda, Guido Maniscalco and Luis Viera will also be sworn in for new terms after voters overwhelmingly re-elected them March 5.