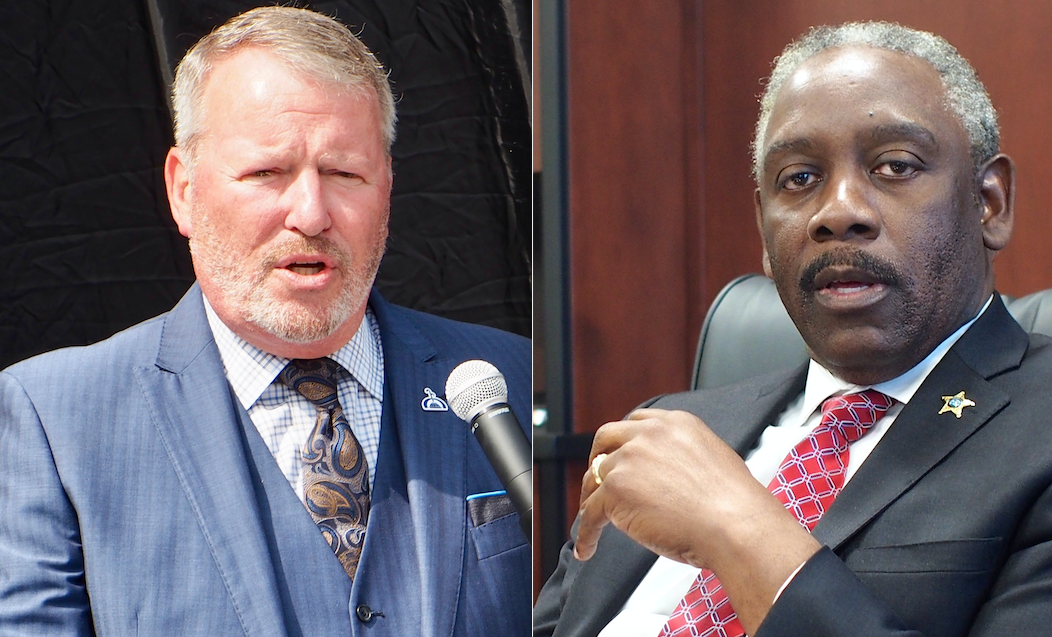 Amendment was made to a bill about aircraft liens.
A last-minute, unexpected power struggle over control of the Orlando International Airport was nipped, at least for the moment, Wednesday when Republican state Sen. Dennis Baxley withdrew his late-filed amendment that appeared aimed at forcing Orlando Mayor Buddy Dyer and Orange County Mayor Jerry Demings off the airport's governing board.
Baxley had offered the amendment Wednesday morning to a seemingly innocuous House bill about airplanes. The amendment would have limited the terms of the Orlando City Commission and Orange County Commission designees to the Greater Orlando Aviation Authority Board of Directors to one consecutive term..
The amendment was retroactive to 2017, presumably meaning, had it been adopted, that Dyer and Demings might have had to rotate off the GOAA board when their current terms expire.
The amendment to HB 975 was filed apparently without warning to GOAA, Orlando, or Orange County, hours before the bill was scheduled for a third reading in the Senate.
It came while the GOAA board already is in the midst of an overhaul as Republican Gov. Ron DeSantis booted off four of its seven members in February, and as an apparent power struggle has begun to ensue between DeSantis' new appointments and the old guard including Dyer and Demings, who both are Democrats.
Democratic state Sen. Victor Torres's office said Wednesday morning he would fight the amendment, challenging it being brought to the floor as a late amendment or seeking to defeat it.
As the bill came to the floor, Baxley said he was withdrawing his amendment, which he had proposed because he had "concerns."
"I know we attracted a lot of discussion this morning," he said. "I'm not sure this is the right bill at the right time. But I still have those concerns."
Without the amendment, HB 975, dealing with clarifying aircraft lien holders' rights, was approved 39-0. The House already passed the bill two weeks ago, sans the Baxley amendment.
Regardless of Baxley's withdrawal, the amendment, as written, might have missed the mark.
The state statute authorizing the the Orlando and Orange County seats on the GOAA board explicitly describes them as "one member shall be the mayor of the City of Orlando, on member shall be the chairman of the Board of County Commissioners of Orange County." It does not speak to any city or county commission members. It also sets the terms as the mayors' terms in office.
Baxley's amendment appeared to be a surprise to the authority and to Orange County, and possibly to Orlando when it was filed Wednesday. GOAA, county and city officials were scrambling to respond Wednesday.
In late February, DeSantis removed four of former Gov. Rick Scott's appointees from the GOAA board and replaced them with his own picks: Carson Good of Winter Park, Randall Hunt of Lake Mary, Ralph Martinez of Orlando, and  Jason Pirozzolo of Winter Garden.
Last month Pirozzolo attempted to go after GOAA's General Counsel Marcos Marchena, leading to a showdown with Dyer and Demings. Marchena had been caught up in the University of Central Florida misspending scandal this past winter, as he had been the UCF Board Chair, putting him in DeSantis' crosshairs. Marchena was never accused of any wrongdoing at UCF, though he resigned from the board in January, saying it was time for new leadership. Nonetheless, Pirozzolo pushed a motion in April to have him investigated in his role at GOAA.
Dyer and Demings came to Marchena's defense and marshaled the votes to defeat Pirozzolo's motion and keep Marchena's role intact.
Dyer and Demings are among the three GOAA board members not appointed by DeSantis.
In addition to Dyer and Demings, the only remaining holdover on the board is Domingo Sanchez of Orlando, a Scott appointee who was elected board chair in March. His term does not expire until 2020.
Baxley, who was on the floor of the Senate Wednesday much of the day, did not respond to a request to comment.