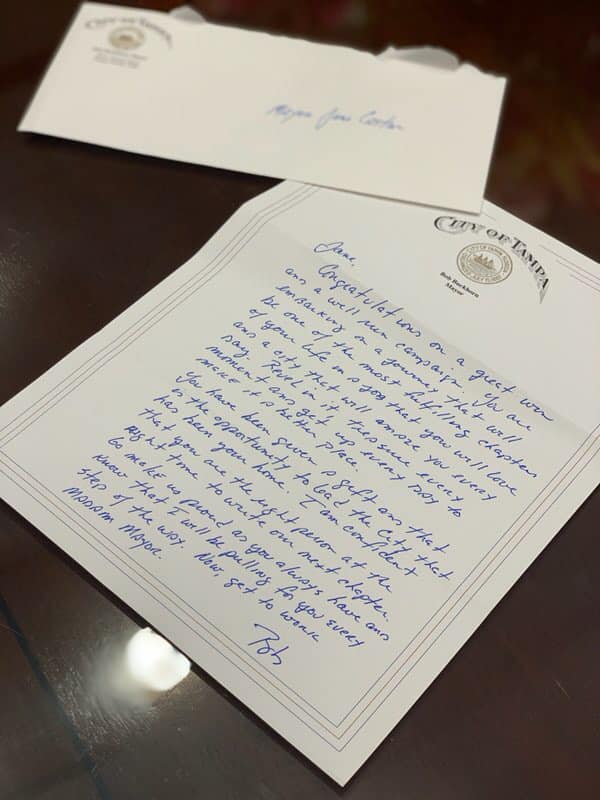 "Now get to work, Madam Mayor."
Former Tampa Mayor Bob Buckhorn left a note for his successor, Jane Castor, as he departed his office at City Hall for the last time Wednesday. In typical Buckhorn fashion, the letter gushed on Tampa and oozed gratitude for the opportunity to serve it.
"Congratulations on a great win and a well run campaign," the hand-written letter on official City of Tampa stationery read. "You are embarking on a journey that will be one of the most fulfilling chapters of your life in a job that you will love and a city that will amaze you every day."
Castor received the letter upon entering her new office after taking the oath of office Wednesday morning at the nearby Armature Works. Castor posted the letter on her official Facebook page along with a photo showing her reading it alongside her partner, Ana Cruz.
"I found this note laying on the desk when I walked into my new office today," Castor wrote and then thanked Buckhorn for his "unwavering support."
Buckhorn's letter didn't offer any policy advice or tips on things like how to deal with angry emails. Instead, it encouraged Castor to revel in her new position.
"Treasure every moment and get up every day to make [Tampa] a better place," he wrote.
Buckhorn echoed his farewell video and comments he made while supporting Castor on the campaign trail about writing Tampa's next chapter. He told Castor he believed she was "the right person at the right time" to do just that.
"You have been given a gift and that is the opportunity to lead the city that has been your home," the letter read. "Go make us proud as you always have and know that I will be pulling for your every step of the way."
Buckhorn ended the letter with a bit of a jab.
"Now get to work, Madam Mayor."