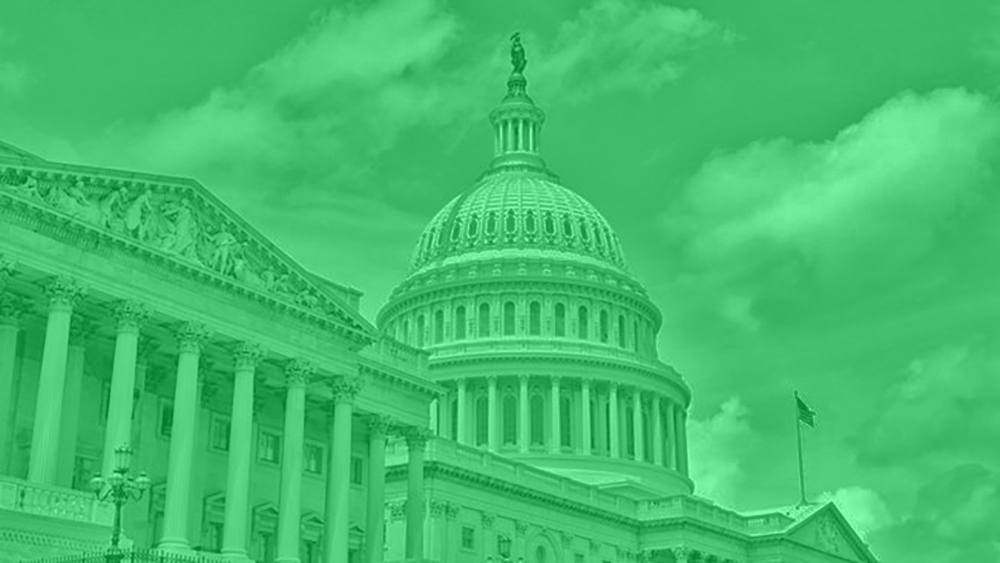 It not yet time to move on from William Barr.
No holds Barred
For those hoping the release of the report from Special Counsel Robert Mueller would allow Washington and the rest of the country to move on, you must be disappointed. The accusations and vitriol are just as intense, but now instead of President Donald Trump, the recipient of the verbal grenades is Attorney General William Barr.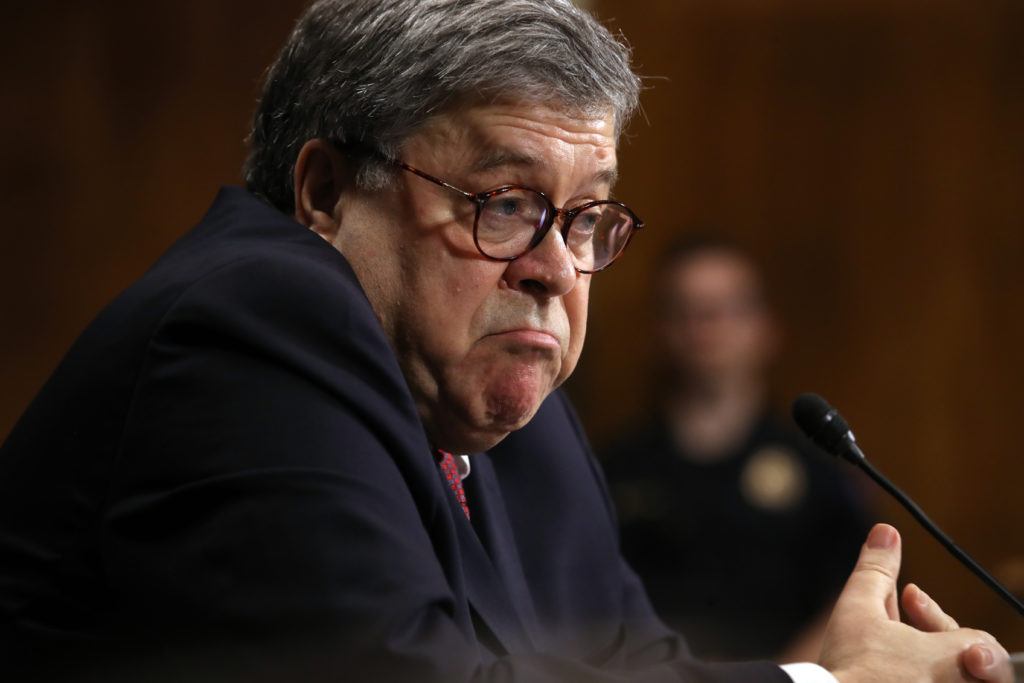 Wednesday's appearance by Barr before the Senate Judiciary Committee came hours after a leaked letter from Mueller to Barr dominated online news and cable networks. The letter, written March 27, complained that Barr's earlier summary of the report did not capture the context, nature and substance of the full findings.
Mueller and his team wanted their summaries released before the full report came out. Instead, Barr gave his take just days after receiving it.
A new wrinkle developed when Democratic Rep. Charlie Crist said Barr was less than truthful to a question he asked April 9. During a committee hearing, Crist asked if Barr knew why Mueller's team might have been unhappy with his summary, to which Barr responded, "No, I don't."
"Honest questions deserve honest answers," Crist tweeted. "I'm very concerned that Attorney General Barr's answer April 9, 2019, wasn't honest. If that's true, there will be consequences.
Four hours later, during an appearance on MSNBC and in a subsequent tweet, Crist, of St. Petersburg, said Barr was "lying to the American people." House Speaker Nancy Pelosi took it a step further by saying the Attorney General committed a crime.
The Senate hearing went as expected, with Democratic Sen. Mazie Hirono of Hawaii, among others, mentioning Barr's exchange with Crist. Committee members and presidential candidates Cory Booker and Kamala Harris joined other Democrats calling for Barr's resignation.
Barr was expected to testify before the House Judiciary Committee Thursday but pulled out when Chairman Jerry Nadler insisted on committee attorneys questioning the Attorney General. The Justice Department indicated throughout the week he would not submit to questions from anyone other than committee members.
Two committee Democrats, Reps. Ted Deutch of Boca Raton and Debbie Mucarsel-Powell of Miami, wanted to confront Barr.
"The Attorney General must show up, and the American people must have the opportunity to hear his answers," they said in a joint statement.
The Justice Department announced Barr would not show up and also defied a subpoena for the full, unredacted Mueller report. Nadler indicated the committee might find Barr in contempt.
Democratic Rep. Val Demings of Orlando, the third Florida Democrat on the committee, joined her colleagues calling for Barr's resignation.
"The U.S. Attorney General must be the people's lawyer," Demings said in a statement. "I gave Mr. Barr the benefit of the doubt and hoped that he would follow his oath of office. He has not done so. Mr. Barr should do the last honorable thing available to him and resign."
There will undoubtedly be more calls for Barr to go. With the ongoing internal investigations into the origination of the Trump/Russia investigation, that is not likely to happen anytime soon.
Spotlighting Panama City
Trump is coming to Panama City to hold a campaign rally May 8 at Aaron Bessant Park. These events are always raucous, but the President will likely fire up the crowd by commenting on the Capitol Hill impasse over federal relief funding for Hurricane Michael.
Millions of dollars in disaster relief to Florida, California, the Midwest and Puerto Rico are held up by a dispute over how much Puerto Rico should get. Local officials were recently in Washington begging elected officials for help.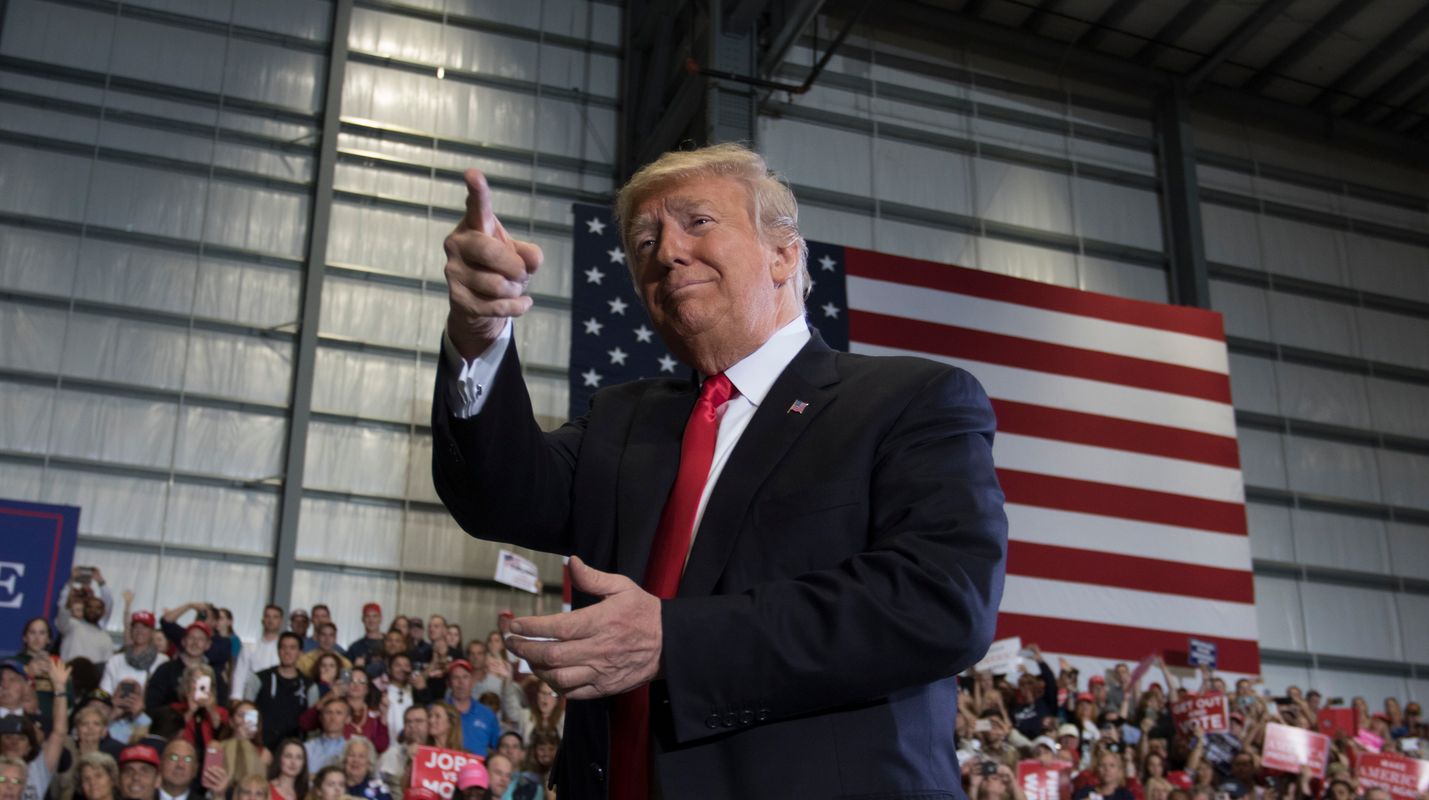 Sen. Marco Rubio and Republican Rep. Neal Dunn of Panama City welcomed the local officials. Rubio called it "shameful that my colleagues have decided to play politics with disaster funding …"
Earlier this week, Sen. Rick Scott was at Tyndall Air Force Base where new construction projects have stopped because of lack of funding.
"I've been in the Senate for about 100 days, and this is all politics — it's not about what's the right thing to do," Scott told assembled officials. "There is one person standing in the way of the support we need to rebuild Bay County, all of Florida and rebuild Tyndall. His name is (Senate Minority Leader) Chuck Schumer."
If there was any good news for the area, it came in an announcement saying the Federal Emergency Management Agency (FEMA) will reimburse $52 million in storm recovery costs in the Panhandle.
Far more is needed and expect Trump to make that abundantly clear next week.
Venezuela in meltdown
The situation in Venezuela is becoming more volatile as large protests are trying to force dictator Nicolás Maduro from power. U.S.-backed opposition leader Juan Guaidó is urging military and civilian leaders to back his efforts to get Maduro to relinquish power.
Most members of the House and Senate are supporting Maduro's departure, but Scott has been the most vocal about the possible use of the U.S. military to make things happen. As protests and violence escalated, Scott used a similar case where regime change was demanded, but not executed.
The first-term Republican said the armed forces are needed to "deliver aid to the people and defend freedom and democracy as well as U.S. national security interests in our hemisphere." He further added that failure to do this could lead to "another Syria if we don't take this seriously."
While supporting Maduro's ouster, Democratic Reps. Debbie Wasserman Schulz of Weston, Debbie Mucarsel-Powell of Miami, Donna Shalala of Coral Gables and Darren Soto of Kissimmee are against U.S. military involvement.
Among the problems facing the U.S. is the involvement of Russia, China, Iran and Cuba. A throwback to the 1962 Cuban missile crisis came via Rep. Mario Diaz-Balart of Miami.
During an interview with Fox News' Tucker Carlson, Diaz-Balart indicated Russia might have inserted nuclear weapons into Venezuela. In response to a question, the Miami Republican told Carlson "what I am suggesting is that they are already there."
This hearkened back to the intense standoff between the U.S. and Soviet Union when Soviet-made missiles were found in Cuba. While Diaz-Balart had no direct evidence, a nuclear-capable bomber was detected landing in Venezuela in 2018.
Student loan relief
Capitol Hill progressives make the case that student loan debt is becoming so oppressive, relief or even forgiveness of the loans is warranted. Rubio does not buy into the latter, but he is making a case for interest-free federal loans.
This week, he introduced the Leveraging Opportunities for Americans Now (LOAN) Act, which would eliminate the interest on federal student loans. Instead, loan recipients would pay a non-compounding finance fee that would be paid over the life of the loan.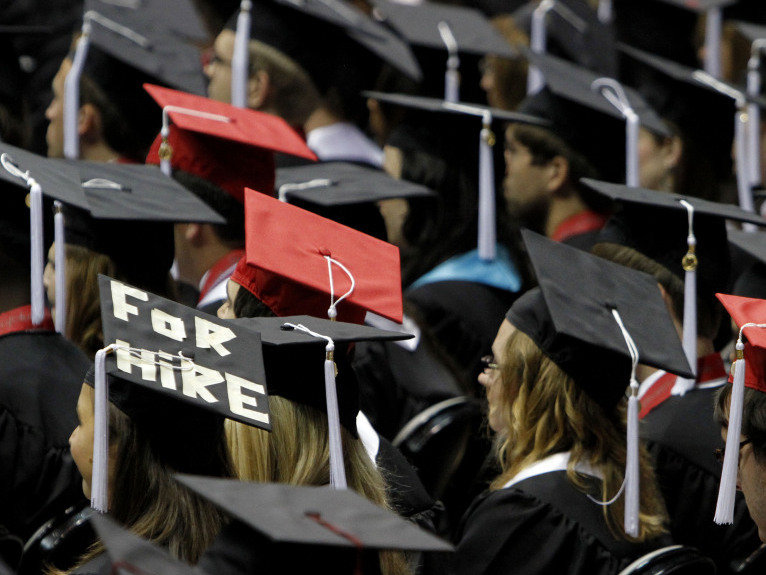 Also, the bill calls for placing borrowers in an income-based repayment plan, ensuring working-class Americans are not further burdened with monthly repayments they are unable to afford. The LOAN act is supported by the United Negro College Fund (UNCF).
"For years, our nation's outdated federal student loan system has saddled working-class Americans with mountains of debt and accruing interest that they are unable to repay," Rubio said in a news release. "It's time that our federal student loan system ensures that those pursuing higher education are able to achieve the American dream without burdening them with debt they can never repay."
If enacted, the loan program would take effect with the 2021 school year. The financing fee will not increase over time.
"This is a strong and robust proposal, and low-income students would fare better under the repayment system this bill creates versus our current structure," said Dr. Michael L. Lomax, President and CEO of UNCF. "It is my hope that this bill will spur further conversation and proposals around innovative ways to reform our federal financial aid system that benefits our low-income students."
Rutherford opposes Trump waiver
The Jones Act requires that only U.S.-flagged vessels can move natural gas from American ports to Puerto Rico and the Northeast. Trump is reported to be considering a waiver of that requirement, prompting calls from Capitol Hill to forget the idea.
Among those urging the President not to go there is Rep. John Rutherford of Jacksonville. In an op-ed published in The Hill, Rutherford claims the move would be contrary to Trump's fundamental pledge to Americans.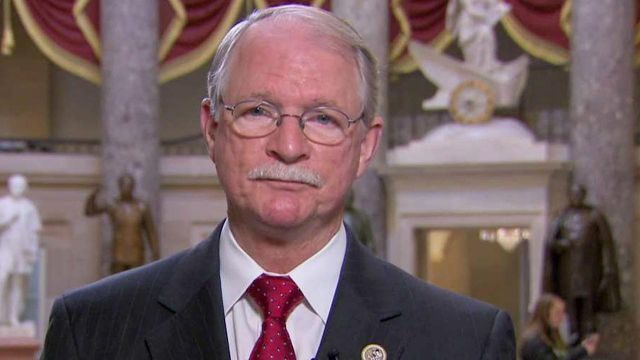 "President Trump's rallying cry of "jobs, jobs, jobs!" is in stark contrast with any consideration to end the Jones Act," Rutherford wrote. "If the administration presses forward with a Jones Act waiver, it would kill thousands of jobs and encourage foreign companies to steal money from hard-working American families."
Rutherford further pointed out the Jones Act is responsible for $2 billion to Northeast Florida's economy and 9,000 jobs. He added "Protecting the single biggest economic driver for the domestic maritime industry should be the main priority for any 'America First' agenda."
The second-term Republican won the praise of the Florida Maritime Partnership.
"We want to thank Congressman Rutherford for his strong support of our nation's and Florida's domestic maritime industry," said FMP Executive Director Shannan Schuessler. "FMP also supports the integrity of the legal framework for the industry — the Jones Act. The Jones Act has long been a bulwark of the domestic maritime industry and its vitality and a large component of our national security system."
Murphy, Waltz seek Barr briefing
Democratic Rep. Stephanie Murphy of Winter Park and Republican Rep. Michael Waltz of St. Augustine Beach are asking Barr for a private, classified briefing on the details in the Mueller Report that Russia hacked Florida's election system.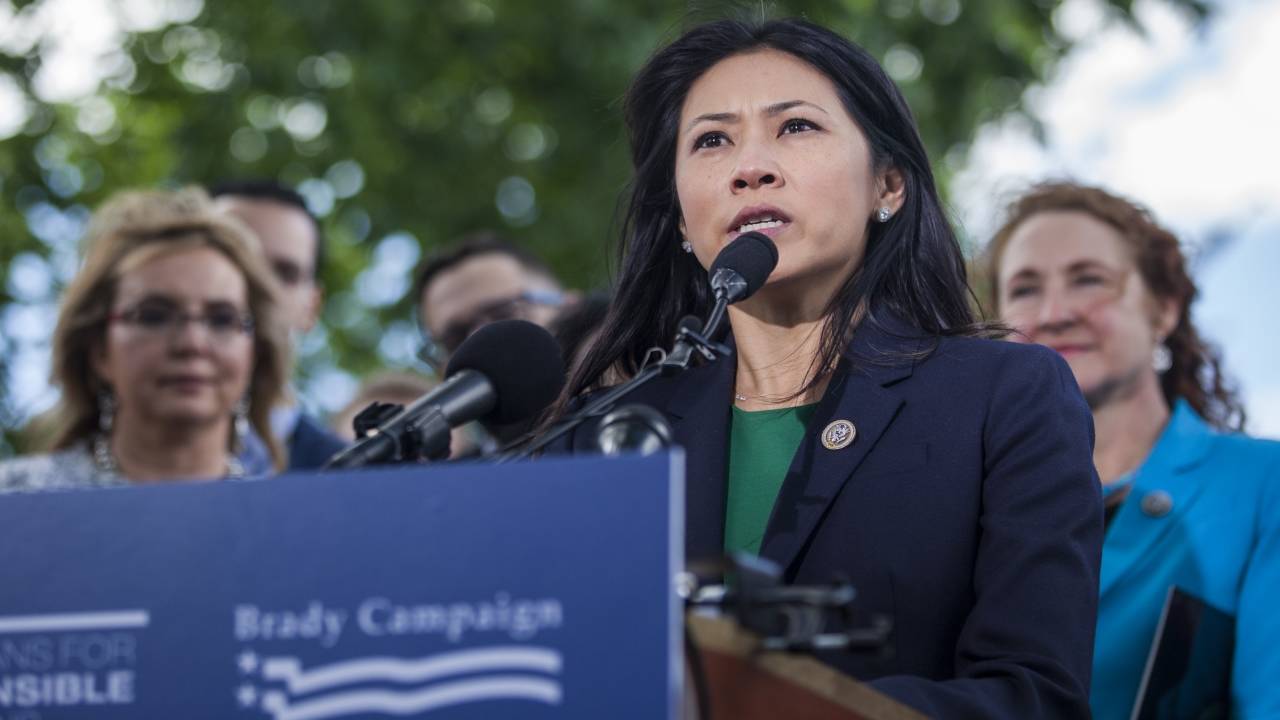 The pair both have military national security backgrounds. They have focused on the detail that Russia's military intelligence agency, GRU, likely successfully got control of at least one Florida County's computer system after using a spear-phishing technique to get in.
They both signed a letter to Barr and FBI Director Christopher Wray seeking a briefing on whatever terms they would want.
No funds for guns
Florida's ongoing debate about allowing teachers to have guns in schools has now reached the halls of Congress. As the Florida Legislature was passing a bill permitting teachers to volunteer to be armed, Demings sought to ensure no federal dollars would go toward purchasing any guns for that purpose.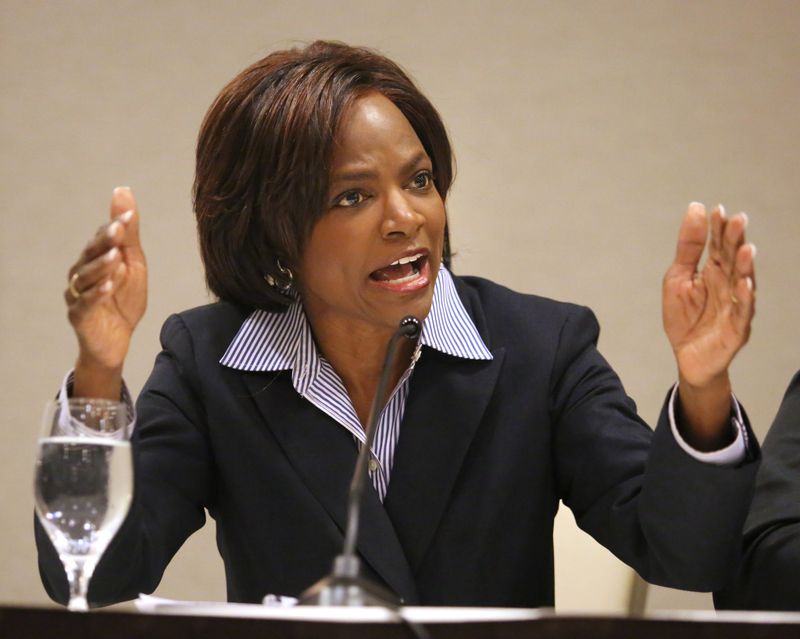 Demings' bill, The Secure Communities and Safe Schools Act, would forbid the U.S. Department of Homeland Security from directing counterterrorism money toward arming teachers. She has successfully lobbied for federal counterterrorism grants for the Orlando area but is demanding that not one penny would assist in arming educators.
"Arming teachers is a recipe for disaster — a reckless plan which will complicate active-shooter situations, as well as forcing teachers to take on not only the responsibility but also the hurt, pain, guilt, and liability when they find themselves out-skilled and outgunned — with our children in the crossfire," Demings declared in a news release announcing her bill.
The bill was filed last year but went nowhere with Republicans in charge of the House. With Democrats now in the majority and gun control a priority among Democrats, she is counting on a friendlier reception.
"As a 27-year law enforcement officer, the solution is simple: not more guns in classrooms, but laws that keep guns out of the hands of people who shouldn't have them," she added.
Consensus on climate elusive
Democrats are clearly the party most trusted to take action on climate change. While there is agreement on the mission, how to get there is another story.
In their first week back from the Easter recess the House passed the Climate Change Now Act, a bill sponsored by Tampa Democrat Kathy Castor. It would bind the Trump administration to the carbon-cutting goals of the 2015 Paris climate agreement that Trump wants no part of.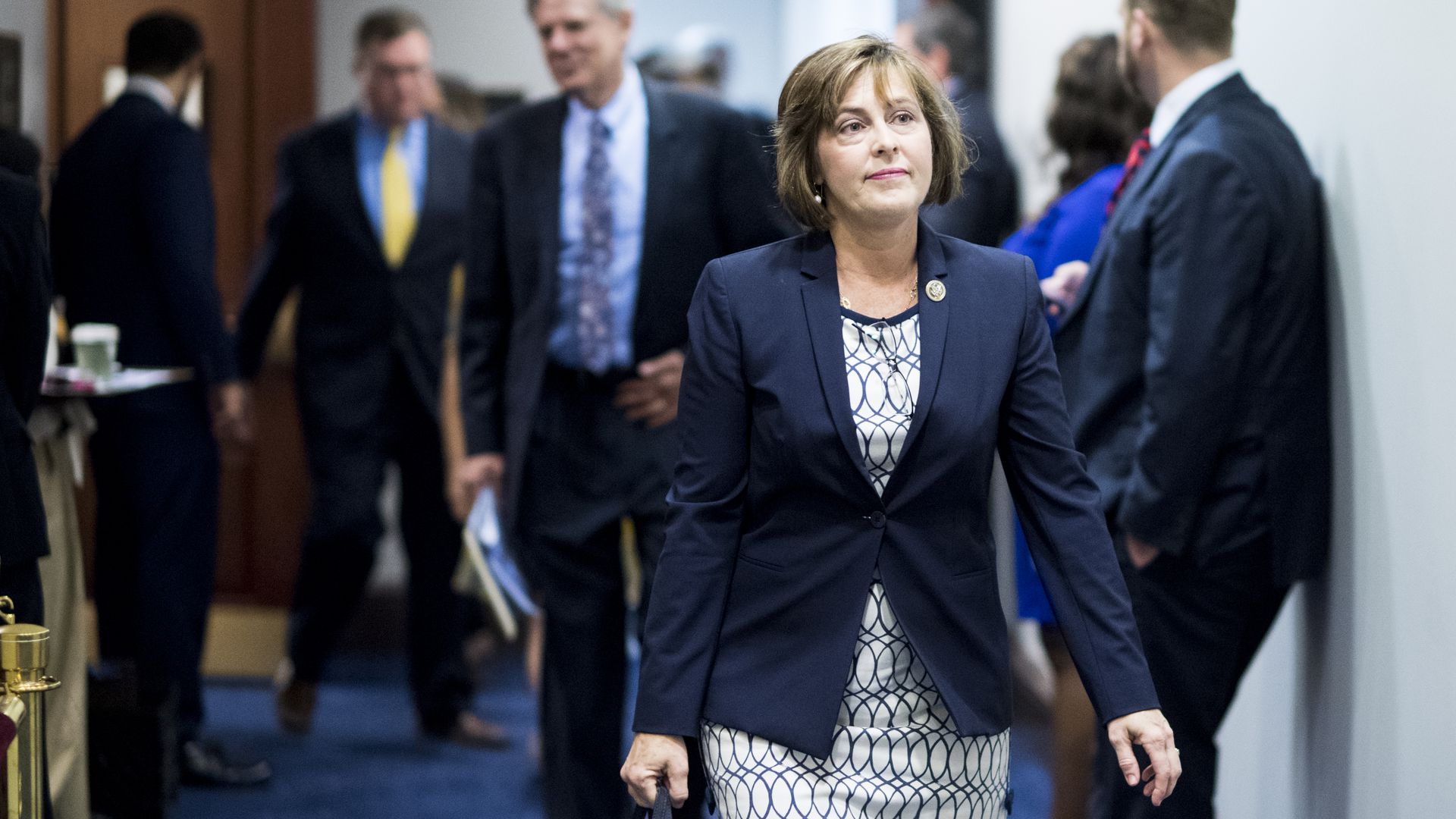 But several Democrats believe it does not go far enough. A minority are behind the Green New Deal that would take dramatic steps that neither Castor nor Pelosi can get behind.
All Florida Democrats are among the bill's 224 Democratic co-sponsors.
Castor was among those disappointed to not hear from Senate Democrats. A small group led by Oregon Sens. Jeff Merkley and Ron Wyden back the Green New Deal, but no one is banging on Castor's door offering to help get her bill through.
"I wish I could shed more light on the operations of the U.S. Senate — it confounds all of us on the House side," Castor said.
Castor is also lumping Republicans in with that statement. The bill has no chance of emerging from the Republican-controlled chamber.
Groups back vets' bill
During a hearing this week, the Health Subcommittee of the full Veterans Affairs Committee discussed legislation proposed by Rep. Vern Buchanan. The Veterans Overmedication and Suicide Prevention Act would require the Department of Veterans Affairs to review the deaths of all veterans it treated who died by suicide or from a drug overdose in the last five years.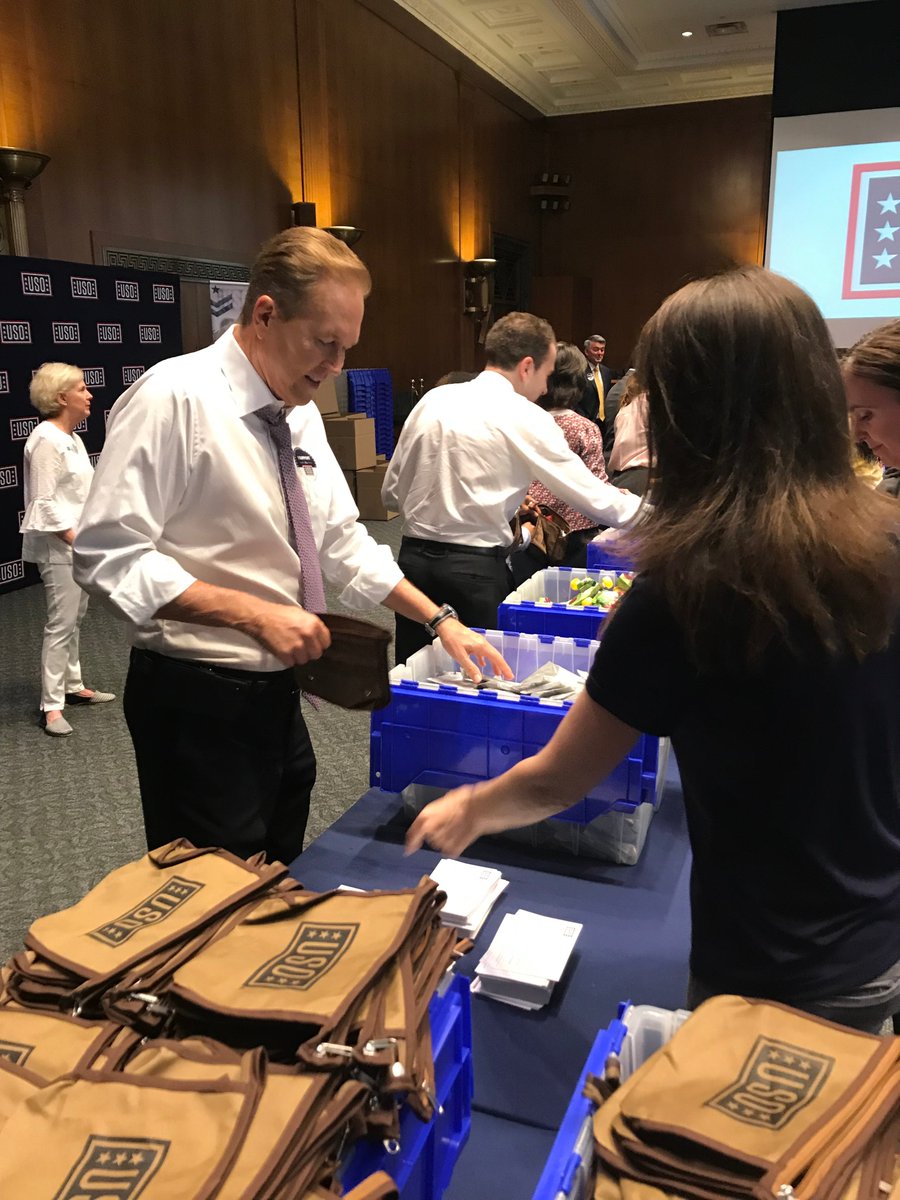 "The high rates of suicide and drug overdose deaths among veterans are unacceptable," the Longboat Key Republican said. "This legislation is critical to learning if prescription drugs, particularly opioid painkillers, are a contributing factor in suicide-related deaths of veterans."
Buchanan's legislation specifically calls for a listing of "any medications that carried a black box warning, were prescribed for off-label use, were psychotropic, or carried warnings that include suicidal ideation." The new information will be used to better treat veterans suffering from mental and physical injuries sustained because of their service.
The bill gained the support of veterans' groups, including the Veterans of Foreign Wars (VFW), Iraq and Afghanistan Veterans, and AMVETS.
"I am pleased to see this strong support from leading Veteran Service Organizations," Buchanan said.
His bill has not yet gained a co-sponsor.
Federal sunscreen bans?
The Florida Legislature may not want localities passing sunscreen bans, but Rep. Francis Rooney wants the federal government taking action from above. He called on the House Natural Resources Committee to consider legislation barring the use of certain sunblock in national marine sanctuaries.
The Naples Republican co-sponsored legislation with Mucarsel-Powell, a Miami Democrat, seeking a ban on oxybenzone or octinoxate. The bill would apply only in waters where coral is present.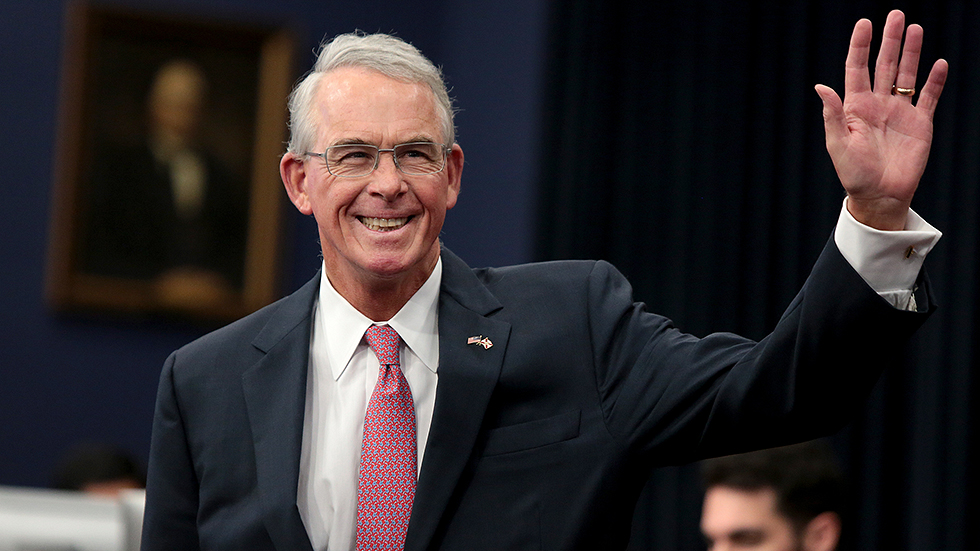 "There are a number of reasons why our precious coral reefs are dying, and we must do all we can to remove stressors," he wrote in a letter to committee leaders. "That must include reducing the damaging effects of these chemicals."
Some studies have shown potential impacts of the sunscreen ingredients on reefs, and Hawaii issued a statewide ban. But notably, there remains no consensus about the effects.
Dermatologists and academic researchers have said science doesn't support the idea sunscreens lead to coral bleaching. The chemicals barred in Rooney and Mucarsel-Powell's bill provide the essential ingredients for high-SPF sunblock.
Increasing boat sales
The boating industry is an important part of Florida's economy either through recreation or boat sales. Democratic Rep. Lois Frankel of West Palm Beach and Republican Rep. Ted Yoho of Gainesville have teamed up to incentivize boat sales in Florida and throughout the country.
They have reintroduced bipartisan legislation that would amend the Tariff Act of 1930 that discourages boat sales in the United States. The goal is to bring in new jobs and boost the economy in South Florida and other regions of the state.

"Boats are the floating economic engines driving South Florida's economy, a $23.3 billion industry supporting more than 92,000 jobs and 6,000 businesses in our state," Frankel said. "We want to take this super-industry full speed ahead, creating good-paying jobs for coastal communities."
Under current law, owners of foreign-flagged yachts must pay import duty before bringing their vessel into U.S. waters for sale. This obstacle discourages sales from happening in Florida and encourages yacht owners to take their business elsewhere.
"This legislation will take a commonsense approach in assessing duties for used yacht sales registered under a foreign flag, making it easier to sell these boats in the United States," said Yoho. "The bill will help strengthen our economy by boosting American companies and workers that support the boating industry in U.S. ports."
The bill would allow yacht owners to defer the duty until after a sale is made. This would incentivize the sale of foreign-flagged yachts and provide work for coastal communities.
Green infrastructure deal
As the House begins nailing down a potential infrastructure deal with Trump, Mucarsel-Powell says she'll be focused on promoting projects that not only improve her district's roads but also improve the health of the environment.
"How do we build resilient infrastructure, but also infrastructure that is going to have long-term benefits for our environment?"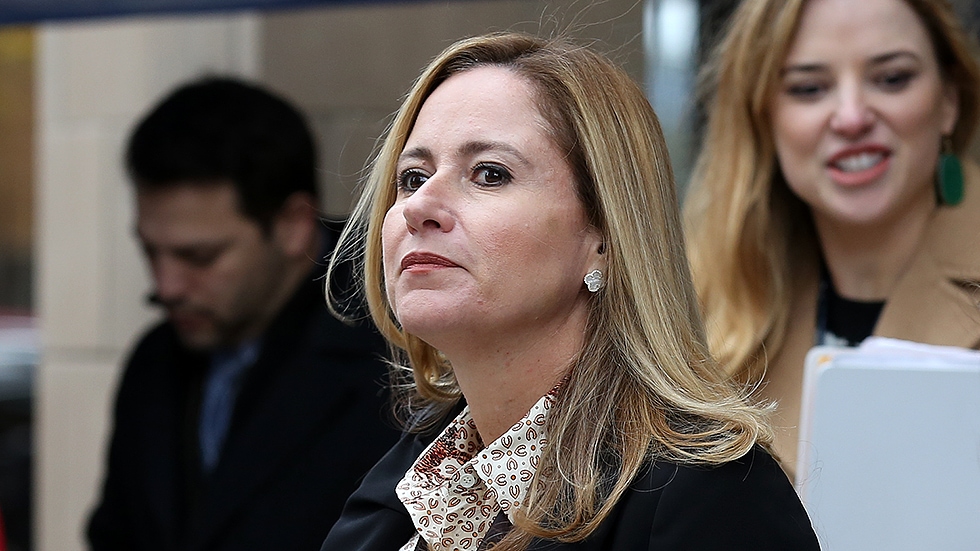 Mucarsel-Powell channeled those concerns this week by introducing the Water Infrastructure, Sustainability and Efficiency (WISE) Act.
The focus of that legislation is the Clean Water State Revolving Fund (CWSRF). That fund sends money to the states, which are then free to disburse the cash to local governments to help with water quality projects.
The WISE Act would ensure that 20 percent of those annual funds would be used for "green infrastructure, water and energy efficiency, or other environmentally innovative activities," according to a summary of the proposal.
And with a potential $2 trillion infrastructure deal coming down the pike, Mucarsel-Powell said she's looking for funding in that package to help rid Miami-Dade County of septic tanks, improve rainwater harvesting, and ensure proposed projects aren't adding environmental costs in the long run.
"We're ground zero for climate change," she said of her district.  "And the more I talked to different stakeholders, the more I realized we are not doing much of anything to invest on the appropriate infrastructure projects that we need to."
Medicare for all debated
This week the House of Representatives held their first committee hearing on universal health care. The House Rules Committee debated the Medicare for All Act of 2019, a bill sponsored by Rep. Pramila Jayapal of Washington state.
Among committee members questioning experts and those advocating the bill's passage was Democratic Rep. Donna Shalala of Coral Gables. The former Health and Human Services Secretary in the Clinton administration began by assessing the current situation.
"None of us would have designed the system that we have," she said.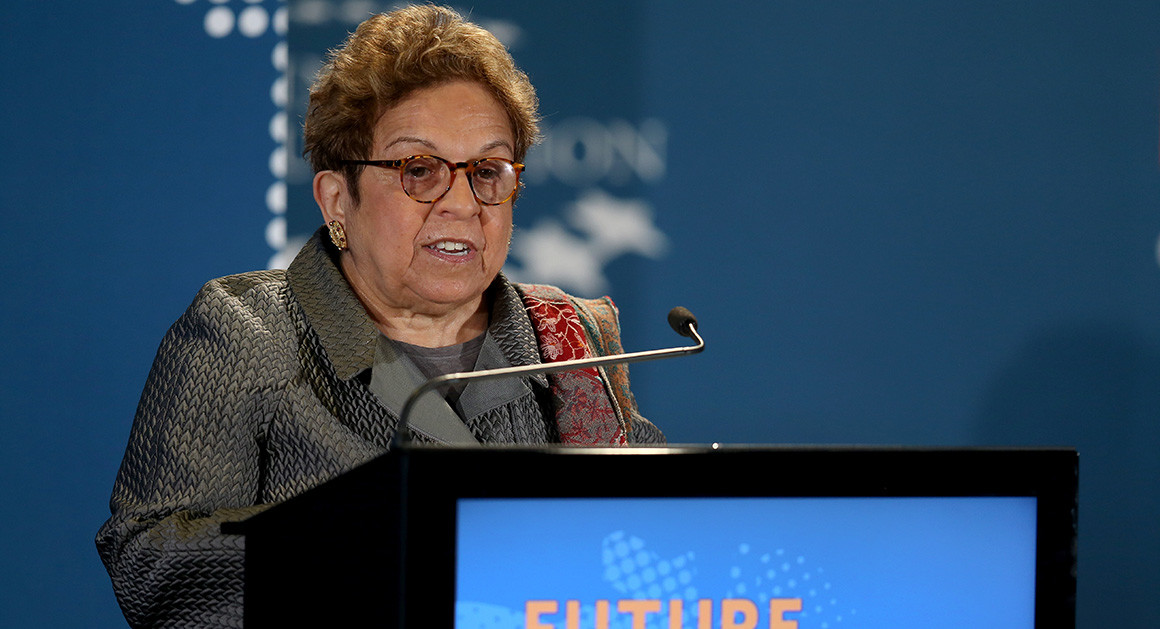 The hearing was punctuated by Ady Barkan, an ALS patient speaking through a synthesized voice, who seeks single-payer health care to help people like his parents. They fund his $9,000-a-month medical bills to allow him to remain at home with his wife and children.
It was a wonky, but respectful hearing that debated what would be a drastic change in health care delivery.
"We Americans are not afraid of giant steps, and certainly Congress has demonstrated over and over again they have the backbone to take on big problems and put their arms around it and try to find a solution," Shalala added. "I'm for universal health care, and I think Medicare for all is one way of getting there."
Shalala is among the five committee Democrats supporting the bill. She is one of 108 bill co-sponsors that also include Reps. Alcee Hastings of Delray Beach and Frederica Wilson of Miami Gardens.
Poll watch
Perhaps it is because Democrats are beating up on Barr more than they are Trump this week (see above), but the President's approval rating is either holding or even slightly increasing. A CNN poll gave Trump his highest job approval rating in more than two years.
While 43 percent approval and 52 percent disapproval leave plenty of room for improvement, it comes after the release of the Mueller report and is consistent with other polls. The Real Clear Politics Average of polls shows a 43.3 favorable rating and 52.8 unfavorable.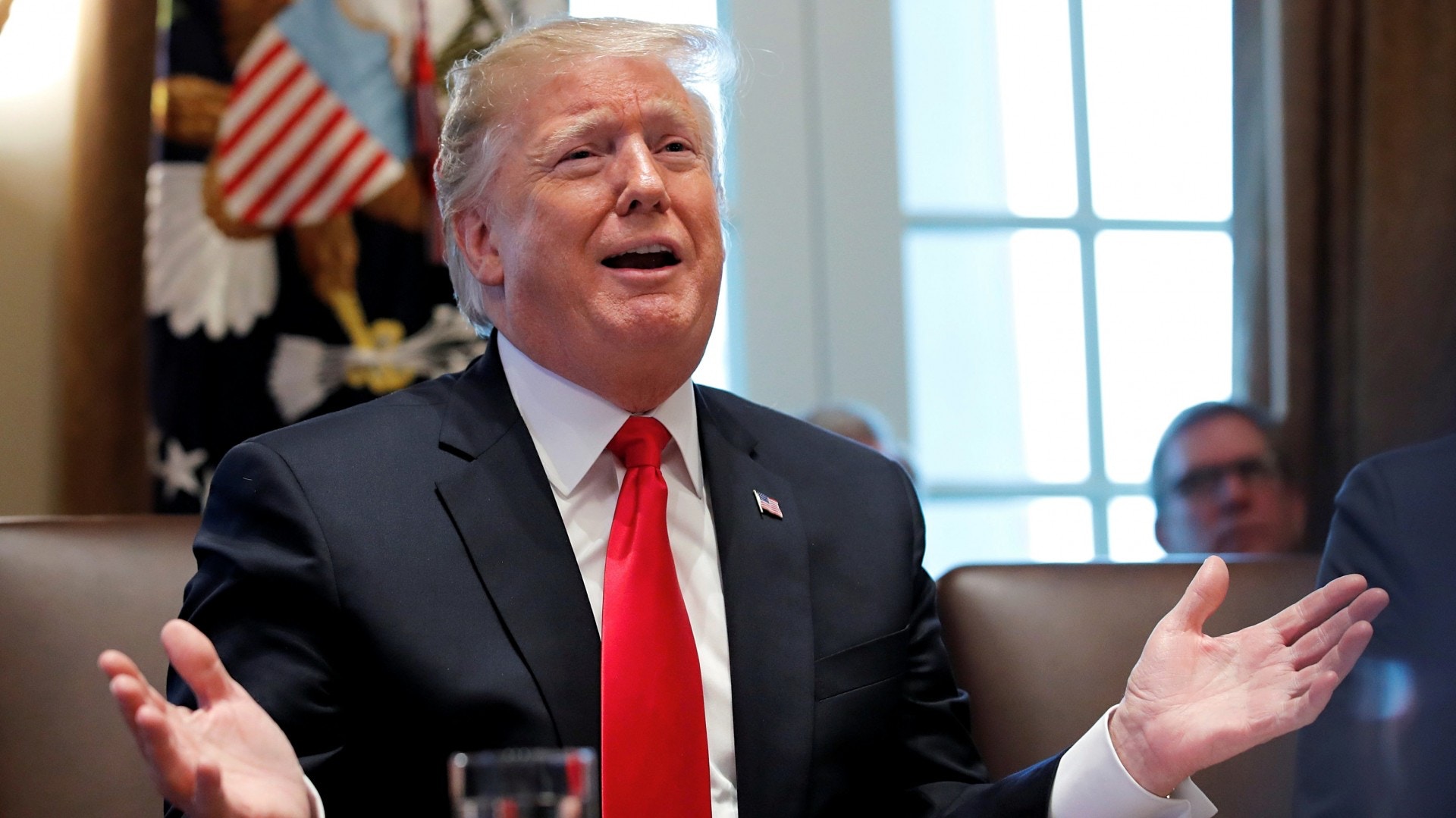 Among the poll's respondents, 48 percent believe Trump committed obstruction of justice while 45 percent believe he did not. At the same time, 44 percent of respondents, up from 38 percent in March, believe Democrats are going too far with the investigations of the President.
In another poll, The Hill/HarrisX survey showed a large majority of Americans favoring a question asking for the citizenship of respondents on the 2020 census form. Among respondents, 60 percent believe the question should be included, even if it meant fewer responses would be the result, while 21 percent said it should not.
Democrats fiercely oppose the question's inclusion, and the matter is now before the U.S. Supreme Court. In a tweet posted last week, Trump said: "the American people deserve to know who is in this Country."
The court is expected to rule sometime in June.
On this day
May 3, 1998 — Rep. Dan Burton, Chairman of the House Oversight and Government Reform Committee, is under fire for releasing edited prison telephone recordings involving former Associate Attorney General Webster "Webb" Hubbell. Hubbell is behind bars stemming from charges he overbilled clients of the Rose Law Firm in Little Rock.
Burton's claim that he was protecting Hubbell's privacy with the edits has enraged Hubbell's former colleagues and supporters. White House Counsel Jack Quinn told NBC's Meet the Press that "If anyone believes" Burton's explanation, "I have a bridge to sell them." Burton called the accusations "baloney."
May 3, 2001 — For the first time since the United Nations Commission on Human Rights was created in 1947, the U.S. was denied a seat on the 54-member body. Voting diplomats said U.S. stances on global warming, missile defense and AIDS medication were among the reasons for the snub.
"Understandably, we are very disappointed," said acting U.S. representative James Cunningham. Cuba and China, both with checkered records on human rights, aggressively campaigned against the Americans.