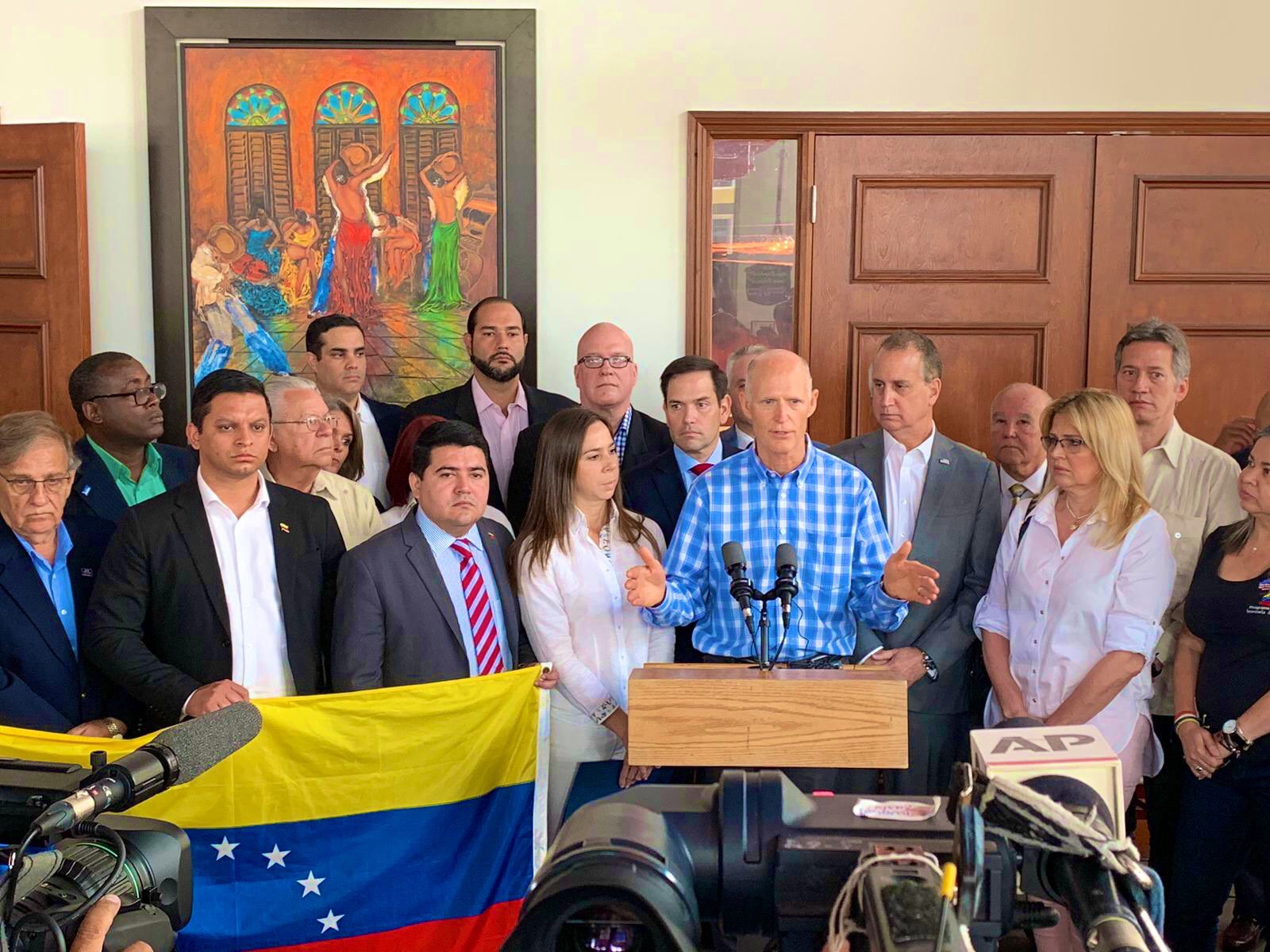 "The time for talking is over."
Florida's U.S. Senators, Marco Rubio and Rick Scott, joined U.S. Rep. Mario Diaz-Balart Friday to urge American action in Venezuela.
Venezuela, mired in chaos and facing a leadership battle between American-backed President-elect Juan Guaido and President Nicolas Maduro, a Russo-Chinese asset, merits American help, contended the three Republicans in Doral.
"It is clear that the reason the crisis continues is because of the influence of Cuba, Russia, China, Iran and Hezbollah, who are all in Venezuela right now and want to inflict pain and torture on the people. This must end," Scott said.
"Together," Scott added, "we will not let evil triumph in Venezuela. The time for talking is over, and I'm proud to join Senator Rubio, Congressman Diaz-Balart and so many brave individuals in the fight for freedom and democracy in Venezuela and throughout Latin America. The safety and security of our nation depend on this fight."
Scott has aggressively messaged on the issue of regime change and humanitarian aid in Venezuela, and all indications are that will continue.
"During today's roundtable with Senator Scott, Congressman Diaz-Balart and leaders of the community, I reiterated my support for Interim President Juan Guaidó and his effort to restore democracy and defend human rights in Venezuela," Rubio added.
"Maduro has no credibility as his inner circle conspires against him and as the Venezuelan people continue to show strong support for President Guaidó," Rubio asserted.
Diaz-Balart said that "the Venezuelan people have suffered for far too long under the oppression and corruption of the Maduro regime aided by adversaries such as the Cuban dictatorship."
"The Cuban malignancy has spread throughout Venezuela and has long extended its anti-American, anti-democracy tentacles throughout our hemisphere, from assisting the FARC in destabilizing Colombia, to bolstering the anti-American, repressive regimes in Bolivia and Nicaragua. The Maduro dictatorship must go so that the Venezuelan people may begin the process of rebuilding their country, and to protect America's key national security interests in our hemisphere," the Congressman continued.
Romy Moreno de Marrero and Belén Marrero, wife and sister of President Guaidó's incarcerated Chief of Staff, were on hand at the roundtable.
Not all prominent Florida Republicans back military action: among those urging caution are Gov. Ron DeSantis and U.S. Rep. Matt Gaetz.
However, what's clear is that Florida's Senate delegation will take a leading role in agitating for a more public and decisive U.S. role.
Venezuelan leadership has been a problem for the United States for the entire 21st century, with Maduro and his predecessor/mentor Hugo Chavez frustrating American objectives in the region.