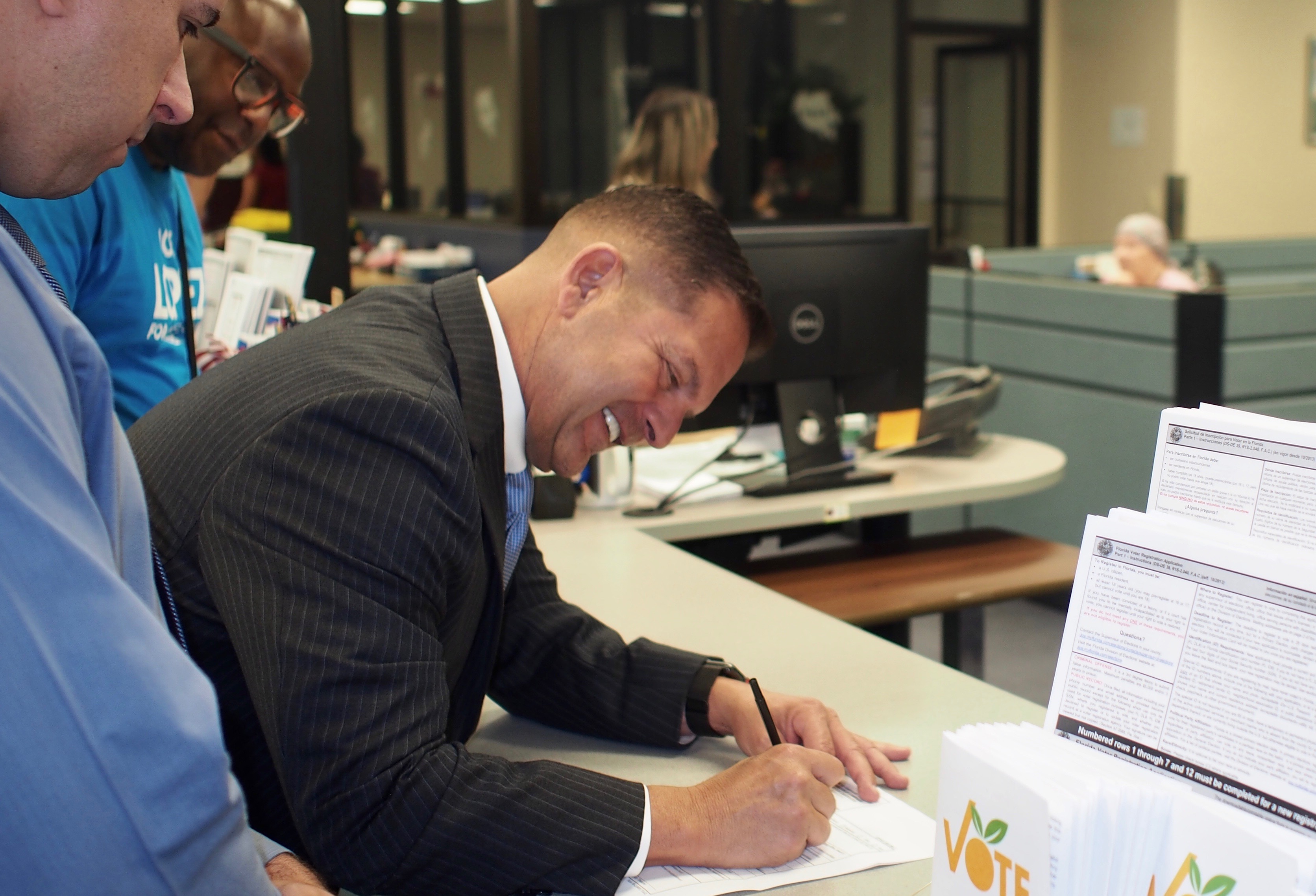 Will take on now Sheriff John Mina, who soundly defeated Lopez last year.
Retired Florida Highway Patrol Chief Joe Lopez has filed to run again for Orange County Sheriff, pledging a campaign on integrity transparency in the sheriff's office.
Lopez is taking on incumbent Orange County Sheriff John Mina, as he did in the 2018 election, when Mina was the Orlando police chief. Also filed for the 2020 contest is former Eatonville Police Chief Eric McIntyre, who initially entered the race in 2018 but pulled out.
"It's a continuation from the 2018 election. We haven't stopped. Ever since the last election I've been involved in the community," Lopez said. "A lot of people have reached out, asking me to join some of their organizations, part of the anti-bullying and human trafficking. So while I was in the community attending events, people were telling me they were still lacking integrity, lacking transparency and that's what I bring to this.
"That's why my campaign [theme] is: Integrity 2.0," he said. "Integrity is not based on one incident, it's based on a whole life of community involvement and what you have done. Not just one incident but in 45 years of what I have done with the community.
Lopez finished a distant third in the 2018 election in what was in in some respects a bizarre contest.
Mina and Lopez both intended to run as Democrats in 2018, but each changed his voter registration status too late in 2017 to qualify as Democrats on the 2018 ballot, so they both ran as independent candidates. The only Democrat on the ballot, Darryl Sheppard essentially ran a wildcat campaign. He was critized in many quarters for how he ran his campaign and was disavowed by the Orange County Democratic Party Chair Wes Hodge and other Democratic establishment leaders.
Mina won with 46 percent of the vote. In a county in which Democrats have an overwhelming advantage in voter registration, Sheppard finished second with 41 percent, even as the local party expressed it wanted nothing to do with him. Lopez got 14 percent. No Republicans ran.
Meantime, the legal partisan status of the 2020 contest has gone back and forth. In 2014, Orange County voters had approved a county charter amendment that officially declared the sheriff's office and election to be non-partisan. But court challenges held up implementation of that charter amendment until after the 2018 election. In January the Florida Supreme Court upheld the 2014 charter amendment election, making the sheriff's contest a non-partisan affair. Then in April the court reversed itself, and the contest went back to being partisan.
The 2018 election was for just two years, because it was held to finish the unexpired term of Jerry Demings, who was sheriff until he was elected Orange County Mayor last year.
This time Mina and Lopez both are running as Democrats, as is McIntyre. Mina filed for re-election in January, McIntire last year. No Republicans have entered the race yet.
Lopez has continued to be a critic of Mina during his first five months in office. "We can't have a conversation saying the crime rate is down when the murder rate is going up," Lopez said Monday. One of the things the community has been asking is: where is the community involvement? Optics is not going to suffice; you've got to have action," Lopez said.
He dismissed his poor showing in 2018 and said his campaign is prepared to expand his base.
"Number one, starting early. Getting our message out there, letting them know who Joe Lopez is. And working harder; there's always room for improvement," he said.