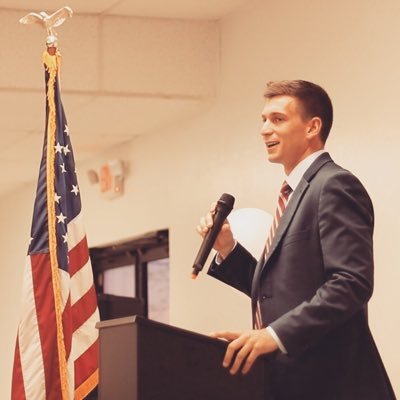 28-year-old worked on Ron DeSantis' gubernatorial campaign before December crash.
A staffer on Ron DeSantis' gubernatorial campaign withdrew from a state House race months after involvement in a fatal crash.
Peter Cuderman sent a letter to the Division of Elections informing the state he ended his run in House District 76. The division received a copy of the letter on April 23.
"Please accept this letter as official notification that I am withdrawing my candidacy for Florida State Representative," Cuderman wrote.
He did not respond to calls from Florida Politics about his decision to withdraw.
The Bonita Springs Republican held his eye on the seat for some time, filing in March of 2018 to run. Shortly after, he sent a letter to the Division making clear he wanted to run in the 2020 cycle.
State Rep. Ray Rodrigues, the Estero Republican representing the district, cannot seek re-election next year because of term limits.
Through last October, Cuderman raised almost a $24,200 toward his run. But he raised no money since then. He's filed financial report waivers every month this year.
Cuderman has reported no campaign activity since a Dec. 30 crash that left a Fort Myers man dead.
The Florida Highway Patrol officials said they has concluded an investigation of the wreck. The law enforcement agency released a crash report, and expects to release its full investigation later this week.
The crash occurred on an on-ramp for Interstate-75 near Gulf Coast Town Center, a Fort Myers area mall.
The FHP report says a Silverado pickup driven by Matthew Ryan and dragging a trailer was parked in the side lane and inside shoulder of the on-ramp. Ryan and passenger Matthew Paul Clark had left the vehicle and were standing on opposite sides of the trailer before the crash.
Then Cuderman drove his Silverado onto the on-ramp around 12:20 p.m. The FHP report said Cuderman was originally in the outside lane but swerved toward the trailer parked on the inside lane.
After Cuderman's vehicle struck it, the trailer careened into Clark, the report says. The trailer also swung and hit Ryan, who was standing in the road shoulder on the other side. Cuderman's own vehicle started to rotate and ended up back on the inside lane, where it came to rest.
Both Ryan and Clark were transported to Gulf Coast Medical Center. Clark, 38, died from his injuries.
The FHP report states Cuderman was operating a motor vehicle in a "careless or negligent manner." Authorities did not suspect drug or alcohol use. The 28-year-old was not injured in the crash.
FHP Lt. Gregory Bueno, a spokesman for the Patrol's Fort Myers office, said an investigation has concluded. A final report could be completed this week, and still needs administrative approve before it becomes public.
Cuderman expressed frustration in March that the crash had started to define his candidacy.
After The News-Press published an article making mention of the accident, he posted on Twitter: "Info Reported: my work for a single company (I've worked with 100's over the past decade) and a fatal car accident. Info Not Reported: USMC, author, philanthropic involvement … or even that I was on a News-Press advisory board."
Cuderman at the time of the crash worked as an adjunct professor at Florida Gulf Coast University, close to the crash site. He previously studied at the school and served in student government.
He's also been involved in Republican politics at the state and local level.
He joined DeSantis' campaign team in September as coalitions director. In that capacity, Cuderman oversaw the Hispanic, Jewish, Minorities, Women and Veterans coalitions in the buildup to DeSantis' November victory.
Right now, the only remaining candidate filed for District 76 remains Republican Jason Maughan, a Sanibel City Councilman.