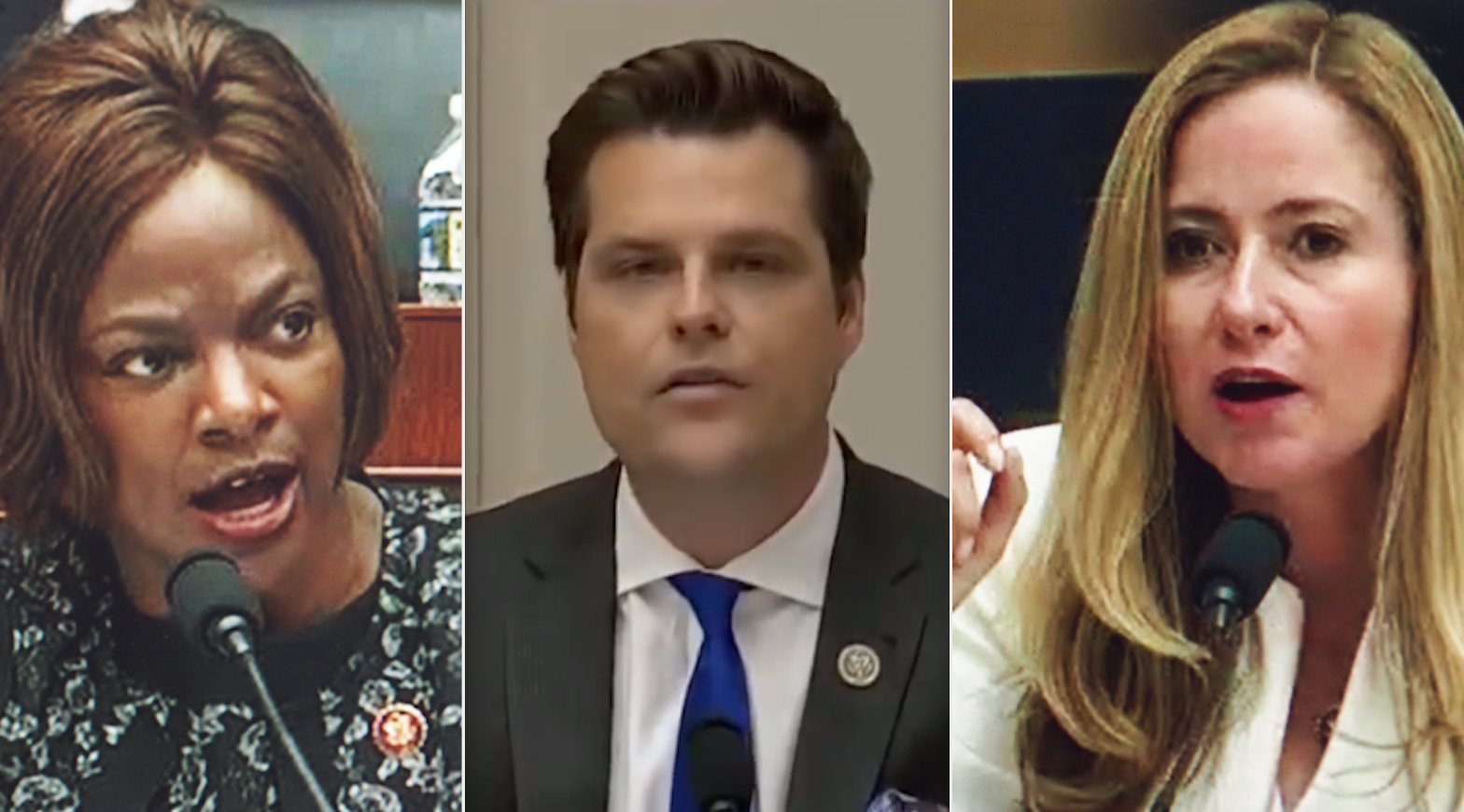 'Attorney General Barr has betrayed his oath to uphold the law,' Val Demings declared.
As the U.S. House Judiciary Committee voted Tuesday to hold Attorney General William Barr in contempt of Congress, five Florida members took strongly partisan and opposing debate sides, with Democratic U.S. Reps. Ted Deutch, Val Demings, and Debbie Mucarsel-Powell supporting and Republican U.S. Reps. Matt Gaetz and Greg Steube opposing.
The extraordinary committee decision, 24-16, along party lines, would set up a showdown between Congress and the executive branch administration of President Donald Trump over Barr's refusal to respond to the committee's subpoena with the full investigative report and background documents from the Special Counsel Robert Mueller investigation of Russian interference in the 2016 presidential election.
"Attorney General Barr has betrayed his oath to uphold the law and defend the Constitution, and today we are voting to hold him accountable for refusing to respond to a lawful subpoena," Demings said. "And Mr. Chairman, we have more than enough reason to be here and to take this action. The special counsel's report documents a pattern of criminal and corrupt behavior."
"The gentleman from Georgia [Democratic U.S. Rep. Henry Johnson] said we're hiding behind the rules. Hiding behind the rules? These are federal laws that dictate what the Attorney General can and cannot do," Gaetz said. "We are not hiding behind the rules. "
The resolution also would set up a showdown over Trump's declaration, Tuesday, of executive privilege to block disclosure of the Mueller materials, or anything else sought by the committee, an action Barr said Monday he would recommend to the president.
"Executive privilege is not a cloak of secrecy that drapes across our nation's capital from the White House to the Justice Department. Yet, last night, the Attorney General threatened a blanket privilege claim over materials that he knows are not privileged as retribution for the markup we are holding right now," Deutch charged.
"Despite this clear threat to our democracy," Mucarsel-Powell alleged, "the Attorney General… has chosen to work as the president's personal defense counsel."
"What we witnessed in today's Judiciary Committee markup was a complete affront to this institution, our Constitution, and democracy at-large. Chairman Nadler and his democratic colleagues on the committee chose partisan theatre over public service and held an honorable man in contempt for simply following the law," Steube, of Sarasota, said in a written statement issued afterwards.
The four-hour hearing broke the showdown into two world views: Democrats such as Deutch, Demings and Mucarsel-Powell viewing Barr's refusal to comply with the subpoena as stonewalling of Congress and a clear violation of his constitutional duties; while Republicans such as Gaetz [Steube did not speak in the hearing] insisted that Barr was acting both legally and appropriately, and depicted the contempt resolution as a continuation of, in Gaetz words, "a witch-hunt," aimed ultimately at bringing impeachment proceedings against Trump.
Deutch, of Boca Raton, contended that the committee was dealing with "the breakdown of the foundations of our nation's constitutional order. That's why we're here today.
"This sweeping repudiation of Congress and Congressional investigations is unprecedented and it is unconstitutional," Deutch said. "This is a government of, by, and for the people. The Attorney General of the United States is stonewalling the people. He is misleading the people. And he is actively working to suppress the truth."
That's not why they were there, Gaetz and other Republicans insisted.
"This hearing is not about the Attorney General…. This is all about impeaching the President," Gaetz, of Fort Walton Beach, countered. "Now, why don't they just say it? Why don't they just jump to the impeachment proceedings like their liberal media overlords are telling them to do? The reason is the American people don't support impeachment."
Some Democrats, notably Demings, of Orlando, eagerly went there, charging that the pursuit of the Attorney General was a pursuit of larger matters in the Mueller report that lead to Trump.
"The president of the United States encouraged his associates to hide the truth, illegally suggested that he would pardon witnesses and threaten them with retribution if they didn't protect him," Demings said. "In short the special counsel's report shows a shocking story of corruption and obstruction."
Mucarsel-Powell, of Miami, who immigrated from Ecuador as a child, sought to remind the committee that the U.S. Constitution and rule of law sets the United States apart from countries with authoritarian leaders, and she chastised Republicans for demanding rule of law in Venezuela and Cuba, and charged that they are looking the other way at home.
"We cannot allow this to happen in the United States of America," she said.  "We have a crisis on our hands. On the one hand we have a report that details a systematic attack on our election system by a foreign adversary. On the other we have an administration that refuses to acknowledge these attacks and fails to recognize the Article I powers of a co-equal branch of government. And we have an Attorney General refuses to comply with a duly issued legitimate congressional subpoena."
Democrat U.S. Rep. Charlie Crist of St. Petersburg also had a cameo role in the hearing as a couple of Democrats recalled that Barr, responding to Crist's questions at a House hearing in April, said things later disputed by Mueller. However, those statements were not part of the contempt charge reported out of the Judiciary Committee.
At one point Gaetz mockingly offered an amendment calling for the committee's resolution to include a strong disclaimer that it would not seek to ask for any information from grand juries that the administration was legally barred from providing. Gaetz offered the amendment openly predicting that his Democratic colleagues couldn't possibly support it, because he believed they in fact wanted to seek legally barred grand jury information.
However, the Democrats called Gaetz' bluff. Committee Chair Jerrold Nadler, a Democrat from New York, reiterated what he had said earlier, that he never wanted such information. Gaetz' amendment was unanimously adopted, with some Republicans expressing incredulity.
Later, however, after a break, Republicans characterized the amended resolution as a new offer from the committee, arguing that Barr must be given time to consider the new offer before anyone should consider him being contempt.