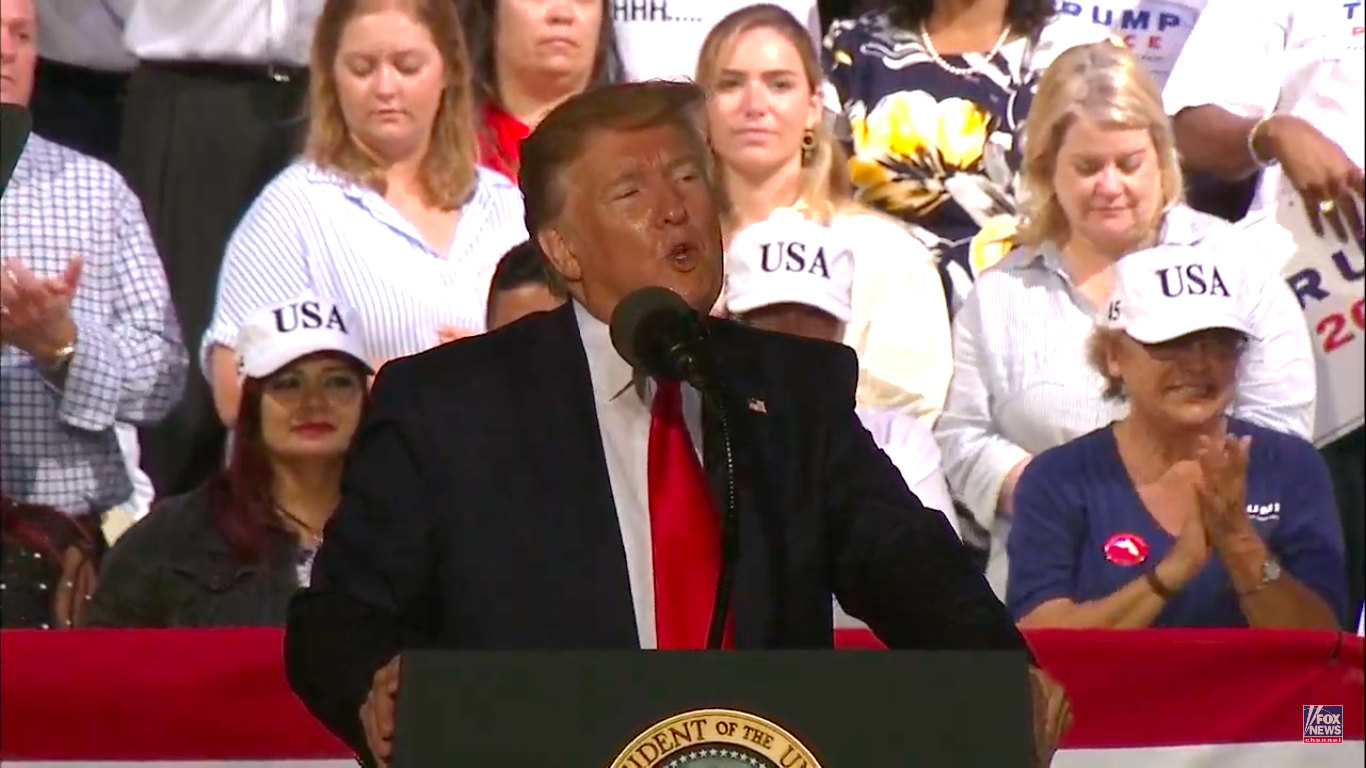 President held first campaign stop of 2020 cycle in storm-struck region.
President Donald Trump from a stage in Panama City announced $448 million more in disaster recovery funds for Florida.
"We've already given you billions but there's a lot more," Trump said on Wednesday.
The funding will come from the Department of Housing and Urban Development, he said.
Trump chose Panama City, where Hurricane Michael made landfall last October, as the site of his first Florida campaign stop of the 2020 election cycle.
While there, he promised help in rebuilding the region.
Because Michael made landfall as a Category 5 storm, Trump said the federal government can reimburse 90 percent of costs.
"We are doing the most allowed by law to support the people of Florida," he said.
He said the administration funding will come because of the storm's severity.
"We can do that because of the incredible devastation and size of the storm," he said.
Long-term, Trump said he had demanded the military nix plans to close Tyndall Air Force Base. Trump claimed he put a stop to that.
"I said 'General, why are you doing that?'" he said. "The people are incredible. Those people, they work. They are just outstanding."
Trump said he toured Tyndall before the rally, and felt confident the base would be stronger than ever before.
He announced that the administration plans to move the F-35 fighter jets to Tyndall, something proposed by Air Force leaders in December.
"There will be many more people working at Tyndall than you had the day before the storm," he said.
Of course, Trump thanked voters in the heavily conservative area for helping him win Florida in 2016. His 1.2-percent margin of victory in the state helped him secure a surprise presidential election victory.
Through the campaign, Trump said he knew the community well, and therefore understood they would rebuild after the storm.
"This extraordinary community pulled together and showed the world your unbreakable spirit," he said.
He also slammed Democrats for wanting more funding to go to Puerto Rico. He brought a bar chart printed on a sheet of paper that he said proved more than $91 billion had already been spent on helping the island nation.
"What the Democrats want to do is to give more and more," he said.
Trump said Puerto Rico received more money than any other state for hurricane recovery.
Now he said he will help the states instead. Democrats need to work on providing the funding, he said.
"They really should be focused on restoring and helping the Emerald Coast of Florida," he said.
In other commitments to Florida, Trump touted water quality efforts. He noted the Army Corps of Engineers moved plans for the Herbert Hoover Dike up three years. He noted a visit eight weeks ago to see progress around Lake Okeechobee.
He also noted support for $100 million in funding for red tide nationwide, which of course includes dealing with troubles on Florida's shores.
"The red tide, we're gonna get rid of it," he said.
Trump also pledged to stay tough on immigration, and called the U.S. laws the worst in the world for protecting the border.
He complained to cheers how chain migration allows criminals "with tattoos on their faces" to come in and bring their "whole damn family." He also slammed catch and release policies.
"The wall would stop it," he said, trashing proposals for drones and other cheaper border security methods.
"Congress must act to fix our horrible immigration laws," he said.
He promised to shut down sanctuary cities and stop visa lotteries.
"Republicans believe our country should be a sanctuary for law-abiding Americans, not criminal aliens," he said.
He ran through a series of hot-button political issues from judicial activism to college censorship to social media shadow banning.
And he said Democrats continued focus on investigations of his administration would ultimately make a case for his own re-election in 2020.
"I want to run so badly, I want to start immediately," he said.