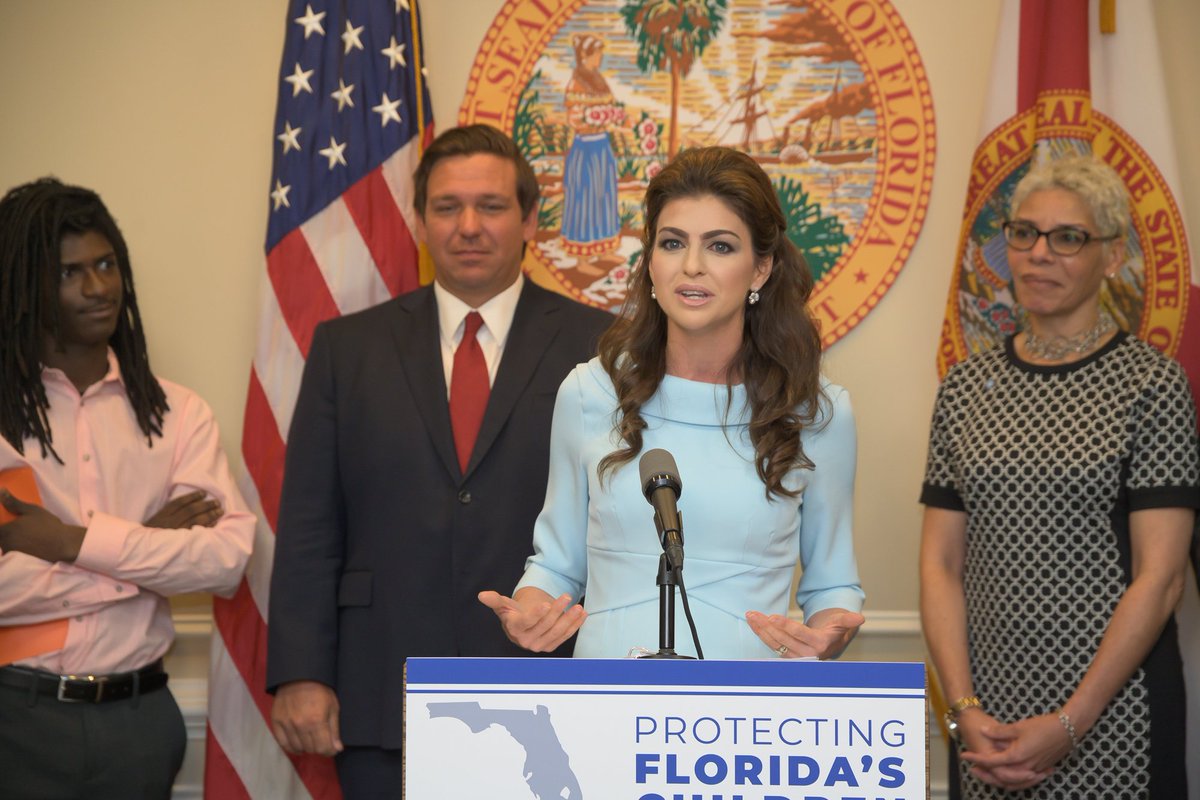 Hillsborough School Board member made herself the story in confrontation with the Governor and his wife.
The terse exchange Thursday between Gov. Ron DeSantis and Hillsborough School Board member Karen Perez should have absolutely been handled better by both parties.
I'll get to that in a minute.
But first, the day was supposed to be about the announcement of new ventures out of Tallahassee to provide better access for help with mental health and substance abuse issues in schools. A press conference followed.
First Lady Casey DeSantis appeared with her husband at Tampa's Roland Park K-8 Magnet School. After she finished her presentation, Perez interjected herself into the story.
The report by veteran Tampa Bay Times education writer Marlene Sokol captured what happened next.
Perez asked why there wasn't more money to hire extra psychologists and counselors. She is a former social worker.
Gov. DeSantis asked, "What's your question?"
He told her she was not a member of the media. She kept talking, and the Governor kept brusquely responding. That's when the First Lady got things back on track.
"Listen, I'll just say I am so honored and privileged to be in this position and, for the first time in the history of this state, to bring agencies together to better address this issue," she said.
I don't blame Gov. DeSantis for feeling blindsided and trying to take the heat off his wife, but it sounds like Casey DeSantis can handle herself. She had a career in live television before her husband won the 2018 election. She has the poise to deal with unexpected situations in front of a crowd.
It's also fair to question Perez's judgment in trying to hijack a presentation that appeared to be a positive move toward alleviating the situation that upset her. As an elected member of the governing body for more than 200,000 public school students, Perez set a poor example.
In the future, any student that wants to monopolize a public presentation to air a grievance can point to Perez as a role model.
That's not saying this issue isn't important.
The mental health of students and teachers came into focus after the slaughter last year in Parkland. Earlier this year, two students who survived the massacre at Marjory Stoneman Douglas High School committed suicide.
That's enough to make anyone scream in frustration, but that only makes it worse. Maybe Perez believed no one would listen if she tried to get a message to the Governor through proper channels.
Maybe that's true.
Unfortunately, Perez became the story Thursday with her ill-advised showdown with Gov. DeSantis and I don't believe that's what she intended at all.
Some good might have come from it though, if only by blind luck. Maybe she did get people talking about a growing mental health problem in schools. Before demanding more money though, one of the first questions might be to see if Hillsborough is using all the resources it has received from the state.
Answer that question first, and then expand the conversation.
Politely, please.