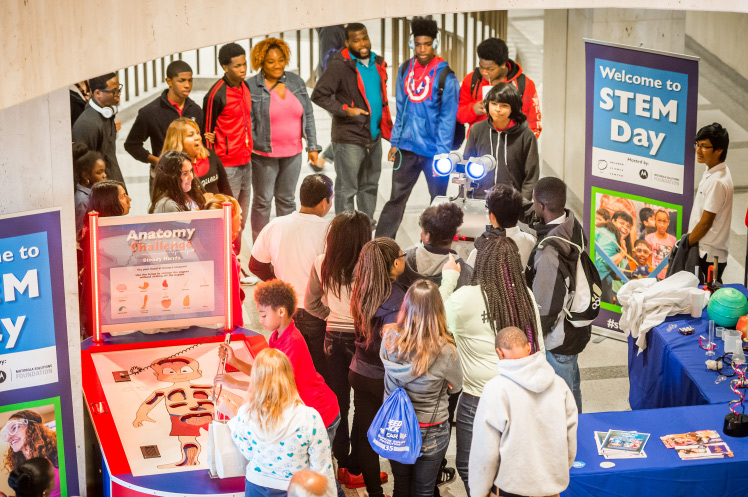 "It sends a very loud and powerful message to girls."
The Miami chapter of the National Organization for Women (NOW) is calling out Verizon for offering a STEM summer camp in Miami that is exclusive to minority boys.
The Verizon Innovative Learning summer STEM camp is held in a partnership with Florida International University. That program aims to help highlight potential STEM careers for minority boys, who are underrepresented in the field.
Woman, however, are also underrepresented in STEM fields. That led to Simone Allison, the NOW Miami chapter's President, to call out what she sees as an "all boys'" club.
"It sends a very loud and powerful message to girls who have an interest in STEM subjects that they are not up to the challenge, and they do not have the same capacity to master the subject areas of science, technology, engineering, and math as boys," Allison said.
Still, Verizon does have a separate girls-only program which launched in 2017, though it's aimed at young girls in rural areas. One such program exists at Hillsborough Community College in Tampa.
In speaking with Verizon representatives, they cited two main reasons for the sex-segregated programs.
First, these programs cost money. Verizon's argues the set amount of resources being put toward such programs should target demographics most in need. Two of those groups identified by the company are minority boys and girls in rural areas.
Expanding the program, say to all minorities or all rural residents would either raise the price tag or cause the number of locations where the programs are offered to be cut back.
Second, representatives pointed to research showing some benefits of sex-segregated education. Those include an allowance for same-gendered role models, improved interaction among students and reduced distractions.
That research, however, also highlights some of the adverse effects, including the promotion of gender stereotypes and a lack of diversity.
But Verizon maintains they've seen success with the separate programs and have no plans to expand them to become coed.
Allison argues the company should reevaluate that decision.
"My hope is that Verizon makes their program available to minority girls as well because girls must be exposed to and have equal access to the same STEM programs that are available to boys," Allison said.
"If our young girls do not acquire the knowledge and skill set necessary for a job market whose current trajectory is centered on core STEM areas, then their ability to sustain themselves independently will not become a part of their future reality, and this is unacceptable."