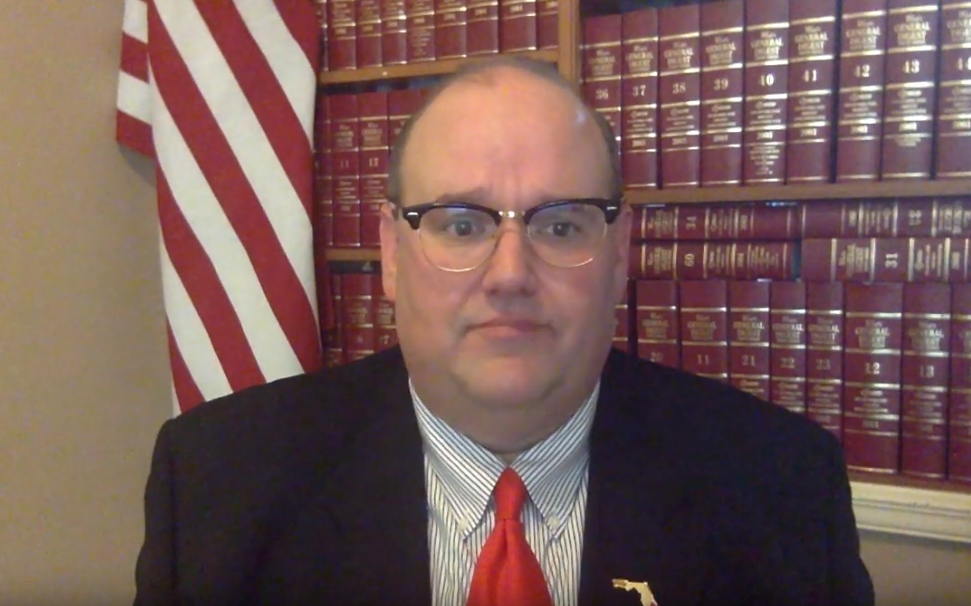 'Orange County must ... embrace conservative ideas of our Gov, Ron DeSantis and our President Donald J. Trump.'
Calling Orange County Mayor Jerry Demings' proposal for a countywide transportation sales tax nothing but "more government, more bureaucracy and more taxes," County Republican Party Chair Charles Hart blasted it Friday as following an old and failed tax-and-spend model.
"Mayor Demings, you can't be for big government, big taxes and big bureaucracy and still be for the little guy," Hart declared in a written rebuttal statement representing the Orange County Republican Executive Committee on Friday.
On Thursday, in his first State of the County address, Demings announced his proposal to put a 1-cent sales tax increase before voters in the 2020 election. It would be used to pay for transportation improvements throughout the county. Demings also announced he intended to raise the minimum wage for Orange County employees to $15 an hour.
In his rebuttal, released as a written statement and as a YouTube video, Hart contended that Demings' proposals were the wrong approach for a county that was prospering because of relatively low taxes, and that his approach should be to cut government, cut taxes, and cut regulations to stimulate business, and let the free market take care of things.
"To truly become the community of tomorrow, instead of confining ourselves to the archaic thought of 'this the way it's always been done.' Orange County must be bold enough to embrace conservative ideas of our Gov, Ron DeSantis, and our President Donald J. Trump," Hart declared,
Hart's rebuttal is something new for Orange County, as is Demings' seat in the mayor's office.
Though the office is officially nonpartisan, Demings is the first Democrat to hold the office of Orange County Mayor in 20 years. What is more, Democrats flipped the Orange County Commission last year, taking control for the first time in 20 years. Democrats now hold a 5-2 advantage, though officially the commission, too, is nonpartisan.
The official nonpartisan status of the jobs belies the fact that Democrats and Republicans holding those offices, or outside the office holders as Hart, can have strongly different views.
On Thursday Demings came out firing with a largely Democratic agenda, focusing on social issues such as affordable housing, wage inequality, and investments in transportation infrastructure and mass transit.
Still, his proposal for a tax to fund transportation and transit is not new. In 2003, Republican Mayor Rich Crotty attempted a similar initiative, which was defeated in the ballot box.
On Thursday Demings decried the limitations of Central Florida's transit systems and declared the growing city needs to invest in the bus system, the SunRail commuter rail system, other transportation needs, and roads. He said he has concluded the best way to do that is through a dedicated source of money, a dedicated sales tax.
"We will use those funds to help support Lynx, and perhaps SunRail, but also to build the infrastructure that we need as a growing community," Demings said.
Hart countered that that's what cities in the Northeast and Midwest have been trying, and that their high taxes are why many people from those cities are moving to Florida. He charged that what Demings proposes would thwart Central Florida's advantage.
"Orange County is expecting a regional population of 5.2 million people in just 10 years, so your tax and spend policy will not improve the quality of our lives as you strip away the personal and economic freedoms of all the people you were elected to serve," Hart stated. "A truly innovative policy would accomplish these goals with less taxes while fostering both small business and market forces. Instead, you have chosen to rely on the archaic policies of exploiting the economic wealth of others."