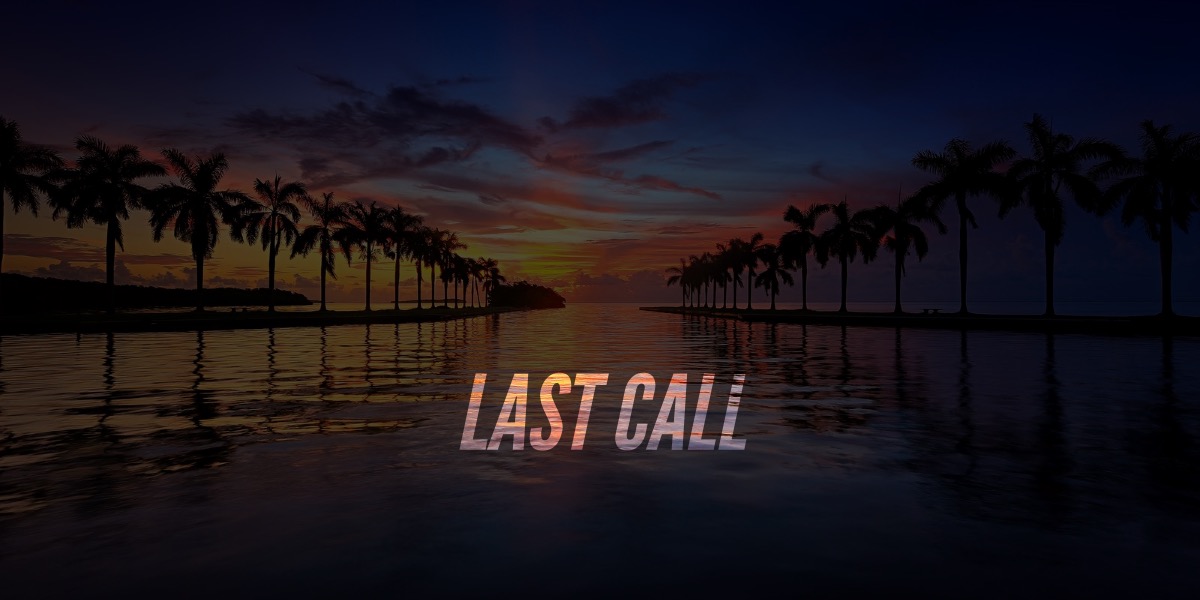 A digest of the day's politics and policy while the bartender refreshes your drink.
Last Call — A prime-time read of what's going down in Florida politics.
First Shot
Not surprisingly, lawyers for the state are asking an appellate court not to reconsider its ruling that Tampa strip club mogul Joe Redner cannot legally grow his own medical marijuana.
But whether Redner still wants to do that is in question.
Shutts & Bowen lawyers Rachel Nordby, Amber Stoner Nunnally and Jason Gonzalez filed a response to Redner's motion at the 1st District Court of Appeal.
Circuit Judge Karen Gievers, now retired, in April decided that Redner — a 77-year-old lung cancer survivor — has the right to 'home grow' under the 2016 state constitutional amendment allowing the use of marijuana as medicine.
His doctor says juiced marijuana is the best way to keep his cancer in remission, and Redner has said he needs to grow his own for the freshest marijuana plant to juice.
Though apparently, not anymore.
"In his motion, Mr. Redner asserts that he has 'never sought' to cultivate and process his own marijuana," the response says.
"Rather, he now belatedly asserts for the first time ever that he merely 'seeks to purchase marijuana plant material from state-licensed (providers) for his personal medical use.'
"This is contrary to what he asserted in his operative pleading, where he (said) he was seeking a declaration of his right to grow his own marijuana plants," it adds. " … This Court should reject Mr. Redner's belated effort to transform the nature of his case."
Evening Reads
"Florida Democratic Party says it's spending $4M organizing in communities of color" via David Smiley of the Miami Herald
"Brian Ballard will host fundraiser for House Democrat" via David Beavers of POLITICO Influence
"Stop! Just stop playing politics with Hurricane Michael victims" via Diane Roberts of the Florida Phoenix
"Nikki Fried blasts DEP over refusing to continue oil drilling permit opposition" via Bruce Ritchie of POLITICO Florida
"Confederate-loving Florida lawmaker uses white-supremacist talking point to justify abortion ban" via Jerry Iannelli of Miami New-Times
"13 mind-blowing facts about Florida's economy" via Laura McCamy of Business Insider
"Airlines fight 'Florida box' formula for calculating taxes" via Jason Garcia of Florida Trend
"Strip-club bills, campaign cash: Indictments paint nasty pictures of Florida court clerks" via Scott Maxwell of the Orlando Sentinel
"Nationwide 'Stop the bans' abortion rights rally draws 250 in St. Petersburg" via Caitlin Johnson of the Tampa Bay Times
"That time Sandy D'Alemberte kept me out of jail" via Lucy Morgan of the Tampa Bay Times
Quote of the Day
"His beneficial impact on Florida law is immeasurable. If I had to choose any one person as the most important mover and shaker behind Florida's open government movement in the 20th century, it would be Sandy D'Alemberte." — Florida Chief Justice Charles Canady, on legal legend and former FSU President D'Alemberte, who died Monday at 85.
Bill Day's Latest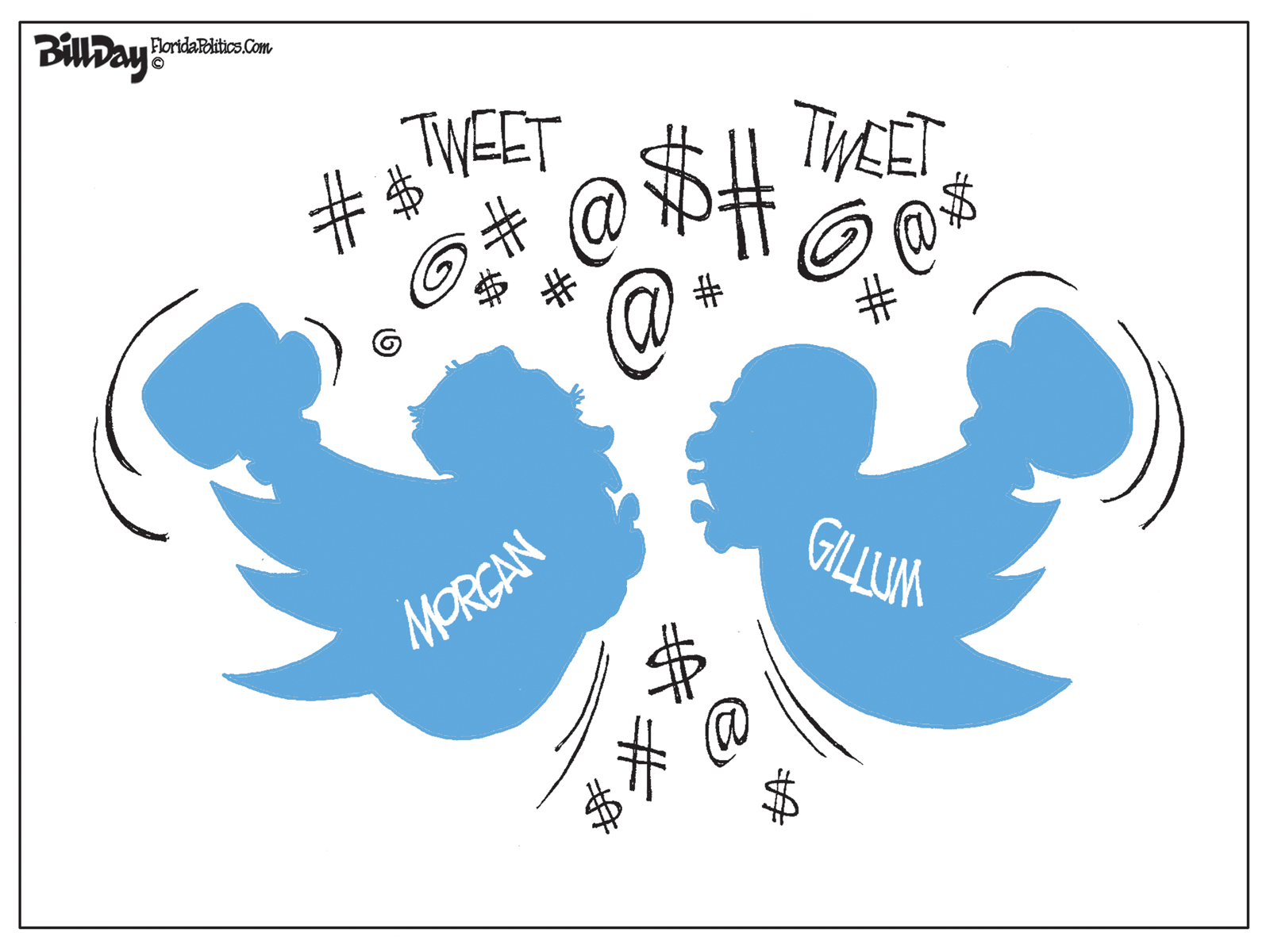 Breakthrough Insights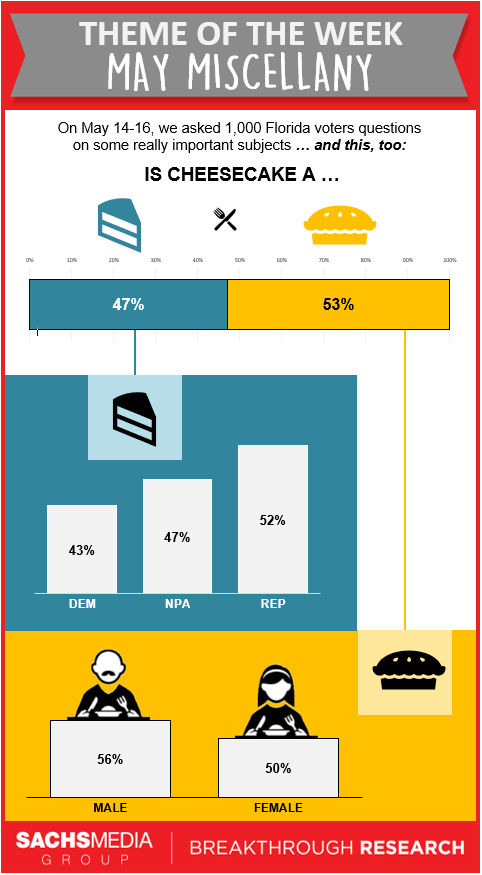 Wake Up Early?
Volusia County lawmakers are slated to speak about the 2019 legislative session during a breakfast meeting hosted by the Daytona Regional Chamber of Commerce. That's at 7:30 a.m., LPGA International Golf Course, 1000 Champions Dr., Daytona Beach.
Democratic state Rep. David Silvers of Lake Clarke Shores, and Palm Beach County Commissioner Gregg Weiss will hold a "coffee talk" event with constituents. That's at 8 a.m., Einstein Bros. Bagels, 1900 Okeechobee Blvd., West Palm Beach.
The Florida Board of Education will meet in Hillsborough County at 9 a.m., Mort Elementary School, 1806 East Bearss Ave., Tampa.
The Florida Chamber Foundation will start a two-day "Business Leaders' Summit on Prosperity and Economic Opportunity," with speakers including Capital Area Community Action Agency CEO Tim Center, Feeding Florida Executive Director Robin Safley and Alex Ruder and Ellie Terry of the Federal Reserve Bank of Atlanta. That's at 9:30 a.m., Palm Beach County Convention Center, 650 Okeechobee Blvd., West Palm Beach.
The state Revenue Estimating Conference will hold what is known as a post-session "impact" conference. That's at 10 a.m., 117 Knott Building, the Capitol.
GOP Sen. Gayle Harrell of Stuart, and Republican Rep. Rick Roth of West Palm Beach are slated to discuss legislative issues during a luncheon meeting of the Republican Club of the Palm Beaches. That's at noon, Holiday Inn Hotel and Conference Center Palm Beach Airport, 1301 Belvedere Road, West Palm Beach.
GOP Sen. Jeff Brandes of St. Petersburg will hold "mobile" office hours in St. Pete Beach. That's at 2 p.m., Tampa Bay Beaches Chamber of Commerce, 6990 Gulf Blvd., St. Pete Beach.
A campaign kickoff event and fundraiser will be held for Republican Christian Acosta, who is running next year in South Florida's Congressional District 21. U.S. Rep. Lois Frankel is the Democratic incumbent in the district. That's at 6 p.m., Museum 66, 2051 High Ridge Road, Boynton Beach.