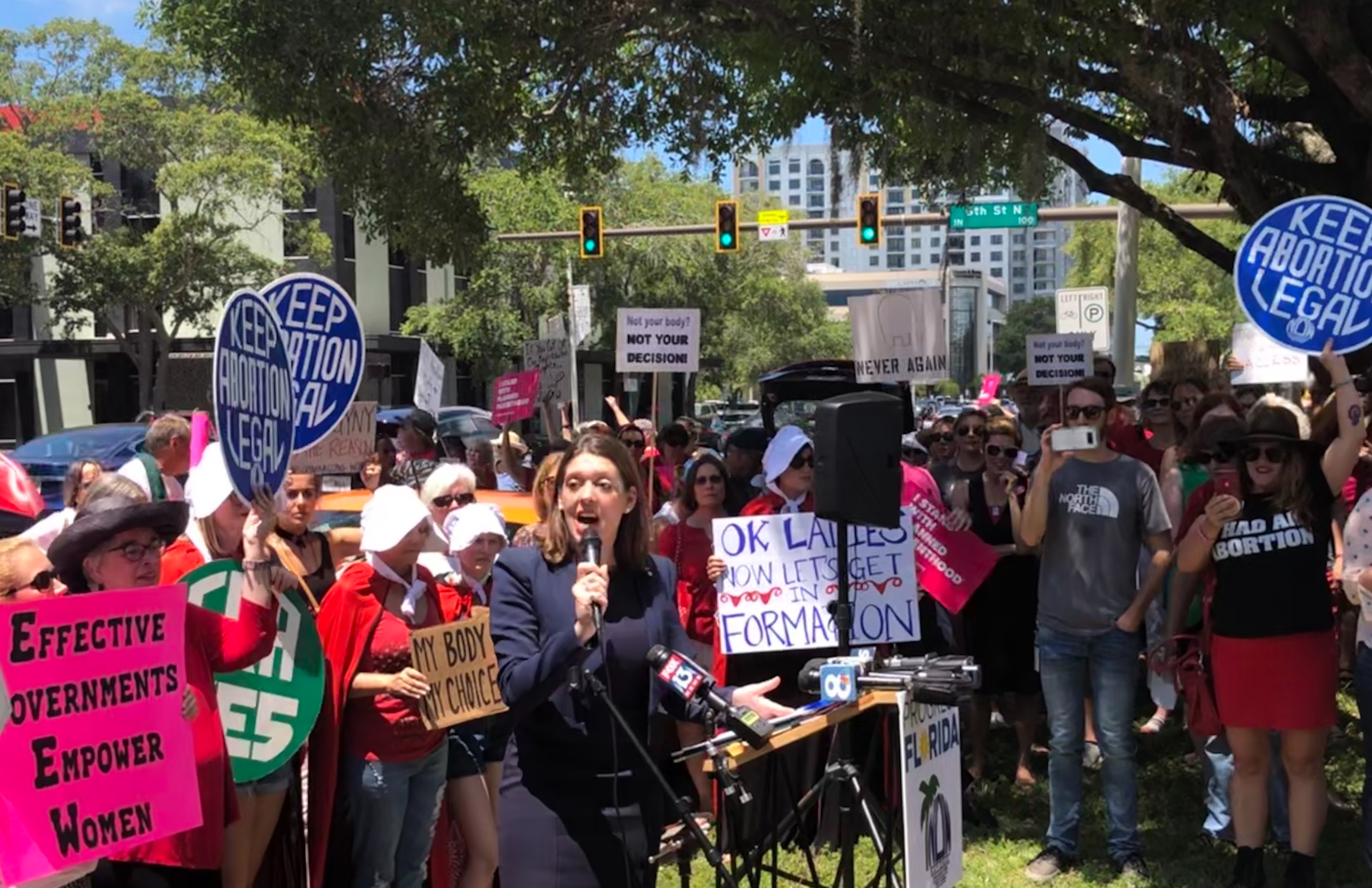 "We matter and our rights matter."
Rep. Jennifer Webb blasted Republicans during a rally Tuesday in downtown St. Pete. Webb spoke during a Progress Florida rally to "stop the bans" on abortion.
"While we know that my Republican colleagues in Tallahassee like to tout the virtues of liberty and autonomy and keeping the government off of our property, far from our businesses and out of our lives, when it comes to the women's ability to access abortions and healthcare, they quickly clamp down," said Webb, a Democrat from Gulfport.
The rally comes just days after Alabama passed and its Governor approved the nation's most restrictive abortion law ever banning abortions after a fetal heartbeat is detected even in cases of rape and incest.
Some Republican lawmakers attempted to pass similar legislation in Florida this year.
Rep. Mike Hill and Sen. Dennis Baxley sponsored two bills (HB 235, SB 792) that would have blocked doctors from performing abortions once detecting a fetal heartbeat. That typically occurs around six weeks of gestation, sooner than many women even know they're pregnant.
The bills, which died in committees, would have also levied third-degree felony charges on anyone "who knowingly or purposefully performs or induces an abortion on a pregnant woman with the specific intent of causing or abetting the termination of that life of an unborn human being."
The House version of the bill had 20 co-sponsors. The Senate version had nine. All of the sponsors and co-sponsors were Republicans.
Another effort (HB 1335, SB 1774) that also died this year would have required minors to obtain parental consent or a judicial waiver before getting an abortion. That measure, sponsored in the House by Rep. Erin Grall and in the Senate by Kelly Stargel, came with 22 GOP co-sponsors in the House and three in the Senate.
"The integrity of our constitution and our autonomy over our own bodies is under attack," Webb said. "And the truth is for those of us who have been paying attention, this is not a new battle."
She said women and abortion rights allies "put up fierce battles" to protect safe abortion access and urged people to continue that fight.
"[Republicans] show that they are not willing to afford women and their families the same rights that they claim to fight to protect for everyone else," Webb said.
Critics of anti-abortion measures, including most Democrats, argue the bans are dangerous for women and that abortion access is an important part of women's reproductive healthcare.
"It is about saving lives and these bans are an attack on women, low-income families and communities of color because banning abortions doesn't stop them from happening. It simply puts our communities at risk," Webb said.
Packing the rally were dozens of abortion rights supporters. Many carried signs demanding lawmakers stay out of their health care decisions.
One sign lamented "I can't believe I still have to protest this [expletive]" another simply claimed "Nacho Crotch." Others wore Handmaid's Tale costumes in a reference to the dystopian drama in which women are stripped of almost all rights.  
"We matter and our rights matter," Webb said.