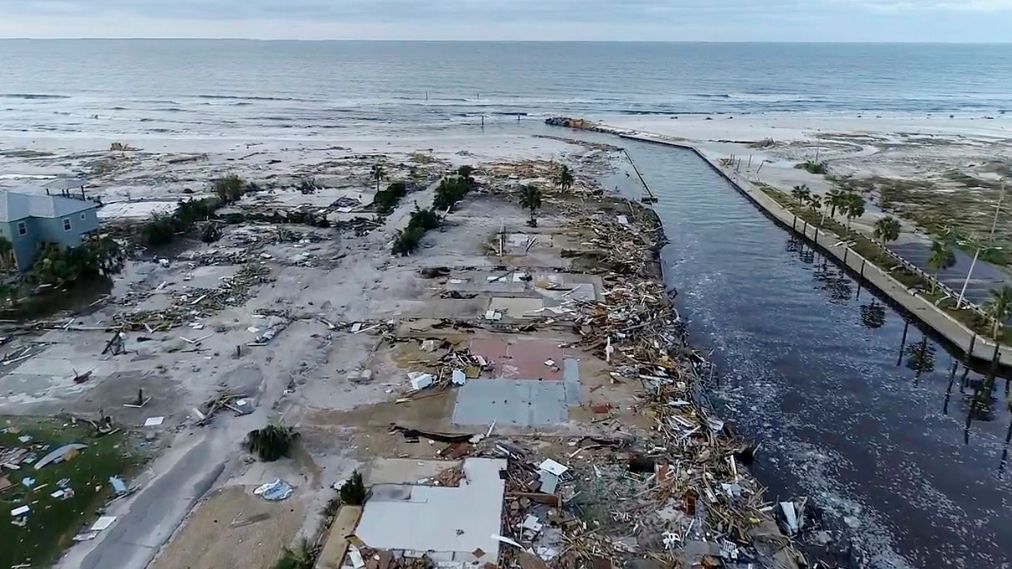 Roy blocked $19.1 billion in funding on procedural grounds.
An ad appearing Tuesday in the Austin American-Statesman is going after Republican U.S. Rep. Chip Roy for stalling a $19.1 billion funding package that would have helped victims of Hurricane Michael, Hurricane Harvey and other natural disasters.
That money cannot be approved until Congress returns June 3 from recess.
The ad was paid for by several businesspeople from the Panhandle including Jay Trumbull Sr., whose son serves in the Florida House.
"When Texas was hit by Hurricane Harvey, Florida CFO Jimmy Patronis and a group of friends went to Beaumont, Texas, to help. He served the Texans with his own time and money," the ad begins, citing efforts by Patronis to aid victims after Harvey struck Texas in 2017.
"After Hurricane Michael, Chip Roy served himself with a political stunt that prevented relief to the suffering victims of Florida."
The ad then details the damage caused by Michael and instructs readers to call Roy's office.
The congressman blocked a vote by unanimous consent in the House Friday that would have approved the funds. The Senate had already signed off on the $19.1 billion package, which has also been backed by President Donald Trump.
But Roy raised questions about the measure's price tag and objected to the lack of border security funding approved by Congress "to address the clear national emergency and humanitarian crisis we face at our southern border," according to Roy.
He also said the use of unanimous consent was improper. The House attempted to use the procedural measure to push the bill through before the Memorial Day holiday, as several lawmakers had already left Washington, D.C.
That process can be blocked if unanimous consent is not reached—and Roy decided to block it.
Once House members return from the holiday, however, they will likely have enough votes to sign off on the measure approved by the Senate.
A second congressional Republican, arguing for a vote by the full House, blocked an attempt to pass the legislation Tuesday.
Kentucky U.S. Rep. Thomas Massie, further delayed the $19.1 billion disaster package by objecting when Georgia Democratic Rep. Sanford Bishop urged the House in a brief pro forma session to move forward with the negotiated funding, which passed the Senate in an 85-8 vote last week.
Through a process known as unanimous consent, the disaster-relief bill could have passed the House without most members present. Massie argued the House should wait until next week when the full body is available to vote.
"If the Speaker of this House felt that this was must-pass legislation, the speaker of this House should have called a vote on this bill before sending every member of Congress on recess for 10 days," Massie said.
Along with providing aid to areas of Northwest Florida that sustained damage in October's Hurricane Michael, the package would address flooding and wildfires in other parts of the country.
Bishop's district covers Southwest Georgia, which also sustained heavy damage in Hurricane Michael.
Maryland Democratic U.S. Rep. Steny Hoyer unsuccessfully urged Republicans to not object to the proposal Tuesday. Lawmakers have spent months grappling with the issue.
"Millions of people are at risk," Hoyer said. "And the sooner that we pass this bill, which we passed in January to the Senate, which we passed some three or four weeks ago, needs to be passed as soon as possible for the welfare of our people, people of this country who have been attacked by natural disasters."
After the vote, U.S. Sen. David Perdue, a Georgia Republican, called Massie's action "pathetic" and "another example of politicians putting their own self-interest ahead of the national interest."
Massie responded to outrage on social media by tweeting: "Legislative malpractice is all-too-common here in The Swamp."
The House will hold another pro forma session Thursday, but it appears unlikely that Republicans will allow the funding to advance without a full vote.
___
The News Service of Florida contributed to this post.