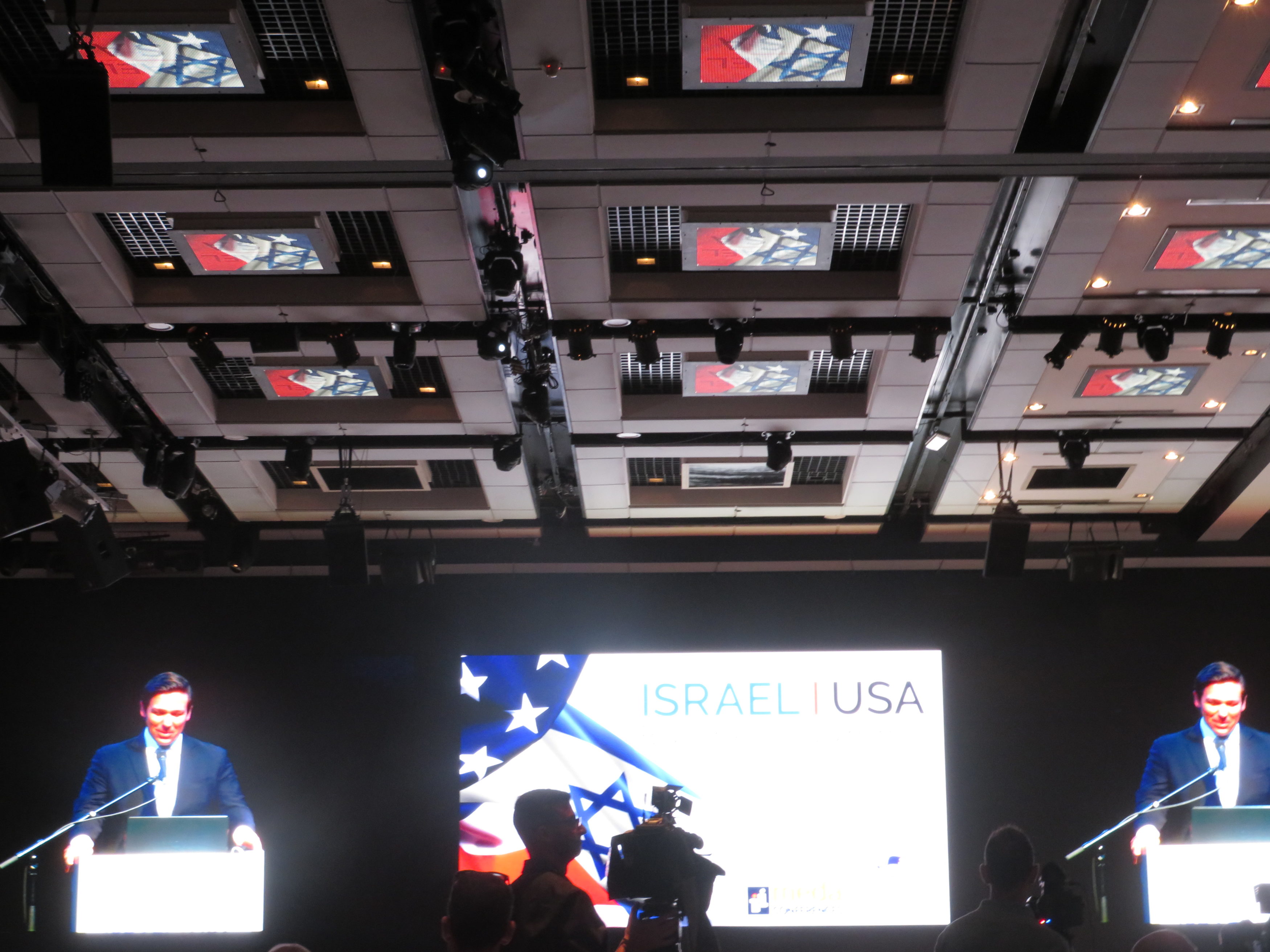 Closing remarks in Tel Aviv, with Jerusalem on tap.
TEL AVIV — Gov. Ron DeSantis opened Wednesday morning with an address to Israeli business leaders at the Israel-American Business Summit, ahead of an MOU on trade between Israel and Florida.
This was the last public event for DeSantis in Tel Aviv, and as has been the case throughout this trip, the messaging was that of synergy between Israeli and Floridian interests.
"Florida is second to none when it comes to starting a business," DeSantis said, citing legacy costs that will force northern states to "tax and spend" to fund "fiscal albatrosses."
"We think a low-tax environment has benefited our state tremendously," DeSantis said.
DeSantis stressed that Florida is "the most pro-Israel state in the country."
"If I'm in a synagogue in Miami Beach … or on the Panhandle," DeSantis said there is "universal support" for Israel.
"We were the first state to do a resolution supporting the Jerusalem Embassy … with some of the toughest anti-BDS legislation in the country," the Governor added.
Adherents of BDS, short for the Boycott, Divestment, Sanctions (BDS) movement, describe it as "a Palestinian-led movement for freedom, justice and equality. BDS upholds the simple principle that Palestinians are entitled to the same rights as the rest of humanity."
They say "Israel is occupying and colonizing Palestinian land, discriminating against Palestinian citizens of Israel and denying Palestinian refugees the right to return to their homes. Inspired by the South African anti-apartheid movement, the BDS call urges action to pressure Israel to comply with international law."
Opponents say it's "an obstacle to peace," adding that the BDS movement "does not recognize the right of Israel to exist as a Jewish state. Its leaders ignore the complexity of Israel's reality and fail to offer a reasonable path forward in resolving the Israeli-Palestinian conflict."
"Florida has a welcoming economic and cultural climate," DeSantis said, especially regarding Israel.
Deals are in the pipeline with Israeli companies, the Governor added.
"We also want Israeli tourism," DeSantis added, noting the nonstop flights added to Orlando from Tel Aviv.
DeSantis quipped that the Trinity Broadcast Network's Holy Land Theme Park may not compare to the real thing, here in Israel.
The Florida Chamber's Mark Wilson addressed the MOU, saying it was a "commitment" to boost trade, and a "big opportunity" to boost trade.