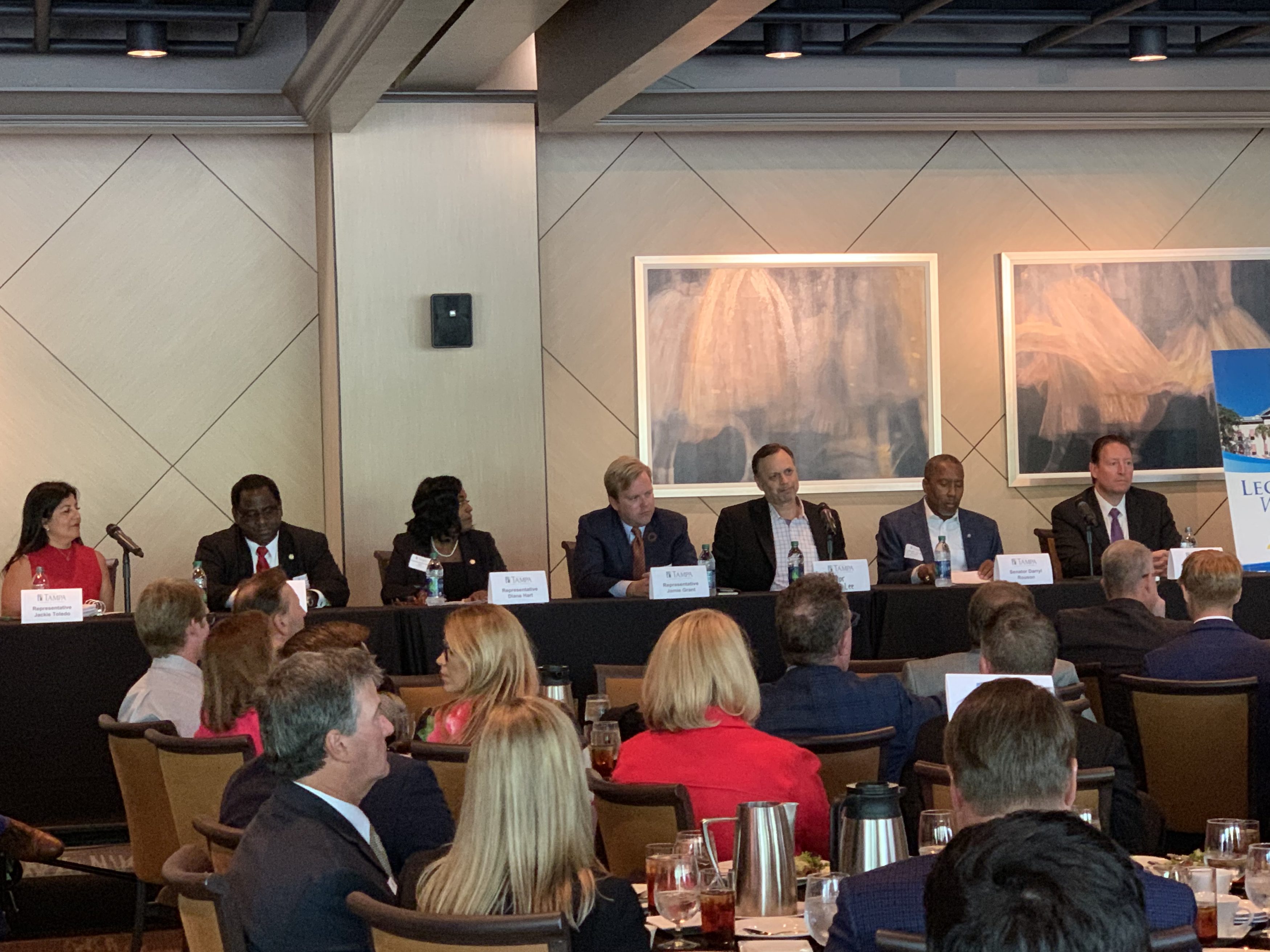 "If we're going to continue raiding funds we ought to start calling them the 'maybe funds.'"
Democrats on the Hillsborough County Legislative Delegation think lawmakers could and should come up with protections for the state's affordable housing trust fund.
During a Greater Tampa Chamber of Commerce legislative wrap-up Wednesday, Sen. Darryl Rouson and Reps. Wengay Newton and Dianne Hart lamented the Republican-controlled Legislature's continued raiding of the William E. Sadowski Affordable Housing Trust fund established in the 90s to provide state financial aid for affordable housing projects.
The State Legislature has over the past decade swept more than $2 billion from the fund into general revenue.
Despite calls from Florida Gov. Ron DeSantis to leave the fund untapped in this year's budget, lawmakers approved sending $125 million of the $332 million available into the general fund.
"If you tell the public that funds are held in trust for a specific purpose then they should be spent for that purpose," Rouson said. "If we're going to continue raiding funds like Sadowski, we ought to start calling them the 'maybe funds.'"
Lawmakers did provide affordable housing funding — more than $200 million. But $115 million of that will benefit Hurricane Michael victims in the panhandle with $85 million going to the rest of the state for financing incentives for developers to build affordable housing rentals and for flexible spending for counties.
Some lawmakers, Democrats in particular, are angry the Legislature killed a bill that would have protected Sadowski by requiring justification for any fund diversion and repayment to the fund within five years.
Hart questioned why lawmakers backed the latest affordable housing trust fund raid when the state had billions in reserves.
Newton, drew a comparison to another trust fund for guns. The Florida Legislature voted unanimously in the House and near unanimously in the Senate in 2010 on a measure that protected the Division of Licensing Trust Fund, a pool of money that covers costs for processing concealed weapons permits.
"Whatever policy you've got protecting that one I say put that on Sadowski and we'll be OK," Newton said.
But Senate President Bill Galvano fired back, saying budget challenges can sometimes be unpredictable.
"When you start a session with basically 1.85 billion in funds that you didn't expect to have to spend but you are because you have a huge storm that hit an area … we can't say 'sorry panhandle, Congress hasn't written us a check,'" Galvano said. "From a legal reality, what we call in the legal profession a trust fund is quite different than what it is in the legislative world."
In all, seven members of the Hillsborough County Legislative Delegation recapped this year's session. Both Republicans and Democrats celebrated bipartisan wins like the $12.4 million appropriation for the University of South Florida's new Morsani College of Medicine, which is still under construction.
But the partisan divide was evident on several other high-profile topics. Republicans defended the teacher guardian program expansion that lets school districts decide whether or not to arm teachers, for example. Galvano dismissed criticism that allowing teachers to carry guns was subverting the will of teachers and students who thought it was a bad idea saying instead the measure preserved local discretion.
The group also weighed in on continued funding for Visit Florida, the state's tourism marketing arm. The Legislature this year provided $50 million to preserve the agency for another year. But it's under continued threat from lawmakers wary of using taxpayer dollars to fund marketing efforts.
"Will we see another effort to zero out? I certainly expect to be part of the conversation. Should Florida tax dollars be used to market a company or an industry or should we just simply get aggressive on tax cuts," Rep. Jamie Grant asked. "I'd certainly want to be in the business of taking less [taxpayer] money."
Rouson agreed the issue is still very much alive.
"We're taking a hard look at Visit Florida and I'm taking a hard look at it," Rouson said. "It's going to be very important that when this discussion comes back that we show the need for Visit Florida and the fact that Visit Florida doesn't just help large businesses, but it helps those mom and pops along the beaches."