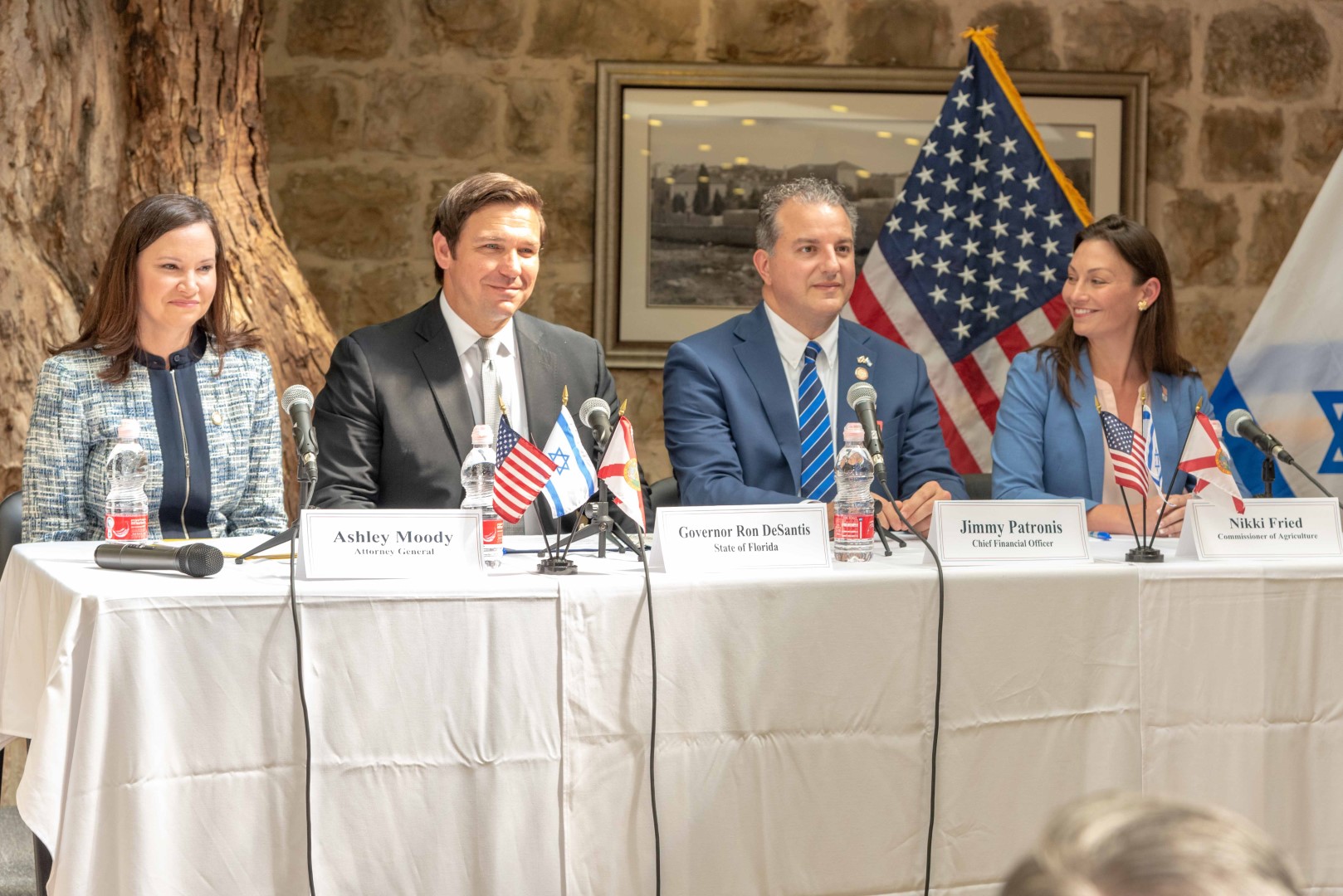 A legal challenge couldn't stop this.
Despite controversy and a last-minute legal challenge, which he termed "totally baseless," Gov. Ron DeSantis and the Florida Cabinet convened in Jerusalem for a uniquely remote meeting Wednesday.
The meeting was a pen and pad event for most reporters. A resolution honoring the Florida-Israel relationship led the agenda. Presentations on victims of terror, water quality and emergency management were also included.
However, the meeting did not go off without a glitch.
A prayer, phoned in from Tallahassee, was cut off a few words in (after the phrase "Creator of the Universe").
The appeal to God went mute, replaced with a message that a conference call had ended.
After three more attempts to establish contact, it was left to CFO Jimmy Patronis to finish the benediction.
This wouldn't be the last glitch: Attorney General Ashley Moody was cut off by the conference call message during remarks.
However, despite the technical difficulties, the Cabinet members made it clear that this Jerusalem meeting was a labor of love, especially regarding the resolution honoring the Florida-Israel relationship.
Agriculture Commissioner Nikki Fried told of her tour of the Auschwitz-Birkenau camp a quarter century before.
She was shaken and vowed to "protect and defend Israel" from that point on, to "be a voice for those who have no voice."
Soon enough, a Jerusalem widow spoke of her husband, "stabbed in the back" by a terrorist. The setting was fitting: the room at the embassy where the meeting was held was the Watson Room, named after a former consul general assassinated by a sniper.
The subtext of perpetual war between Israel and its enemies was always present, even during a presentation on water quality, where a local water purification company CEO joked about a collaboration with Hamas.
"We are working together. We are supplying water, they are supplying missiles," the man said.
Jacob Wimisberg, who is the Director of Strategy and Cooperation for Israel's NEMA (its FEMA equivalent), extolled a meeting with Florida Department of Emergency Management head Jared Moskowitz.
As we reported, Israel and Florida will collaborate; it is Wimisberg's hope that "we will do real things together."
For DeSantis, who pushed for the embassy to move to Jerusalem, only to hold a meeting there as Governor, he noted that often, "things come full circle."
At a press availability at the King David Hotel after the meeting, DeSantis dismissed a legal action demanding retroactive relief from the First Amendment Foundation, which objected to the Cabinet meeting having happened, as "not meritorious … frivolous litigation."
"I think people sometimes want to cause a ruckus," DeSantis said.
DeSantis also expects to have fewer Cabinet meetings going forward for the sake of efficiency, which did not seem to upset any of his fellow Cabinet members.
"You can meet however often you want," DeSantis said. "They're probably not going to be every month."
They may meet outside of Tallahassee more regularly, however.
"I think the Cabinet should be expeditionary," the Governor said.