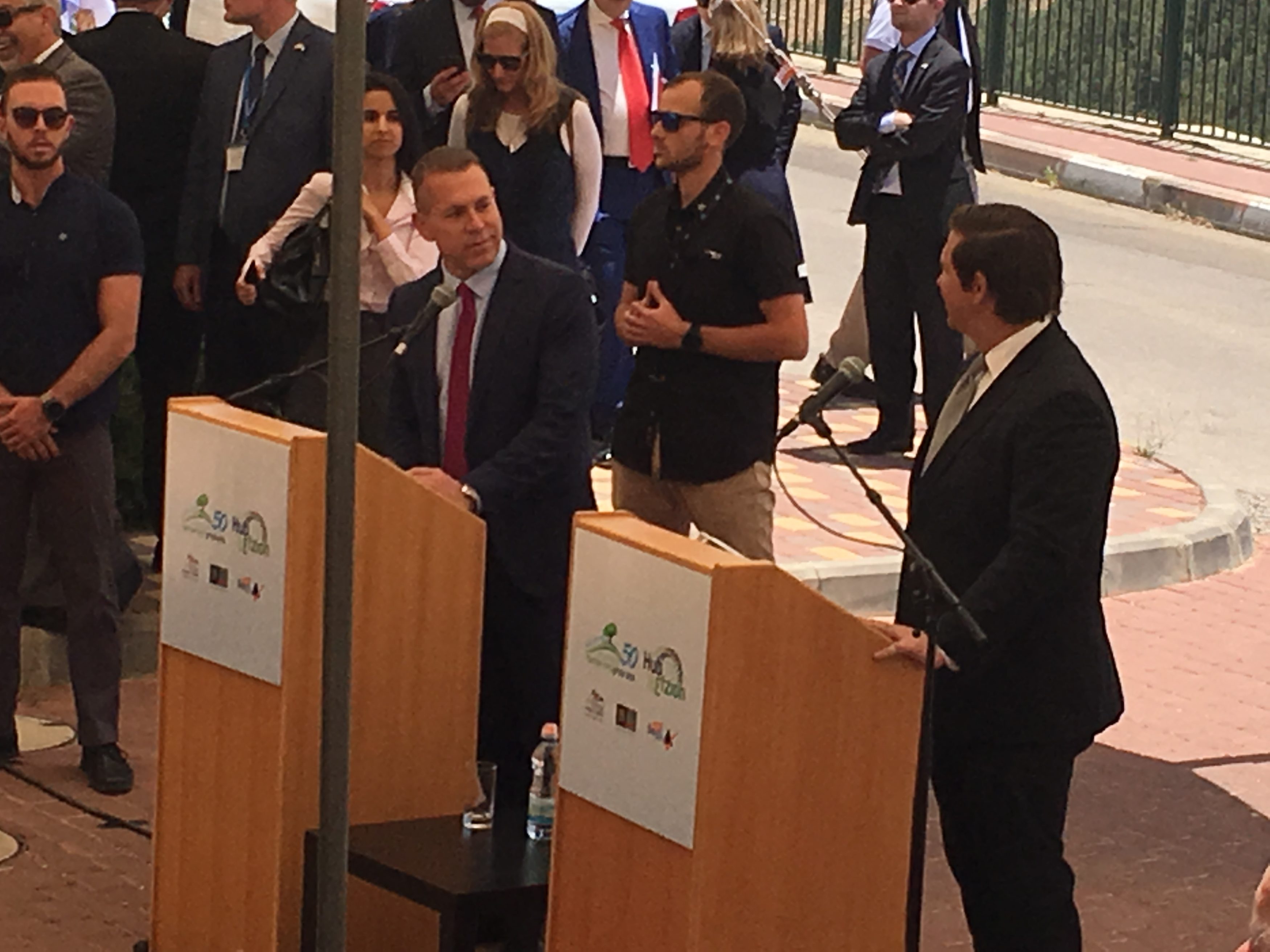 "There have been a lot of effort for peace — and they've been rejected."
GUSH ETZION — On Wednesday afternoon, Gov. Ron DeSantis addressed traveling press at a West Bank disputed settlement.
Israel's Strategic Affairs Minister Gilad Erdan was on hand for an anti-BDS event, with the most interesting remarks from the Governor having to do with Palestinians and former Tallahassee Mayor Andrew Gillum.
In response to a question from the BBC, DeSantis noted that, "while we want to treat all Israelis equally," he questioned whether the Palestinians even wanted their own state.
Adherents of BDS, short for the Boycott, Divestment, Sanctions (BDS) movement, describe it as "a Palestinian-led movement for freedom, justice and equality. BDS upholds the simple principle that Palestinians are entitled to the same rights as the rest of humanity."
They say "Israel is occupying and colonizing Palestinian land, discriminating against Palestinian citizens of Israel and denying Palestinian refugees the right to return to their homes. Inspired by the South African anti-apartheid movement, the BDS call urges action to pressure Israel to comply with international law."
Opponents say it's "an obstacle to peace," adding that the BDS movement "does not recognize the right of Israel to exist as a Jewish state. Its leaders ignore the complexity of Israel's reality and fail to offer a reasonable path forward in resolving the Israeli-Palestinian conflict."
"The one constant throughout the modern history of the Middle East and the State of Israel is that Palestinian Arabs always wanted to get rid of the Jewish state more than they wanted their own state," the Governor said.
"I don't think that's really changed. I think there has been a lot of effort for peace — and they've been rejected," DeSantis added.
"If you do not respect Israel's right to exist as a Jewish state, you are the impediment to peace."
DeSantis also recounted his theory that his general election opponent ran away from his primary support of BDS ahead of November.
"He knew that if he was tagged as pro-BDS, your chance of winning in Florida declines dramatically," DeSantis said.
"We had a blue wave throughout the country. I'm in the nation's toughest swing state. When you have a wave against you," DeSantis said, "you expect to get washed out."
Gillum lost his election for a number of reasons, but DeSantis clearly believes his support of BDS was one of them.
We are reaching out to Gillum's representatives for a response on Wednesday morning.