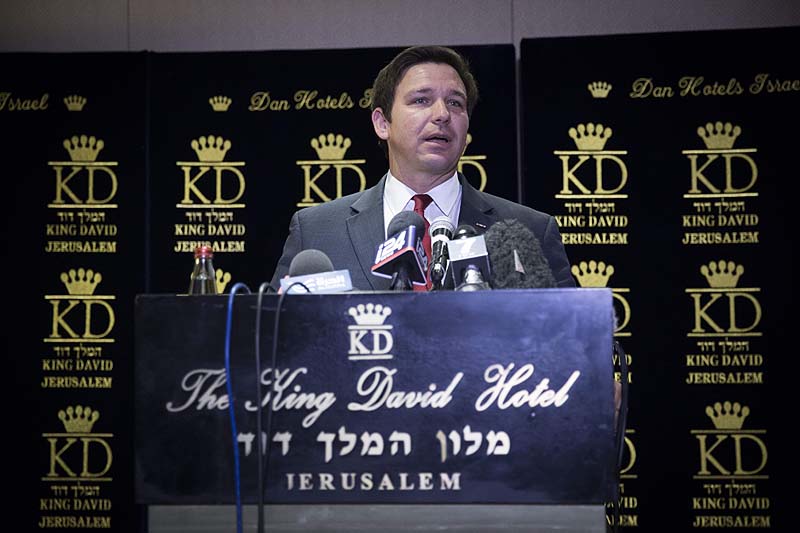 The Israel trip may have been success but state business should be conducted in Florida.
Gov. Ron DeSantis dismissed complaints that the Cabinet meeting in Tel Aviv violated the Florida Sunshine Law.
As A.G. Gancarski of Florida Politics reported, DeSantis called the accusation by the First Amendment Foundation  "totally baseless."
"This is being streamed multiple different ways … I guarantee you; more people will watch it because we're in Jerusalem than if we were in Tallahassee," DeSantis said. "… we're totally compliant with Sunshine."
Well, not totally. The Governor overlooked the part of the law that says government meetings can't be held anywhere "which operates in such a manner as to unreasonably restrict public access to such a facility."
How many people from Florida can afford to travel to Tel Aviv to watch their government at work?
Sounds restrictive to me.
A judge refused to grant an emergency motion to stop the meeting, though, because the participants hadn't been served.
DeSantis' argument about streaming misses the point because it didn't come close to the spirit of the law.
Worse, it may have set a precedent because it could turn into something far more sinister.
Media advocates were fighting back because of the precedent. Think of the Florida Sunshine Law as a firewall between lawmakers and everyone else.
We just had eight years of Rick Scott. He ran Florida as if what he did was no one else's business. As Governor in 2015, he used $700,000 in taxpayer money to settle seven open records lawsuits.
Scott used his private email account for state business because that's how he rolls.
Since 1995, lawmakers have routinely approved exemptions to the Sunshine Law. Each one chips away at the public's right to know.
None of that will matter to the Governor's traveling party because they got what they came for.
Tourism scored big with the first non-stop flight from Tel Aviv to Orlando. There were educational, scientific,  and trade talks.
It also was an ingenious political move by DeSantis because Jewish support will be critical in the 2020 presidential election. This trip could help Republicans next year.
DeSantis and organizers don't appear concerned with media complaints because they got what they came for. Others may wonder what the media is fussing about now.
It's simple.
The state should conduct its official business in the Florida sunshine because it's the law. This trip may have been a p.r. success, but that misses the point. The real worry is what happens next.