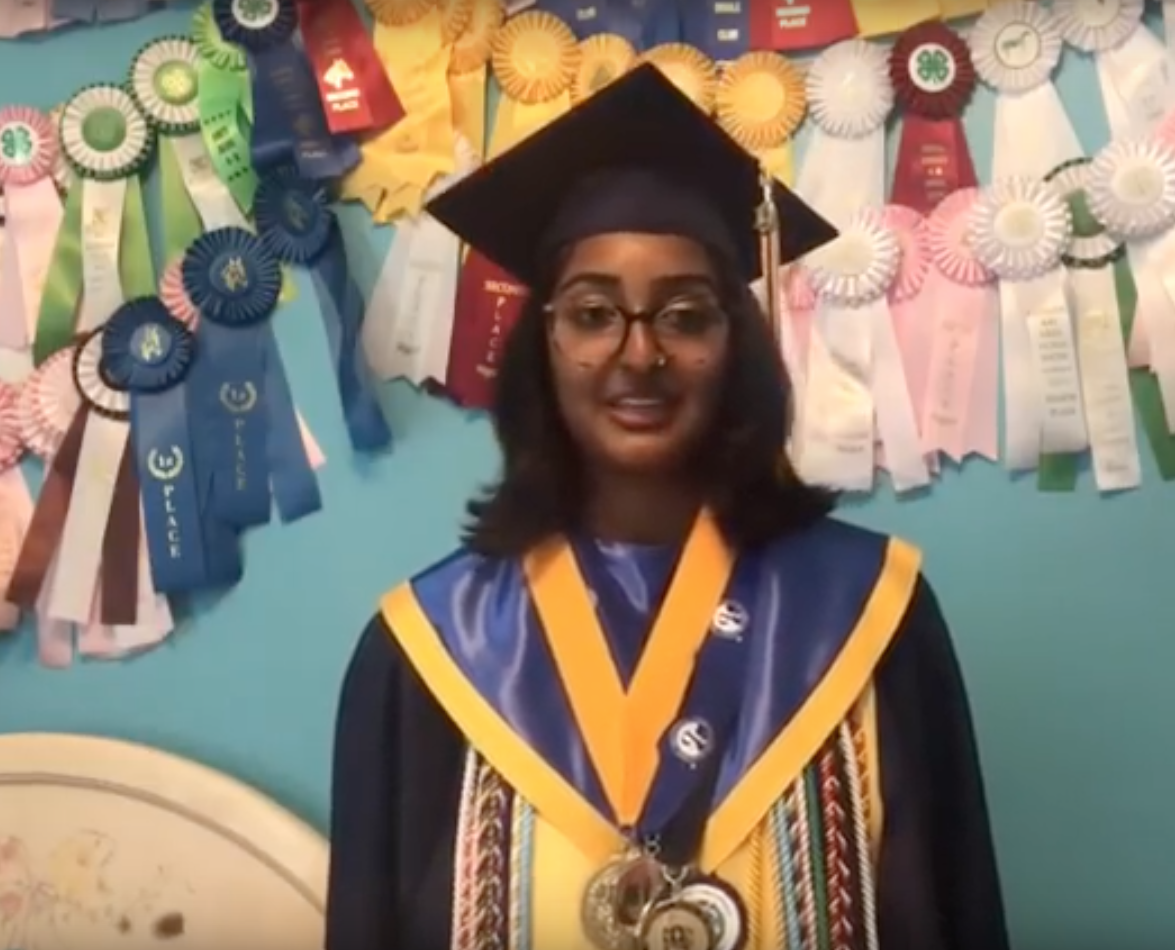 For the YouTube generation, there's always a way to get a message out
An Orlando high school valedictorian was denied an opportunity Tuesday to present a commencement address that drew lessons from her family's challenges as immigrants, leading Democratic state Reps. Anna Eskamani, Amy Mercado, and Carlos Guillermo Smith to object.
The school district has since apologized and decided to review its policies.
University High School valedictorian Kriya Naidu said in a YouTube.com video posted late Tuesday and an interview with FOX 35 News in Orlando Wednesday that she was told just hours before Tuesday's UHS commencement ceremonies that she would not be allowed to give her speech.
So she posted her speech on YouTube, talking about the challenges her parents faced as immigrants from South Africa, and how they persevered, and how the lessons for immigrants and everyone else boil down to never giving up. As presented in the YouTube video, her speech contains nothing overtly political or obviously controversial. It simply talks about immigrants pursuing the American Dream against additional challenges, including discrimination, and how that dream therefore is achievable for everyone.
Orange County Public Schools initially released a statement Wednesday that said, "Valedictorians are role models to their peers and their speech is a moment of inspiration and celebration. University High School administrators worked closely with the valedictorian providing her guidance after reviewing her speech. She was then given the opportunity to pre-record her speech as is the practice in some of our high schools. We were disappointed that she chose not to do so."
After news of the event began to spread, the district released a second statement Thursday:
"The district has apologized to the Naidu family. The School Board and Superintendent were not aware of the controversy prior to University High School's graduation ceremony. Kriya has been invited to give her speech at the next school board meeting and to have it professionally recorded and posted to the district's website and shared on social media platforms. The district is reviewing its commencement practices for improvements."
Naidu told FOX 35 Orlando that she never was given an ultimatum or a warning that she might not speak, and was surprised when told on the day of graduation that she would not be allowed to give her speech.
Yet the YouTube generation has ways of getting messages out. By Thursday morning, her video had been viewed more than 13,000 times.
Orange County School Board Member Angie Gallo, whose district includes University High School and who attended the graduation, said she was notified that day that the valedictorian's speech was being canceled, but was not told why. She since has inquired, finding it was a decision made at the school administration level, not the district. She asked the school to provide her with Naidu's drafts and she reviewed those and the YouTube video. She said the only differences were a couple of potentially poor-taste jokes about the school that officials asked her to cut, which she did.
"I personally do not have an issue with her speech at all," Gallo said.
Gallo said she emailed her parents and apologized. She also emailed the district administration asking for a review of the district's guidelines and policies regarding graduation speeches.
Smith, whose district includes University High School and who also attended the commencement ceremony, shared links to the speech on social media with criticism of the school's decision to deny her to speak. Mercado, whose children graduated from University High School, and Eskamani, who herself graduated from University High School, did the same.
Smith spoke with some district officials and came away unconvinced that there was any good reason for school officials to not trust Naidu to give her speech.
"It's never a good look to stop a valedictorian from speaking," he said. "So what began as adults trying to teach a student a lesson ended up being the opposite."
Mercado said she reached out to the district with a request of, "Help me understand."
"As a parent I was involved in that school; that's where my kids graduated, so it's disconcerting," Mercado said. "We teach our kids, alongside the educators, to fight for what they believe in, state their positions, whether we like those positions or not. We're teaching them how to write, how to think, critical thinking. This young woman has done all that, has earned her spot, and now this occurs."
Eskamani said she identified with Naidu's life story, which is very similar to her own.
"One of the reasons why this has been so amplified is because it is such a beautiful speech. It speaks to her immigrant identity that is inspirational," Eskamani said. "Any form of censorship in our public schools is inappropriate. … It's very disappointing that the school district made this decision with no context as to why."
In the video, Naidu stands before a bedroom wall decorated with more ribbons than Tony Orlando's Ole Oak Tree, and says that she was not allowed to give her speech at graduation, "so here it is." After she gives congratulations and thanks to her classmates and family, she offers her lesson to classmates: to never give up. She focuses on her parents as examples, as they achieved the American Dream, due to all the opportunities America afforded them and despite additional challenges experienced by many immigrants.
"They faced their fair share of challenges: prejudice, difficulty securing jobs, pay parity, and much more. But, every time they were knocked down, they got back up," she says. "Their success is an example of what immigrants, people of color and everyone can achieve with hard work, even when they find themselves in a country that seems to work against them. As Lin-Manuel Miranda said, 'Immigrants: we get the job done.'"
She then points out that almost everyone at the graduation, and teachers, police, soldiers, engineers, construction workers, farmers, artists, entertainers, and others, all are either immigrants or the descendants of people who "moved to America with dreams in their heart."