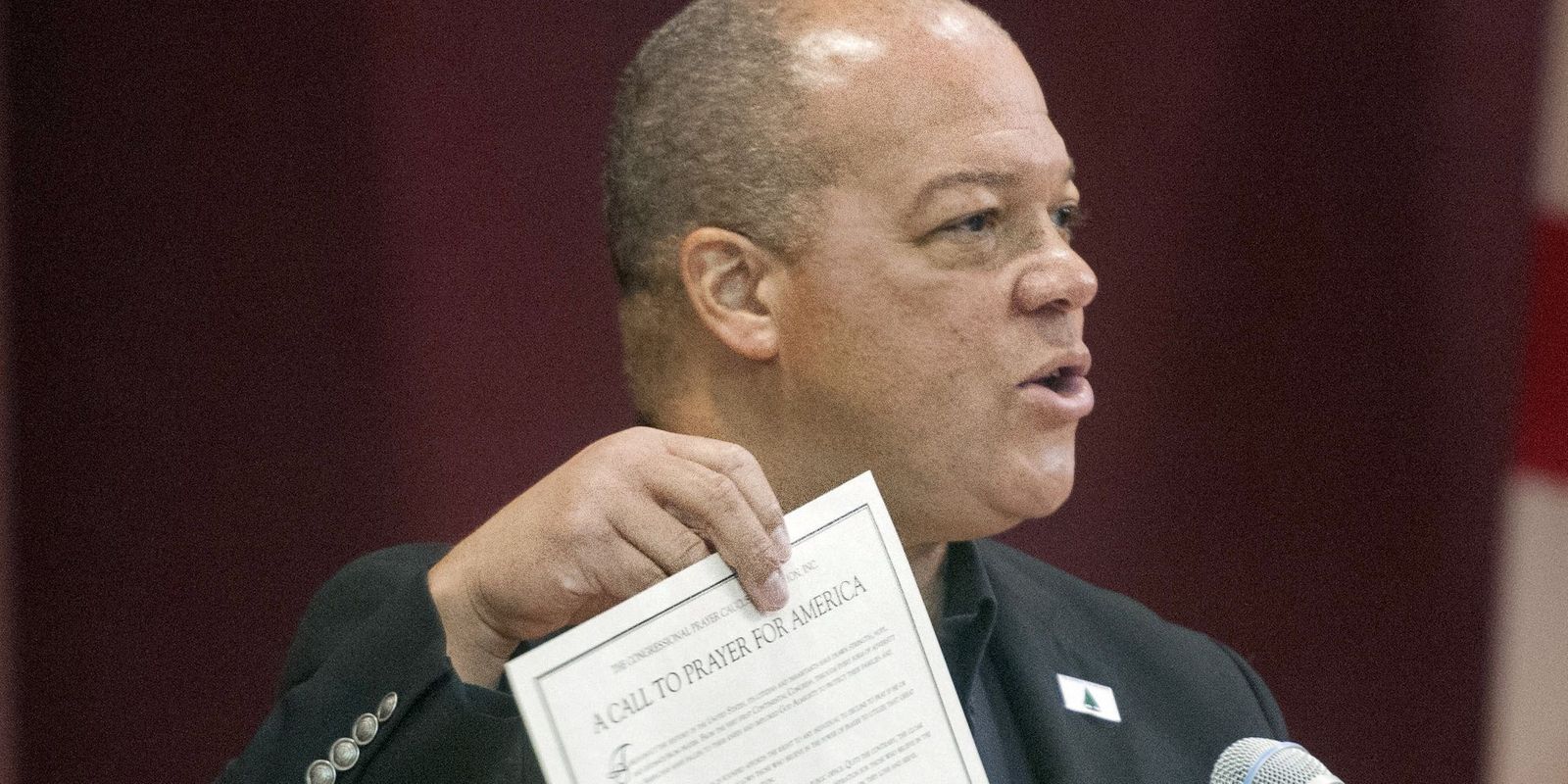 News Journal columnist opines Hill is "both an unfit legislator and an unfit Christian."
Republican state Rep. Mike Hill of Pensacola joked and laughed about a constituent's comment that gay people should be put to death, according to the Pensacola News Journal, drawing harsh backlash against Hill from across the state on Friday.
According to a News Journal transcript of the audio recording, which the paper said was released by Women for Responsible Legislation, someone at the May 23 meeting at Pensacola City Hall said to Hill, "In 1 Corinthians, it says that a man who has an affair with another man will be put to death."
Hill replied, "It says that in the Old Testament, too." Another attendee then asked, "Can you introduce legislation?"
There is some laughter, and Hill finally replied, "I wonder how that would go over?"
Not well.
Condemnations poured in from across Florida, from sources ranging from his hometown newspaper to Republican leadership to Democratic state Rep. Carlos Guillermo Smith, one of three openly-gay Florida lawmakers.
Hill did not respond to an inquiry to his office from Florida Politics. But he did respond to Smith.
"Fake news, Carlos! And you know it. I never said I wanted to kill anyone! Instead, I am being attacked because I have made a strong stand to protect the preborn in the womb," Hill tweeted at Smith late Friday.
That's not quite addressing the concerns raised around the state.
Republican Party of Florida chairman Joe Gruters, also a state Senator from Sarasota, issued a statement declaring, "I am horrified by what I just heard, hate of any kind cannot be tolerated, Mike Hill should immediately apologize."
News Journal columnist Andy Marlette posted a column Friday declaring that the exchange "proved why he is both an unfit legislator and an unfit Christian."
House Speaker Jose Oliva, in a statement released with state Rep. Chris Sprowls, declared, "Such callous indifference to an outrageous question is unacceptable, runs contrary to our founding principles, and in no way reflects the beliefs of the Florida House." (A separate story on that is here.)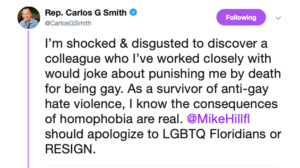 Smith tweeted Friday that he was shocked and disgusted that a colleague would joke about putting him to death for being gay. Smith said Hill should at least apologize to Florida's LGBTQ community, if not resign.
Florida Democratic Party Executive Director Juan Peñalosa released a statement saying:
"Representative Mike Hill has reinforced his support of hateful and divisive legislation in the Florida legislature with hateful and divisive speech in every-day life.
"As a gay man and a Christian, my stomach turns to hear elected leaders who think it's acceptable to make jokes about putting people like me to death in the name of Jesus. And as a Floridian, I'm outraged that he has been elected to office.
"I am calling on Representative Hill to apologize and for the Governor and the leaders of the Florida GOP to disavow his remarks," Peñalosa went on. "I also hope Mr. Hill's spiritual leader has a long conversation with him to remind him the teachings of our Lord – and if he doesn't have one, I'm happy to introduce him to my Pastor."
Equality Florida, the state's largest LGBTQ rights advocacy organization, called Hill's comments and laughter, "a shocking display of homophobic bias" and "reckless and bigoted statements."
"Words matter. The comments made by Representative Mike Hill this week are both deeply disturbing and dangerous," said Brandon Wolf, a Pulse massacre survivor and Equality Florida media relations manager, in a written statement. "Representative Hill should be embarrassed and ashamed for laughing along with the suggestion that he file legislation requiring the execution of LGBTQ people.
Wolf noted that the third anniversary is just 13 days away for the horrific massacre at Pulse, the then-popular Orlando gay nightclub, in which 49 people were killed by a gays-hating, ISIS-pledging madman.
"We live in a diverse and inclusive state where the overwhelming majority of Floridians agree that no one should be discriminated against based on who they are or who they love," Wolf said.
"In less than two weeks our community prepares to mark three years since Pulse, the most deadly attack on LGBTQ people in this nation's history, and we have never been more aware of how degrading and dehumanizing LGBTQ people causes harm."
In some sense, however, Hill's political m.o. is to court controversy.
As the PNJ pointed out this week: "As part of his re-election campaign, Hill announced that he would work to bring President Donald Trump's Hollywood Walk of Fame star, which was twice destroyed by vandals, to Pensacola.
Following his 2018 campaign, "Hill was condemned by the Republican Liberty Caucus of Florida, which endorsed Hill in 2016 during his bid to win a seat in the Florida Senate, for 'horrendous personal attacks' against his opponent Rebekah Bydlak and called his conduct 'deceitful, inappropriate and ungentlemanlike.' "
And, at the same May meeting where Hill had his exchange, the paper noted that he said "all three of his most controversial bills — the bill to repeal Florida's new gun control provisions that passed in the wake of the Parkland school massacre, an expanded abortion ban and a bill to protect monuments that includes Confederate monuments — will be coming back next year."
Now an insurance agent, he graduated from the U.S. Air Force Academy graduate in 1980, then went to get an MBA from the University of West Florida and received an "Honorary Doctorate" from Pensacola Christian Academy, according to his Florida House bio.
He was an Air Force Captain 1980-90, gaining the Air Force's Achievement Medal, Commendation Medal, Organizational Excellence Award, and was named Armament Division, Company Grade, Officer of the Year in 1988.
Hill — married to Greta Hill — identifies as "Evangelical Christian," the House bio says, and claims "classical and jazz music, reading (and) sailing" as avocations.
The past president of the Northwest Florida Tea Party first came to the House via a special election in 2013 to House District 2, which he vacated to run for state Senate three years later. He lost the GOP primary to the current officeholder, Doug Broxson.
Hill came back in 2018 to win House District 1, the seat he now holds.