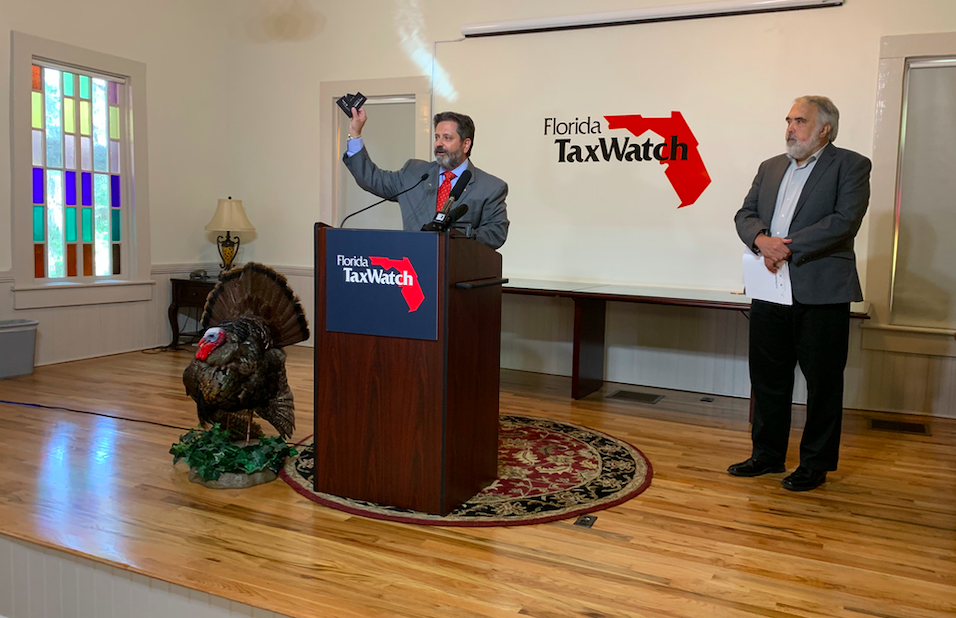 All budget items should "receive the deliberation, debate, and accountability they deserve."
Florida TaxWatch, the business-backed taxpayer watchdog, on Wednesday announced a total of 109 items worth $133 million in "budget turkeys" it found in the 2019-20 spending plan passed by lawmakers this year.
The good news: That's one-tenth of 1 percent out of a $91.1 billion budget, said TaxWatch director Dominic Calabro. 
The biggest turkey? A Citrus County road widening project — that wasn't in the Department of Transportation's work plan — for more than $13 million, sponsored by Rep. Ralph Massullo, a Lecanto Republican, and Sen. Wilton Simpson, a Trilby Republican.
The review, "published annually since 1986, promotes additional oversight and integrity in the state's budgeting process," the group said in the report.
Other big-ticket turkeys that were also road projects: the 44th Avenue East Extension in Manatee County for $10 million and the Morningside Drive Extension in Pasco County for $5 million.
So what's a "turkey"?
"Items, usually local member projects, placed in individual line-items or accompanying proviso language that are added to the final appropriations bill without being fully scrutinized and subjected to the budget process," TaxWatch said in a statement.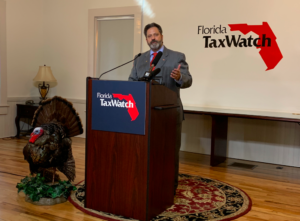 "The Budget Turkey label does not signify judgment of a project's worthiness," it added. "Instead, the review focuses on the Florida budget process, and the purpose of the Budget Turkey label is to ensure that all appropriations using public funds receive the deliberation, debate, and accountability they deserve."
Calabro told reporters at a press conference that without accountability for every budget item, taxpayers have to rely "on a hope and a prayer that some good will come of it."
Now, it's up to Gov. Ron DeSantis to use his line-item veto power over the proposed budget to weed out the highlighted spending, Calabro added.
Special attention was paid, said TaxWatch vice president for research Kurt Wenner, on the legislative "sprinkle lists," or last-minute "supplemental" funding that has been agreed to by House and Senate leadership.
Explained Calabro: "They often serve a limited, rather than statewide, and thus more parochial area, and often (are) not core functions of government … In other words, that $133 million that could have been spent in classrooms, on the elderly, on even to pay for tax cuts."
And the dollar amount of budget turkeys they've been finding has been going down in recent years despite the budgets themselves getting bigger — a good sign, Calabro added.
The full report for the 2019-20 budget is below: