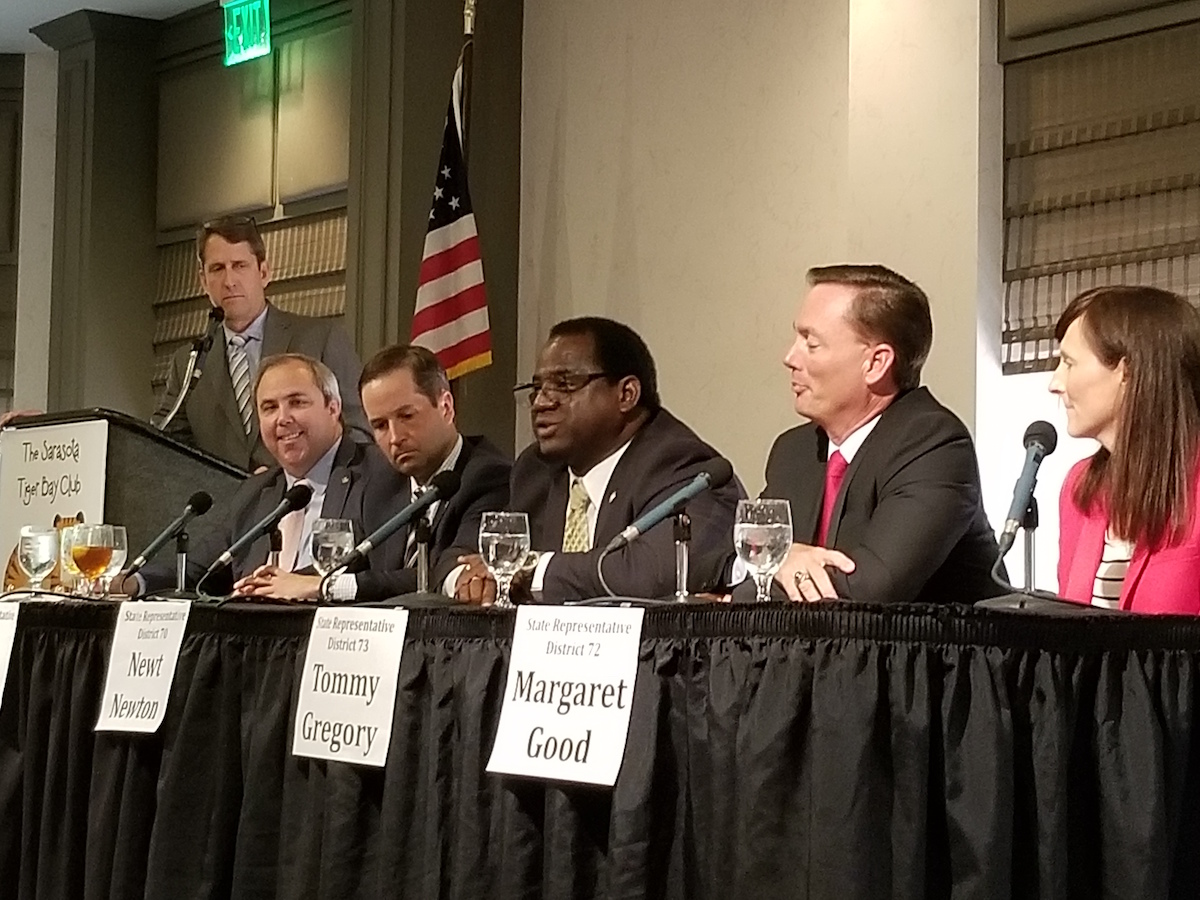 Democrats argue Republicans burdened process for citizens, ignored voters' will.
Sarasota County's Legislative Delegation gathered for summer salads and a metaphoric food fight Thursday.
At the Sarasota Tiger Bay Club, representatives offered distinctly different takes whether the 2019 Legislative Session counted as a success.
"We passed one piece of legislation after the next that appeared to be home runs," said state Sen. Joe Gruters, a Sarasota Republican.
But Democrats called foul.
"We did more damage to public education," said state Rep. Margaret Good, a Sarasota Democrat, of requirements to share public funding with charter schools.
"It was criminal," said state Rep. Newt Newton of implementation for Amendment 4.
The most contention discussions surrounded constitutional amendment and new restrictions on the petition-gathering process.
Good said new restrictions on paying signature collectors and putting in place new rules on the management of petitions hurts citizens.
"It's not right, and it's not what I think our people wanted back at home," she said.
Gruters said Florida's constitution should be sacred.
"We shouldn't be legislating by ballot," he said.
And he suggested some of the problems Newton had with Amendment 4 implementation related to the difficulties with affixing law in the constitution.
But Good said if conservatives care so much about the constitution, they should not the document also guarantees citizens the right to petition for amendments. That shouldn't be so severely restricted.
Regarding Amendment 4, state Rep. Tommy Gregory, a Sarasota Republican, asserted voters should be more upset with how the measure was written.
Newton argued felons who expect their rights to be restored shouldn't need to hire a lawyer to prove that in court. But Gregory said that could have been avoided had Amendment 4 simply restored voting rights as soon as incarceration concluded.
"What it actually says is at the completion of all terms of sentence," Gregory noted. So while a requirement for voters to complete restitution proved controversial, it was in the amendment the whole time.
State Rep. Will Robinson, a Bradenton Republican, saw the implementing legislation when lawmakers looked at it in Criminal Justice hearings. There, legislators had to dissect what exceptions for murder and sexual assault meant.
But he also pointed at Florida Supreme Court arguments before the amendment made the ballot. There, attorneys favoring voting rights restoration said: "all fees and costs and restitution should be paid."
"Frankly, I got emails the other way," Robinson said, "from those saying make sure these caveats are in the implementing legislation."
He argued this highlighted the problem with constitutional amendments. Lawmakers could debate and improve on implementing legislation, but ultimately there's no changing the language of the amendment once it passes.