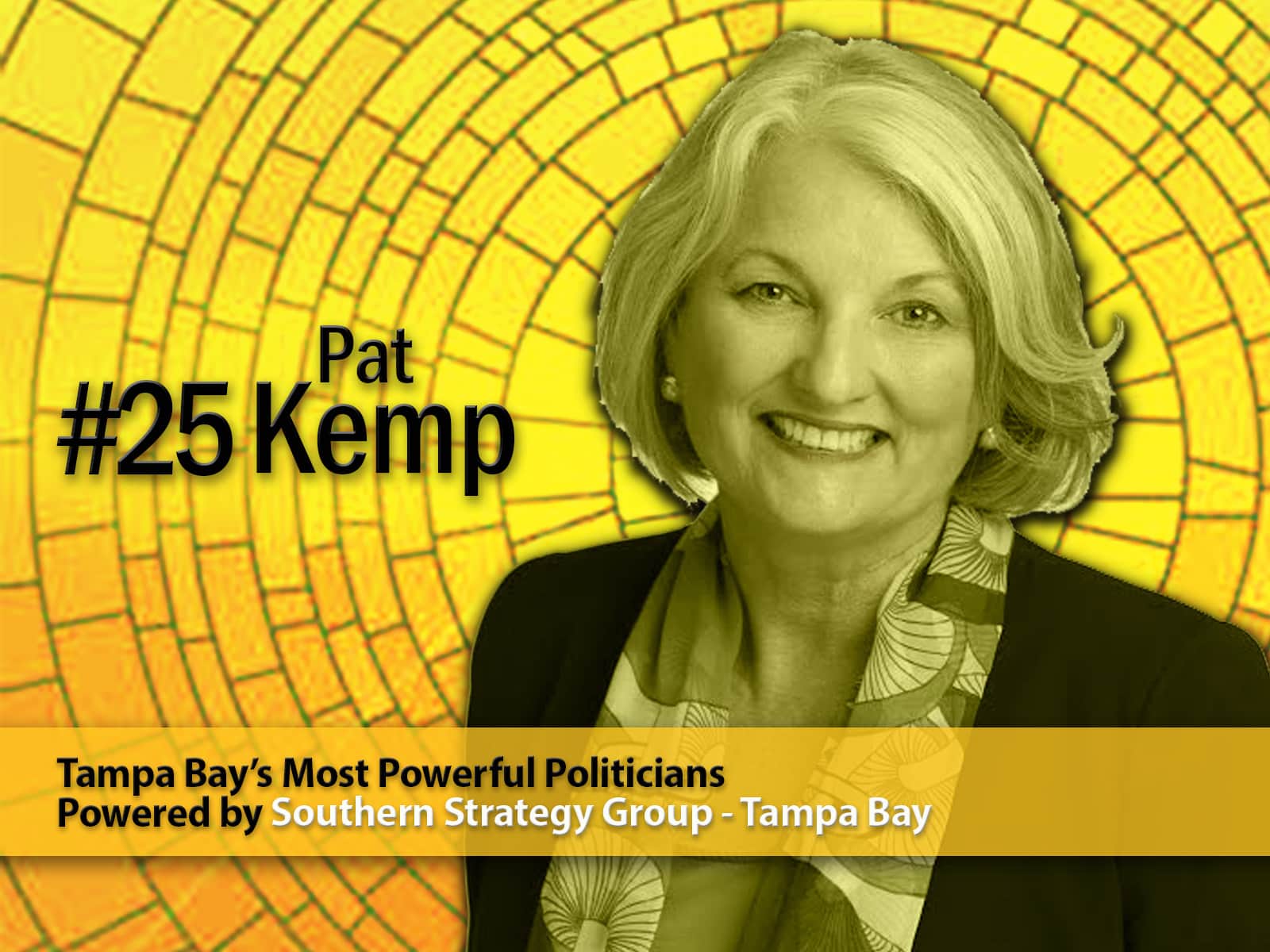 Kemp has become a fierce advocate for public transportation.
Hillsborough County Commissioner Pat Kemp is making her debut on this year's top 25 list of Tampa Bay's Most Powerful Politicians.
The first-term commissioner was elected in 2016 after previous losses for a seat on the board. As with any newcomer, Kemp faced a learning curve that — as she faces her first re-election campaign — she has overcome.
Kemp has made a name for herself as a fierce transit advocate on the County Commission and is a driving force behind efforts to bolster the county's lagging public transportation access. She supported and helped secure local funding for the Cross Bay Ferry seasonal service connecting downtown Tampa to downtown St. Petersburg and continues to fight for expanded ferry service in Hillsborough County that would serve MacDill Air Force Base, south Hillsborough County, downtown Tampa and the Westshore business district.
"She is thoughtful and thorough, does her research and most importantly, challenges the assumptions and excuses that have always been tossed at our area," said Sunshine Citizens spokesperson and transit activist Michelle Cookson. "She calls out the falsehoods and provides better options for regional systems — the CSX rail lines cost less per mile than the fake BRT project that is just a parking garage boondoggle."
Kemp also serves on several transit and transportation-related boards including the Hillsborough Area Regional Transit Authority and the Hillsborough County Metropolitan Planning Organization, which sets spending priorities on local transportation projects. Her work with the MPO has served as a check on highway and road-focused plans and has shifted the conversation to a more transit-oriented approach to traffic congestion mitigation.
"She is a leader that is fighting for solutions that will provide better ROI and position this region to succeed: smarter, sustainable growth, cleaner more effective mobility choices, equity and access for all not just the privileged, and high capacity transit that propels economic prosperity. Pat champions what her constituents want (transit not highway widening) and has never backed down in being their voice," Cookson said.
Kemp's political power in the Tampa Bay region has also been bolstered this year by a political swing in 2018 that saw the County Commission shift for the first time since 2004 to a Democratic majority.
That shift came with Hillsborough County Commissioners Kimberly Overman and Mariella Smith's victories against Republican candidates. It also meant the County Commission would have a female majority.
Where Democrats on the commission once had to fight to make what liberals and progressives saw as dangerous policy priorities less harmful, they are now driving the conversation and leading the charge.
Kemp brings with her to the dais more than three decades of public service including as a chief aide to Congresswoman Kathy Castor when she served on Hillsborough County Commission and as an aide to former State Rep. Sara Romeo.
Kemp also worked as a lawyer for Bay Area Legal Services, providing legal services for low-income clients. Kemp also co-founded the Old Seminole Heights Neighborhood Association, which now serves as one of the most engaged citizens' groups in the county.
She's also held leadership roles with the Sierra Club of Tampa Bay and with Tampa Crossroads, a group that provides counseling to disabled individuals and veterans.
"Commissioner Kemp is a tireless advocate for issues that are close to her heart," said Laura Boehmer, a lobbyist out of the Tampa Bay office of Southern Strategy Group.
Joe Henderson's Take: After Democrats took control of the Hillsborough County Commission, Kemp flexed her political muscle to take Sandy Murman's place on the Port Tampa Bay governing board. It enhances her standing as one of the leading voices for transportation in the bay area.
Follow the entire list here, on Facebook, and on Twitter with #Top25InTB.