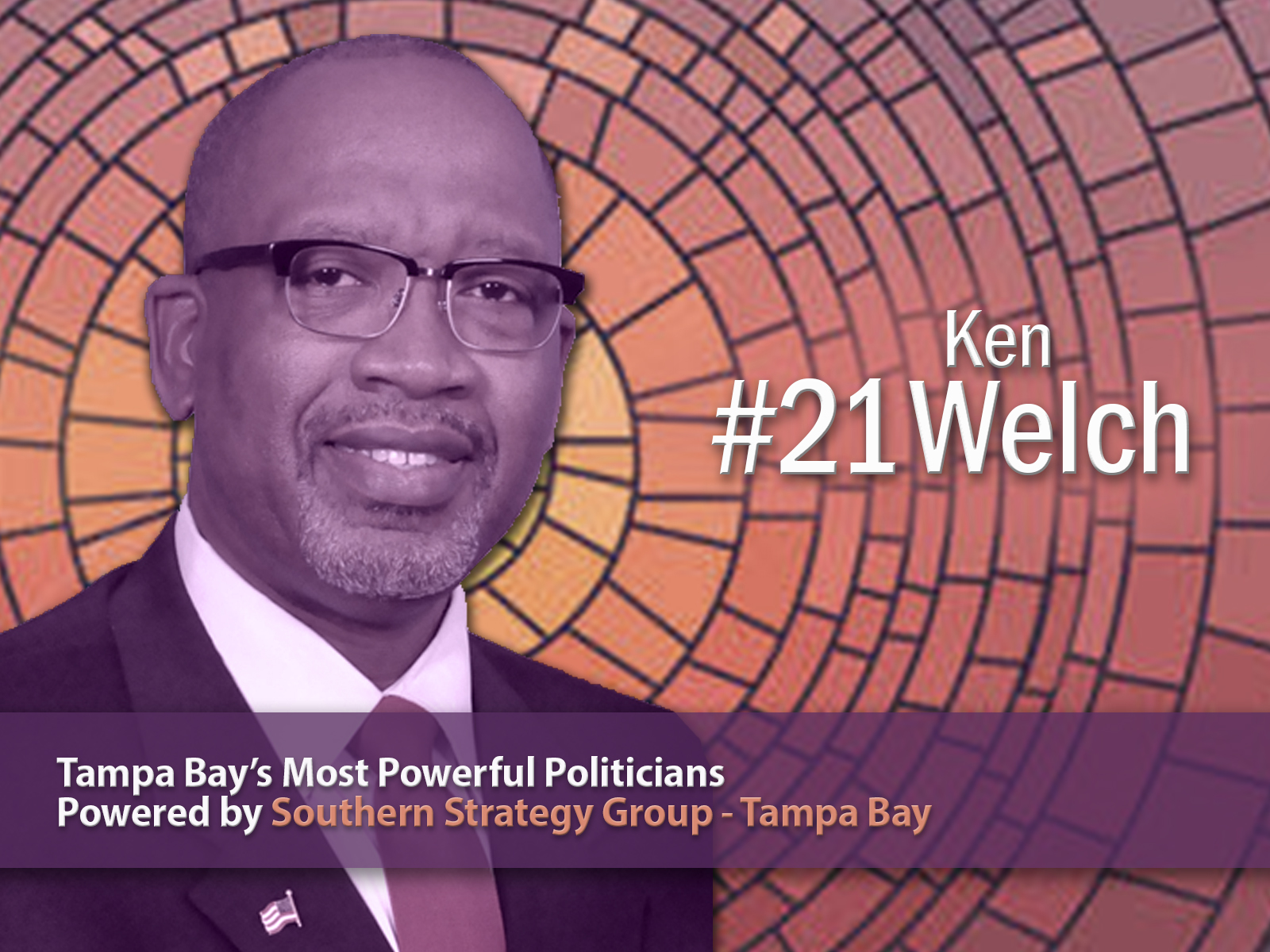 "Welch has a long track record of leadership in his community."
Pinellas County Commissioner Ken Welch is an institution in local politics. Welch was first elected in 2000 and re-elected four times since.
Despite his consistent standing as a who's who of Tampa Bay politics, Welch dropped 10 places in this year's ranking from No. 11 last year. That might be because Welch, who served as his board's chair last year, is no longer at the helm.
But Welch has a deserved place in the Top 25 not just because he's a veteran elected official but because he might be shifting gears.
Though he has not officially decided, Welch is considered a top contender to replace Rick Kriseman as St. Petersburg's Mayor when Kriseman is term-limited out of office in 2021. As the head of the region's second largest city, Kriseman landed at No. 4 on last year's list.
Welch is known for his work on progressive issues including diversity, affordable housing, transportation and poverty reduction.
"Having served as Chair of the Pinellas County Commission three times, Commissioner Welch has a long track record of leadership in his community, on the County Commission, and on statewide associations," said Southern Strategy Group lobbyist Laura Boehmer.
Welch served at the state level as both the first and the second Vice President of the Florida Association of Counties. He's also served on that group's Urban Caucus as co-chair and chaired its Finance, Transportation and Administration committee.
Welch is also a past-chair of the Pinellas Suncoast Transit Association's Board of Directors. In that role, Welch played a crucial role in the 2014 Greenlight Pinellas transit referendum, which voters ultimately rejected. Still, Welch's experience navigating a challenging ballot initiative leaves him well-poised to usher in another campaign.
Murmurs have already started about reviving a sales tax initiative to fund transit in Pinellas County that would build on the success of Hillsborough County's All For Transportation referendum that passed last year.
Welch also has experience allocating county bed tax dollars using taxes collected on hotel stays. He formerly served as the chair of the Pinellas County Tourism Development Council. That experience could be crucial for St. Petersburg as many in the city still cling to hope that the Tampa Bay Rays might choose to stay in St. Pete when their contract on Tropicana Field is up in 2027.
The team's plan to build a Tampa stadium in Ybor City fizzled as elected leaders there failed to come up with a public funding plan that satisfied the team's ownership. With that deal dead for now, Pinellas County could have a glimmer of hope through access to bed tax dollars that could make a stadium plan in Welch's district a possibility.
In addition to Welch's leadership roles in transportation and tourism development, he has also served in leadership roles with the Pinellas County Economic Development Council, Forward Pinellas and with the Advisory Committee for Pinellas Transportation and championed a small business program.
"Commissioner Welch is a highly respected and powerful voice for his community. As Chair of the Commission in 2018, he was relentless in his pursuit of the Small Business Enterprise (SBE) program in Pinellas County that now empowers small businesses all over Tampa Bay to place bids for County purchases," said Welch's colleague on the commission, Janet Long. "This is just one example of his unrelenting pursuit of equal opportunity for all our citizens that is an inspiration to our entire community."
Joe Henderson's take: A fixture in the Pinellas County Commission, he is up for re-election in 2020 and should have no problem if he decides to go there. But how does Mayor Welch sound?
Follow the entire list here, on Facebook, and on Twitter with #Top25InTB.