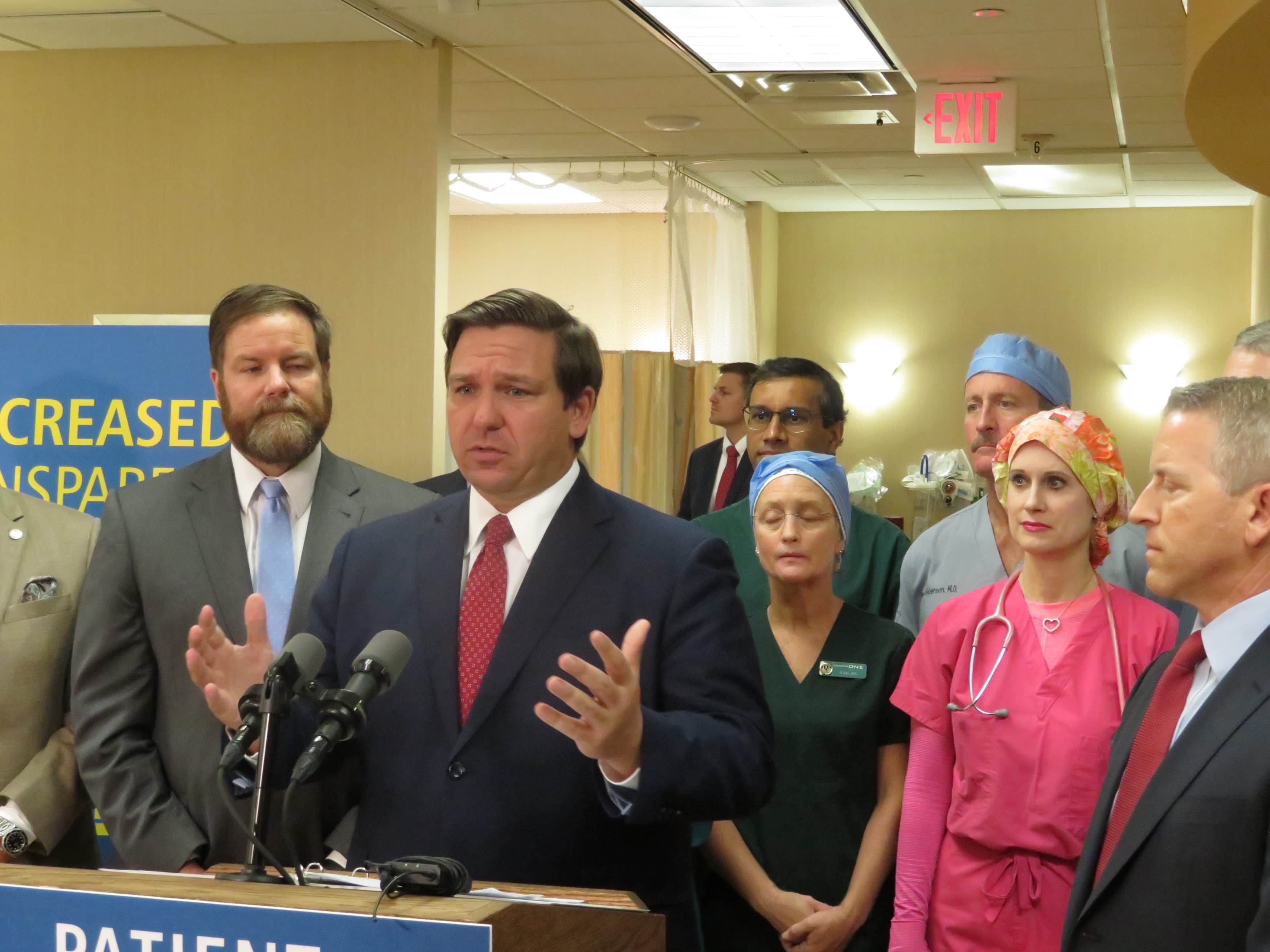 Generational health care reform bills continue to be signed.
In what advocates called a triumph for health care cost savings, Gov. Ron DeSantis on Wednesday signed the Patient Savings Act in Jacksonville.
The new law will give patients greater information about the costs of health procedures and services, as well as potentially reduced premiums when they shop for and find high-quality, lower-cost options.
The act covers clinical laboratory services, infusion therapy, inpatient and outpatient surgical procedures, and obstetrical and gynecological services. It also covers inpatient and outpatient nonsurgical diagnostic tests and procedures, physical and occupational therapy services, radiology and imaging services, prescription drugs, and telehealth services.
"One of the things we're looking to do is reduce health care costs, try to have a system that makes more sense in terms of economics," DeSantis said. "One way to do that is to try to provide consumers with a way to save their money by picking more affordable health care options."
The Governor said he had pressed AHCA on expediting the implementation of the state's health care pricing transparency tools. This process, begun in the previous administration, is a renewed priority of this Governor.
The Department of Management Services is responsible for a similar tool, via HealthCare Bluebook, for state employees. "Kentucky did this and they saved billions of dollars," DeSantis said.
DeSantis endorsed the bill, saying "transparency is great … but if it's just saving an insurance company money, patients would rather have their time to themselves.
"What we have here," the Governor added, is "this bill allows for plans for a patient, that if they do choose more affordable options, they share in the savings."
With such incentives, DeSantis expects a "downward pressure" on health care costs.
House sponsor Paul Renner, a Palm Coast Republican, got the bill through on his third try. He noted that it was part of a "series of the biggest health care reforms in a generation," saying this was only the beginning in the ongoing battle to "cut health care costs and put patients in control of their health care."
"The Patient Savings Act does just that," Renner said. "For the first time, (consumers) can put money into their pocket … When we go out and shop for something, we know the cost before we buy it."
DeSantis has been spotlighting health care reform this week. He signed legislation Tuesday in the Villages greenlighting a cost-saving foreign drug importation scheme. Other bill signings are to come.
The location was a sign of the changing times: An ambulatory surgery center near the Town Center.