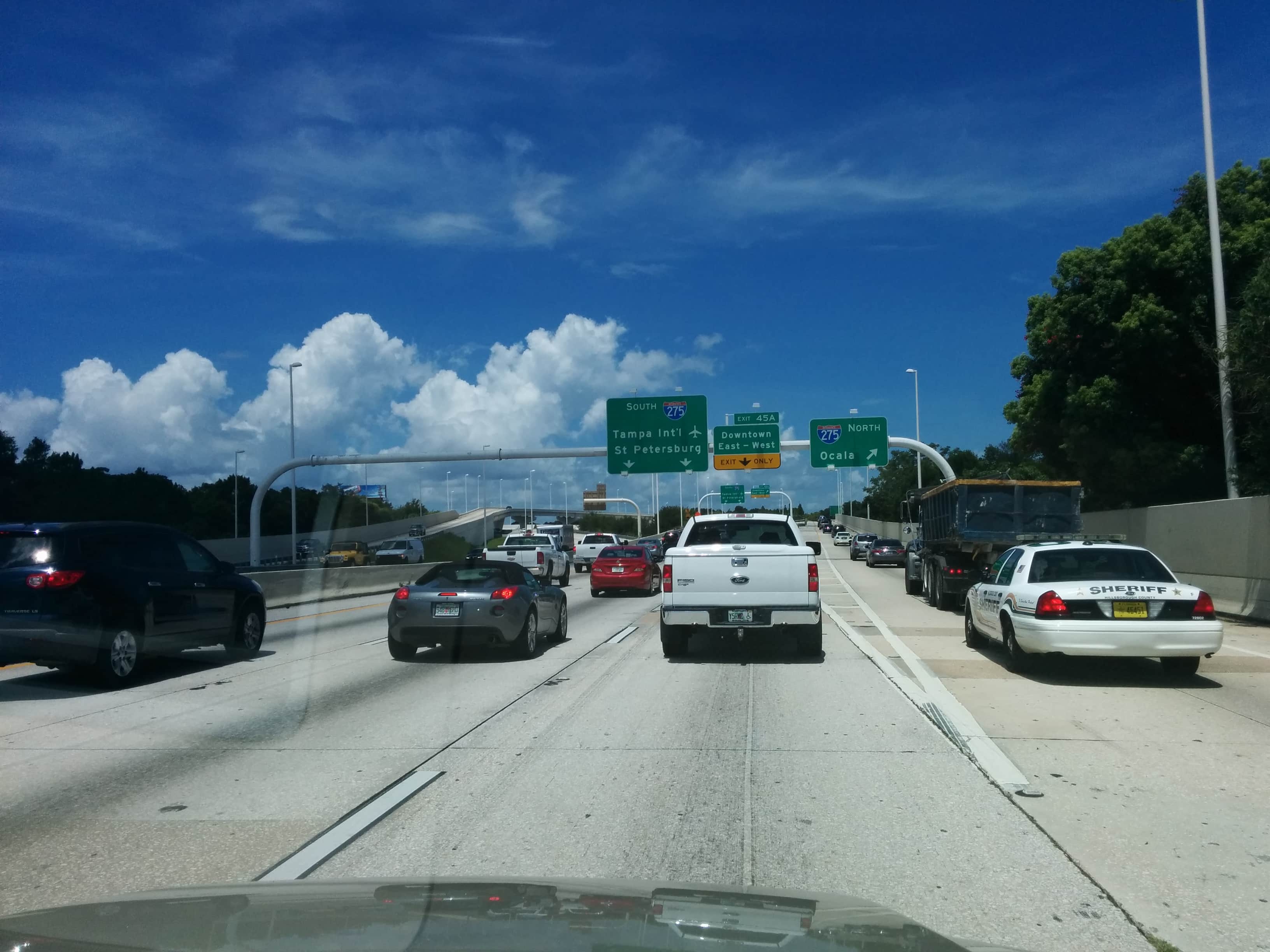 "We should aspire to do better by building transit first."
After more than six hours, including four hours of heated public comment, the Hillsborough County Metropolitan Planning Organization (MPO) approved moving forward with two controversial interstate projects.
Despite an intense back and forth about details, the conflicting sides of the controversial Tampa Bay Next process are no closer to agreement.
In fact, they might even be further split.
The MPO agreed Tuesday to include some highway capacity improvements to its annual Transportation Improvement Plan (TIP.) Those projects would add a lane to Interstate 275 between Martin Luther King Jr. Blvd. north of downtown Tampa to Bearss Avenue. That would make the busy stretch of highway four lanes in each direction.
The other project would be to add a lane to the flyover ramp from southbound 275 to I-4.
The state's Department of Transportation says the projects are needed to improve safety, particularly around malfunction junction where several exit and entrance ramps merge with traffic, and to improve continually worsening traffic congestion.
Critics of the project argue adding vehicle capacity does not reduce congestion and instead prefer a "no-build" option while the county works to beef up transit solutions to take vehicles off clogged roads and highways.
"Expanding the interstate should be last in our priorities. We should aspire to do better by building transit first and actively working to remove cars from our roadways — the only real solution to congestion," said urban designer and transit activist Josh Frank.
Those critics, led by the citizen activist group Sunshine Citizens, worry FDOT is jumping the gun on projects that have not been fully vetted and will ultimately force further capacity increases on I-275 now that the MPO has given the go-ahead to target funding.
More than 70 people signed up to speak during Tuesday's meeting, most of those opposed to FDOT's plans and as the dust settled Wednesday morning, social media was ablaze with people angry over the outcome.
Hillsborough County Commissioner Kimberly Overman posted a cartoon showing cars stuck in two lanes of traffic with a thought bubble above one of them saying "can't wait for the road to be widened" above another image of the same car stuck in three lanes of traffic with another thought bubble proclaiming "Finally!"
Another commenter posted a gif showing a circle. At the top of the circle was traffic, as the circle filled in it moved to the right where widening roads was represented, then to the bottom where traffic sped up and cars were able to move quickly, followed by an image on the left of the circle describing more cars entering the road as a result. The circle repeated itself over and over again.
Those residents want FDOT to slow down until a corridor study is complete later this year. But FDOT District 7 Secretary David Gwynn said the projects needed to be included in the MPO's TIP in order to move forward with identifying funding and avoiding future delays once the studies are complete.
FDOT has already allocated $80 million to expand 275 between MLK and Hillsborough Avenue, but it needs another $220 million to complete the project to Bearss Avenue. Similarly, they need $200 million for proposed downtown interchange improvements.
FDOT cannot seek those additional funds if the projects are not in the TIP, Gwynn explained.
But the lane additions to 275 must work with the interchange improvements around downtown and I-4. Those interchange improvements haven't been fully studied. FDOT detractors who spoke with Florida Politics worry that once the interchange study is complete, the findings won't jibe with the plans to widen I-275 leaving FDOT with the ability to use scare tactics to force the MPO to approve further lane additions.
FDOT rejects those claims.
"I don't really understand why they feel that way because everything we're doing has to be approved by the MPO. For us to move to construction we would have to fund that in the long-range plan and include it in the county priorities and in the Transportation Improvement Plan," said FDOT District 7 Planning and Environmental Administrator Ed McKinney.
"All of those have to be approved by the MPO board. There's no conceivable way to sneak something in without people knowing far in advance that it was coming."
That was the MPO's rationale for moving forward. Plant City Mayor Rick Lott, late into the evening, pointed out the vote would not finalize any plan and wouldn't guarantee future construction.
The FDOT rationale further holds that the two projects are less about adding vehicle capacity and more about ensuring lane continuity. Traffic would be mitigated by reducing some of the weaving in and out of traffic that occurs around the downtown interchange.
For example, commuters entering I-275 from MLK currently have to merge twice over a very short span to get into through lanes. The right two lanes at that on-ramp exit to I-4 and downtown. It creates a bottleneck that, even in non-peak commute times, backs up traffic.
Under FDOT's proposed changes, an additional lane would allow drivers to skip some of those transitions. Other bottle neck spots would also be relieved, McKinney said. That includes drivers exiting I-275 to go to Ybor City by dedicating an exit lane and for those entering I-275 from East Tampa by providing a dedicated ramp that avoids merging with I-4 traffic.
Still, transit activists aren't lying down. They plan to continue pushing back against what they see as an engorged road plan that will do little to improve congestion while sacrificing neighborhoods as the bifurcating highway gets even bigger.
While Tuesday's vote was most certainly a defeat, the dozens of speakers who advocated against the projects see some silver lining.
The MPO board is composed of 16 members. Half are elected officials and the other half private citizens who are appointed. Of the elected officials, five of them voted against the two projects.
Those include Hillsborough County Commissioners Pat Kemp, Overman, Mariella Smith and Les Miller and Tampa City Council member Guido Maniscalco. A sixth, Tampa City Council member Joe Citro, voted against the expansion plan north of MLK, but for the downtown interchange improvements.
That means that where elected representation is concerned, members are listening to community activists worried about expanding highway capacity.
"Last night's meeting was great progress in the overall conversation this community has had regarding a shared desire for transit alternatives," Frank said. "Unfortunately, we're not there yet, but more people today understand that expanding interstate capacity only creates more congestion and that is a success."