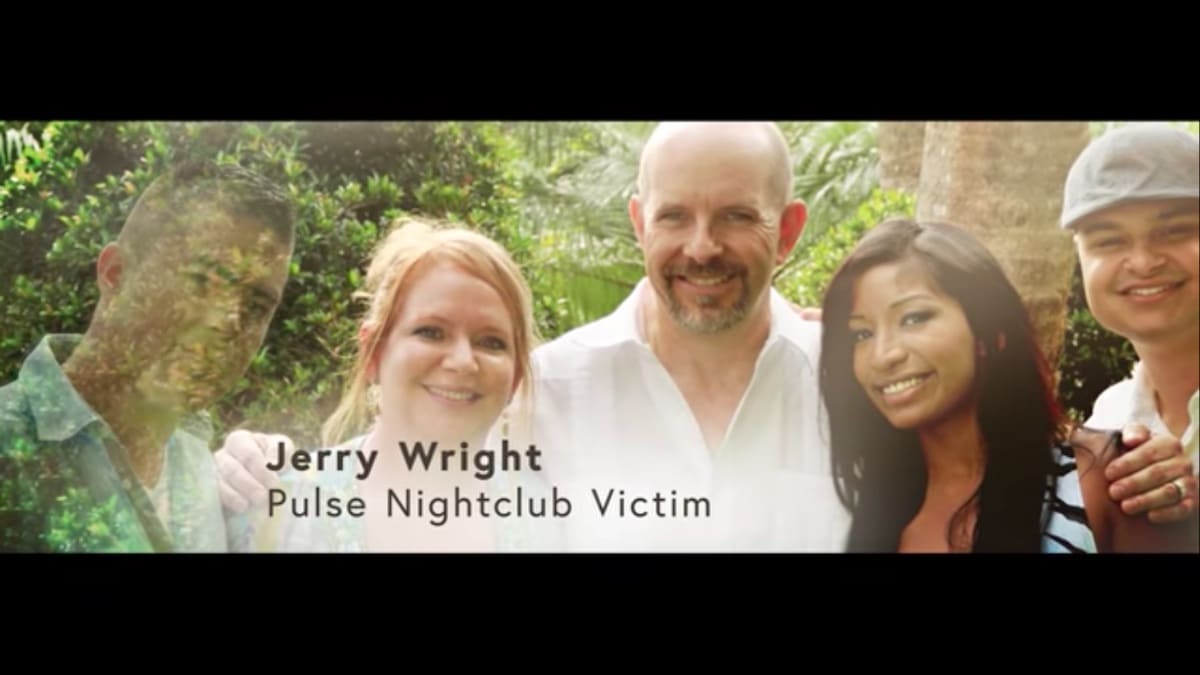 Family of shooting victims decry 'Weapons of War' in new video.
A group seeking to place an assault weapons ban in Florida's Constitution released a digital ad on the Pulse shooting anniversary Wednesday.
Ban Assault Weapons NOW!'s new "Weapons of War" video includes a testimonial from the parents of Pulse victim Jerry Wright.
"It's a piece of your heart; it's a piece of your dreams; it's a piece of your life that's taken," says his mother, Maria Wright. As she speaks, the video shows a family photo with Jerry fading until he disappears.
The ad specifically discusses the intense damage done by AR-15 assault-style rifles. Maria Wright stresses the message by describing her son's funeral.
"The last time I saw my son was in a coffin, and when I put my hand on his chest, there was no chest there," she recalls. "They had put Styrofoam to hold his shirt up, because that's the type of damage that these weapons do."
On June 12, 2016, a Fort Pierce man brought a Sig Sauer MCX into Pulse and started shooting club-goers. He fatally shot 49 people before being gunned down by police after an hours-long standoff.
Survivors and family members of those killed have been involved in BAWN's push for an assault weapons ban. BAWN is gathering petitions to place a constitutional amendment on the 2020 ballot.
If passed as written, the measure would bar possession of "any semiautomatic rifle or shotgun capable of holding more than 10 rounds of ammunition at once."
Earlier this week, BAWN supporters announced they gathered more than 100,000 signatures toward their effort. That's more than enough to prompt a review of ballot language by the Florida Supreme Court.
The new ad also prominently features survivors and family of those murdered in the 2018 shooting at Marjory Stoneman Douglas High School.
BAWN Chair Gail Schwartz, whose nephew Alex Schachter died in the Parkland shooting, cited both events in announcing the new ad.
"Three years ago today, a shooter armed with a military-grade assault weapon stole 49 innocent lives in Orlando," she said. "Just over a year ago, my 14-year old nephew was killed while sitting at his desk by an AR-15 at his Parkland high school.
"We can no longer tolerate inaction, because more weapons of war will inevitably lead to more innocent lives being taken in another mass shooting. I can tell you firsthand that no family is exempt from these random acts of violence. Today, we are releasing this new ad, to encourage more Floridians to join our bipartisan movement to make Florida a safer state."
Schachter also appears in the advertisement itself. So do Annika Dworet, mother of Parkland victim Nick Dworet, and Debbi Hixon, widow of Chris Hixon, a teacher killed in Parkland.
Activists with the March For Our Lives movement, including Parkland survivor David Hogg, also appear in the video.