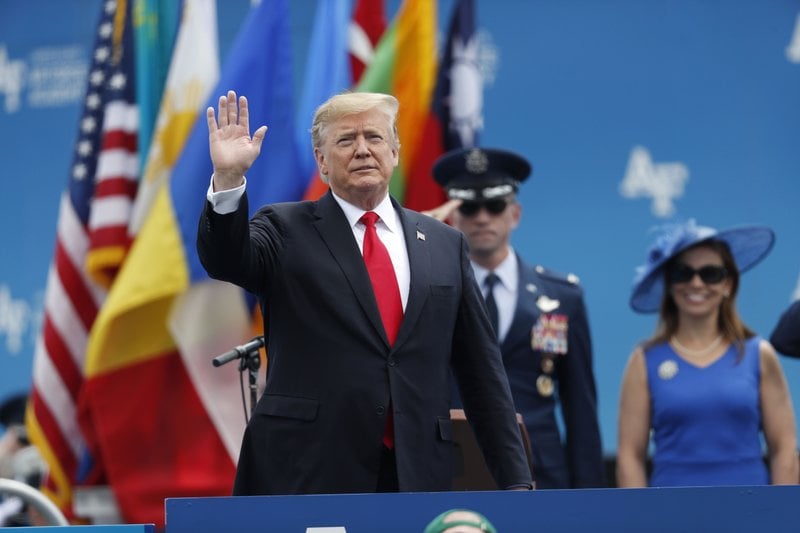 Sixty-nine percent of Orlando voters disapprove of the President's job performance.
As Orlando prepares to play host Tuesday to Donald Trump, a new poll suggests the president should not expect voters in the City Beautiful to roll out the red carpet for him.
Sixty-nine percent of Orlando voters disapprove of the President's job performance, while an identical percentage of poll respondents say they will be voting in 2020 for Trump's Democratic opponent. These and other findings of Orlando's attitudes toward Trump are from a new survey from left-leaning Public Policy Polling (PPP) and commissioned by the Florida Democratic Party.
Trump announced earlier this month that he will be kicking off his reelection effort with Tuesday's rally. He is expected to be joined First Lady Melania Trump, Vice President Mike Pence and Pence's wife, Karen.
The event, however, is symbolic, coming a week before the first Democratic presidential debates. Trump formalized his reelection effort hours after he was sworn in on Jan. 20, 2017, held his first rally in Florida four weeks later and has already raised more than $130 million for his 2020 effort.
In some ways, Orlando makes perfect sense for where Trump should "launch" his reelection campaign. It's in the heart of the I-4 corridor, a purple ribbon of swing voters that divides Florida's Republican north from its Democratic south. The conventional wisdom suggests that whichever candidate wins the counties between Pinellas, on Florida's Gulf Coast, and Volusia, which abuts the Atlantic Ocean, will win Florida and its 29 electoral votes.
"You've got to perform pretty well in the I-4 corridor if you're going to win the presidency," Orlando Mayor Buddy Dyer said last week in an interview with the Orlando Sentinel, explaining why he thought Trump would select the 20,000 capacity Amway Center in solidly Democratic Orlando as the first stop on his path back to The White House.
"If you're going to do something big, you want to do it in Orlando, right?" insisted Dyer.
Crowd size boasts aside, that Trump and his team chose Florida to officially kick off the 2020 campaign is significant and telling. Trump carried Florida in 2016 (after Barack Obama had won it twice in 2008 and 2012) and it was one of the only swing states that didn't reverse course in 2018; Ron DeSantis, with a major assist from Trump, won the Governor's race and Rick Scott beat then-Sen. Bill Nelson.
With places like Michigan and Pennsylvania looking dicey for Trump in 2020, Florida — and its 29 electoral votes — becomes a must-have. So Trump starts the campaign — formally at least — right in the Sunshine State.
The response to Trump's decision to rally in Orlando has been strong. At least according to Trump, it is.
Last week, the President tweeted that there had already been 74,000 requests to attend his campaign kickoff.
"With all of the big events that we have done, this ticket looks to be the 'hottest' of them all. See you in Florida!" Trump wrote.
These latest numbers from PPP suggest that the 74,000 requests Trump tweeted about are probably not from Orlando voters.
"After spending his entire Presidency threatening healthcare coverage for pre-existing conditions and looking out for his rich and powerful friends at the expense of hardworking Floridians, Orlando voters think Trump is toxic, said Juan Peñalosa, executive director of the Florida Democratic Party. When Donald Trump arrives in Orlando this week voters will greet him with a simple message: Florida will defeat you in 2020."
Five hundred and sixty-five Orlando voters were surveyed last week about Trump's job performance and policies. By two- and three-to-one margins, Orlando votes gave Trump thumbs-down not just on his job performance, but also on his attempts to make health care affordable (21 to 72 percent yes to no) and to help the people of Puerto Rico recover from hurricane damage (3o to 64 percent yes to no.)
Of course, it's not surprising Trump did not fare well with Orlando voters. After all, the number of registered Democrats there more than doubles the number of Republicans.