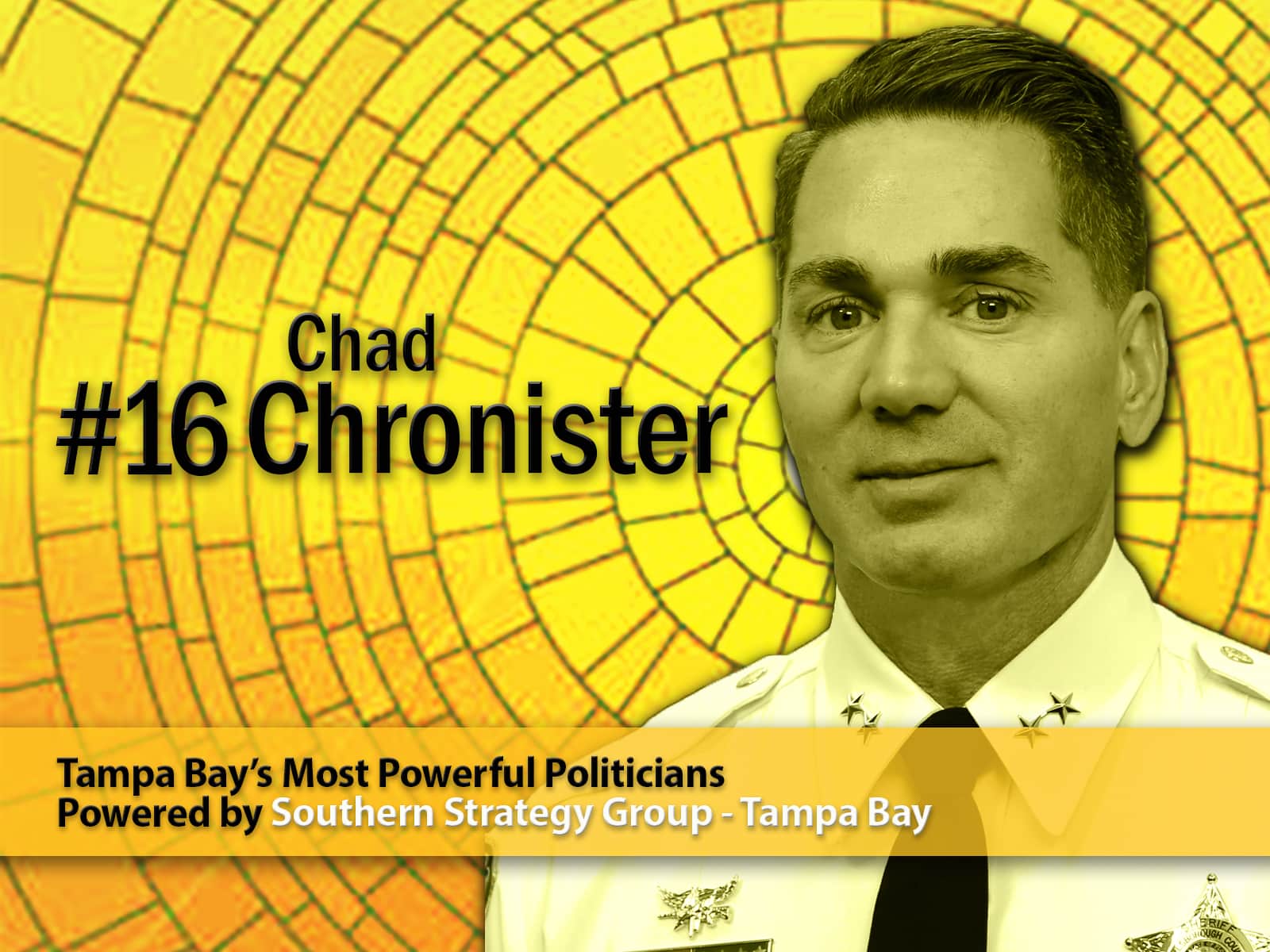 Chronister has shone has Hillsborough County's top cop.
Hillsborough County Sheriff Chad Chronister moved up seven places on this year's list of Most Powerful Politicians in the Tampa Bay area.
Chronister, like most in Florida, is a Republican. But he has an eye for moderation.
Chronister wasn't elected until late last year but made the 2018 list anyway after his appointment to replace former Sheriff David Gee after he retired. Chronister's list of achievements is long.
Chronister bested his opponent, Gary Pruitt, by nearly 10 points. Since his appointment and subsequent election, Chronister has shone as Hillsborough County's top cop.
He helped lead evacuation and recovery efforts during and after Hurricane Irma in 2017 and then helped lead the investigation with the Tampa Police Department searching for the Seminole Heights serial killer.
Under Chronister, the Hillsborough County Sheriff's Office has revamped its efforts to train deputies handling mental health-related incidents and has made mandatory what was formerly a voluntary 40-hour training for crisis intervention.
Chronister also implemented its own version of St. Pete's "Park, Walk, Talk" program in which deputies ditch their cars for an hour a day to patrol communities by foot. The idea is to establish a positive presence in neighborhoods that restores trust in law enforcement that might have been eroded as more and more police brutality cases make it into the mainstream media.
"One of Florida's newest Sheriff's, Chad Chronister earned his job this past election with a win in what is becoming an ever-growing Democrat stronghold in Florida. Chronister is a young, charismatic, engaging politician who cares more about people than policy or politics," said Republican strategist Anthony Pedicini. "Chronister is surrounded by an amazingly loyal cast of intelligent, astute and fierce team members at the Hillsborough County Sheriff's office."
Pedicini credited Chronister's wife, Nikki DeBartolo, for helping to bring out his personal strength in the face of a tough job.
"As a team Chronister's circle could help him rise to any position in Florida politics, however, Chronister is humble and content doing a great job at keeping the people of Hillsborough County safe.  Look for this Sheriff to leave a lasting impact on the Tampa Bay political scene," Pedicini said.
Chronister drew some high-profile praise and criticism, depending on who you ask, after he signed onto an agreement with 16 other Florida Sheriff's agreeing to hold undocumented immigrants for up to 48-hours to allow time for Immigration and Customs Enforcement to pick them up for potential deportation. The move drew support from conservatives who support better border security, but criticism from those searching for a softer touch on immigration reform.
Chronister has been with the Hillsborough County Sheriff's Office since 1992.
He faces another election in 2022. His former opponent, Gary Pruitt, has already announced intent to run again. Though Chronister might have another win in store after Pruitt's name came back into a negative light when he went public with criticism of then-mayoral candidate Jane Castor claiming when she was Tampa Chief of Police she artificially deflated crime statistics to make crime look lower than it actually was. Pruitt's public claims were found to be mostly inaccurate and it brought up past indiscretions including an internal investigation involving a workplace affair and paternity dispute.
Joe Henderson's take: Introduced an innovative new community policing plan where officers are required to leave their patrol cars each day for an hour of walking and talking to local residents. Great idea.
Follow the entire list here, on Facebook, and on Twitter with #Top25InTB.