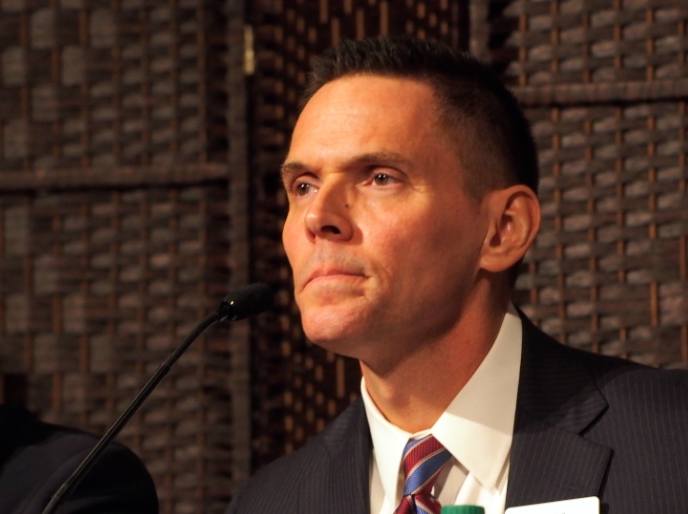 "Ross Spano was knee deep in corruption before he even took the oath of office."
The group End Citizens United is adding Congressman Ross Spano to its "Big Money 20" list in hopes of toppling the first-term U.S. Representative next year.
The Big Money 20 campaign focuses on "defeating incumbents who benefit most from the corrupt establishment in Washington."
They think Spano fits that bill quite nicely. 
The group plans to launch a website Wednesday highlighting their concerns with Spano's short Congressional tenure.
It includes complaints about Spano's admitted campaign finance blunder in which he accepted $180,000 in loans from two friends in order to fund his campaign, a move that could constitute a major campaign finance violation.
It also has Spano's close ties to one of those donors affiliated with Spano's Super PAC. And they cite a lack of grassroots support for the Republican Congressman.
"Ross Spano was knee deep in corruption before he even took the oath of office," said End Citizens United President Tiffany Muller.
"His donor friends gave him a 'loan' of over $100,000 to fund his campaign that blatantly violated campaign finance laws and one of those same donors had connections to a pro-Spano super PAC. Despite having been in office for less than a year, Spano's office has been rife with ethics scandals, and he has built a reputation for himself as one of the most corrupt members of Congress."
End Citizens United raised $44 million in the 2018 election cycle to help elect more than 150 members to Congress, including two new U.S. Senators and 58 new U.S. Representatives. Unlike those incumbents they target, End Citizens United says its average donation to support the cause is just $14.
That's not the case for Spano, the group explains on its website. They cite Spano's $65,000 in corporate or PAC donations with no support from what they describe as grassroots donors. 
That claim is based on Spano's first quarter earnings this year in which he received just one low-dollar contribution. That $1 contribution was actually a test to ensure the campaign's donation system was working properly.
The group further breaks down Spano's contributions, pointing out he raised $30,000 from the financial industry. Meanwhile, the group claims Spano is among Republicans who support dismantling the Consumer Financial Protection Bureau established to protect families from fraud and abuse within the financial industry. 
But End Citizen United's biggest beef with Spano are his potentially illegal campaign contributions. Spano borrowed $110,000 from his long-time friend Cary Carreno and another $70,000 from another friend, Karen Hunt and used that money to fund his 2018 campaign, a move Spano admitted might be a violation because the loans far exceed the $2,700 individual contribution limit to Congressional campaigns. 
In a letter explaining the blunder, Spano claimed he acted on bad legal advice. He also said he's paying the loans back with 5 percent interest. 
Spano's campaign dismissed the latest attack in a statement.
"Frankly, the Congressman is more focused on helping veterans and protecting women and children from human trafficking, not paying attention to partisan groups in Washington," campaign spokeswoman Sandi Poreda wrote.  
Democrat Andrew Learned is currently running against Spano in Congressional District 12, which covers parts of north Pinellas and Hillsborough counties and Pasco County. However, Florida Rep. Adam Hattersley is expected to swap races with Learned to run against him instead.
The Democratic Congressional Campaign Committee also lists Spano as a 2020 target.