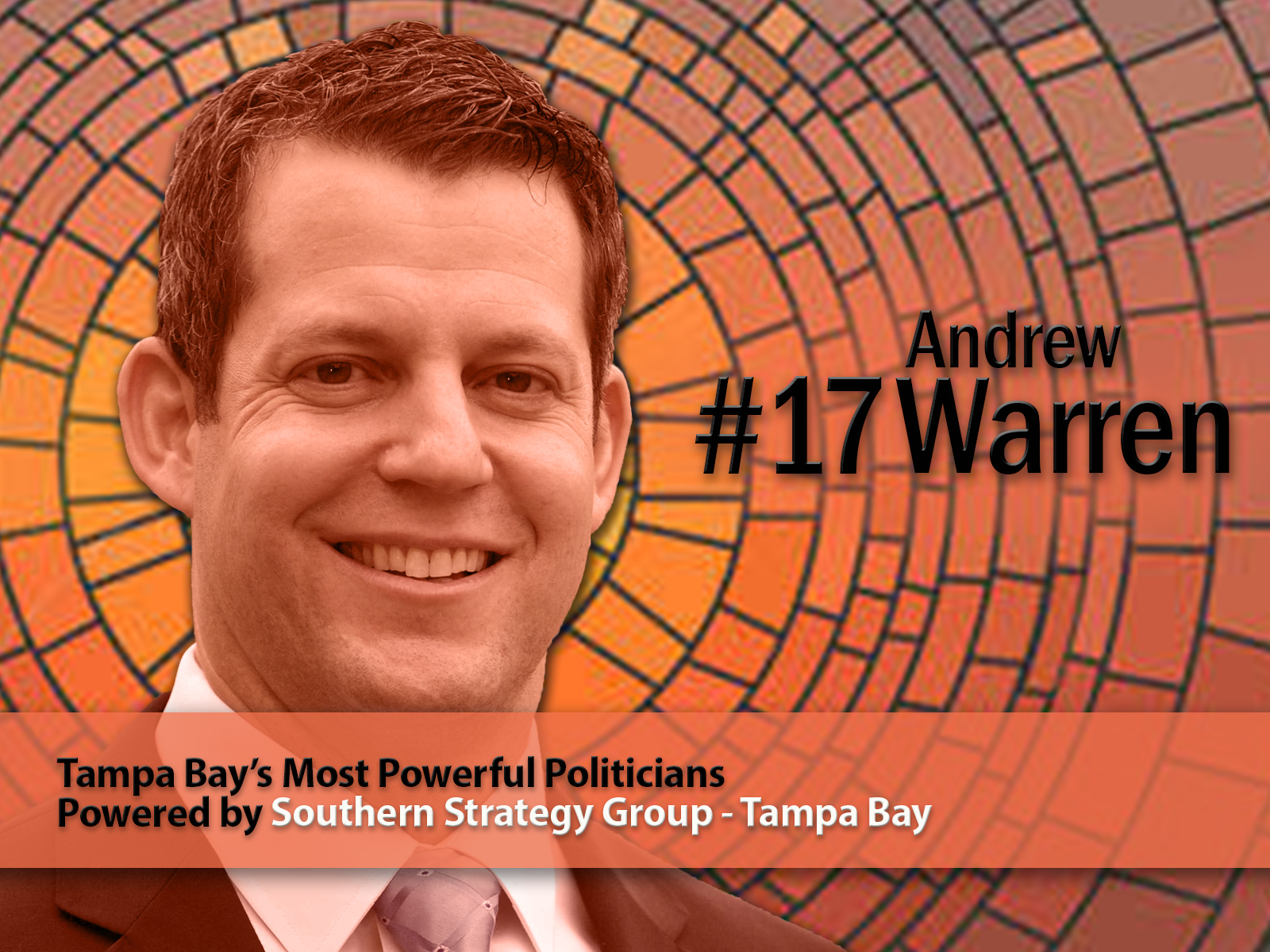 Warren's popularity is surging this year as he seeks reelection.
Hillsborough County State Attorney Andrew Warren bumped up four places on this year's list, a boost that might be attributable to his emergence on the public stage as he again hits the campaign trail.
Warren, a Democrat, won his race against longtime Republican incumbent Mark Ober in 2016.
Democratic political consultant Meagan Salisbury said Warren leveraged his momentum coming out of that race to be an agent for positive change in Hillsborough's criminal justice system.
"State Attorney Warren has quickly solidified his place as a state leader on justice issues. His policy initiatives have received bipartisan praise and he's transformed the conversation around criminal justice reform for the better," Salisbury said. "Warren has the unique ability to rally financial, political, and community support making him an easy pick for one of the regions most powerful elected officials."
Since his election, Warren has implemented a series of reforms including prioritizing the prosecution of violent crime, serious fraud, and serial recidivism to keep dangerous individuals out of neighborhoods.
Warren also enacted civil citation and diversion reforms to keep more lower-level offenders and juveniles out of the criminal justice system while still ensuring accountability for their actions.
Under his leadership, the State Attorney's Office has diverted 700 kids and 850 adults annually from the criminal justice program by utilizing civil citations for misdemeanor first offenses in many cases. The majority of those diversions were related to marijuana possession.
All of that began as soon as Warren took office, but work in a State Attorney's office often flies under the radar as more prominent elected officials take center stage.
Warren's surge this year is likely because his message and accomplishments are being highlighted in his, for now, unopposed 2020 campaign.
Warren announced his re-election early, sending out an announcement video in February. He followed that up with a somewhat high-profile public appearance at Cafe Con Tampa just a few days later. He launched his official campaign kickoff last month.
In his first month of campaigning, Warren banked $100,000. By the middle of June, that number soared to $200,000.
As Warren continues to pound the campaign trail into 2020, it's likely he'll find his way into next year's list, too.
"Andrew Warren is not waiting for the Legislature to reform the criminal justice system," said Tom Scherberger, a long-time name in Tampa Bay politics. "He's implementing important reforms from within and doing it in a bipartisan, collaborative way with all his judicial partners in Hillsborough County. Keep an eye on him. His political future is very bright.
Joe Henderson's take: Hillsborough's State Attorney has criticized Florida's controversial "Stand Your Ground" law and is applying tougher standards to pursuing the death penalty. Sounds like a plan to me.
Follow the entire list here, on Facebook, and on Twitter with #Top25InTB.