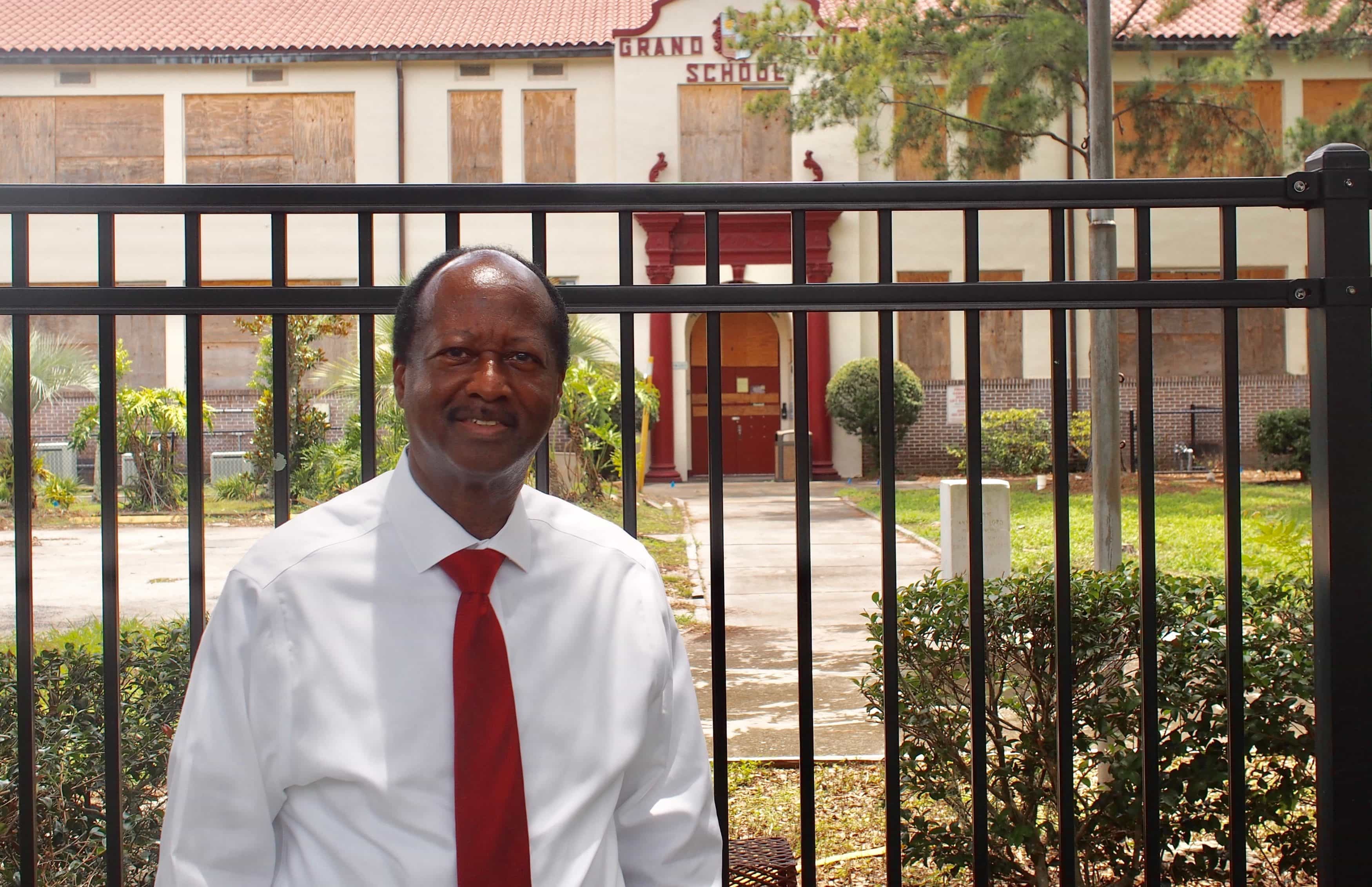 'My concern is he's been there long enough already,' Ings said of Dyer.
Mayoral candidate and City Commissioner Sam Ings cruises neighborhoods of his District 6 on Orlando's southwest side in his Lincoln and seems to know a story about every block.
That city-owned dump behind a rusting chainlink fence on Parramore Avenue has been an unaddressed nuisance to neighbors for many years. The old, boarded-up Grand Avenue School was, in his assessment, a huge missed opportunity for the city. A checkerboard of houses with weed-infested yards and abandoned cars next to or across from recently-painted homes with manicured lawns has been neglected by city code enforcement and become an unnecessary burden on proud homeowners.
It goes on, block after block. It's an intimacy that Ings has developed through his 13 years on the Orlando City Commission and, before that, as a cop.
And it's an intimacy which Ings charged Mayor Buddy Dyer, in the mayor's office for 16 years, has lost.
"My concern is he's been there long enough already. Just as seen myself being that District 6 commissioner for 13 years, it's time for me to give that up and move on to the next level," Ings said.
Ings, a retired Orlando police captain, knows he is a long-shot candidate against Dyer on Nov. 5. There are two even longer-shot mayoral candidates, retired Navy veteran Aretha Simons and Shantele Bennett.
Just about everyone who has ever run against Dyer in a mayoral election since 2003 has been a long-shot candidate. Dyer wins by 20 or 30 points. He has little trouble fundraising or attracting backing from the city's establishment, other elected officials, big businesses, community groups, unions. He has so much popularity, name recognition and power, big-name candidates rarely want to challenge him, and those who do tend to come away sorry.
Dyer has overseen tremendous growth in the City Beautiful during his four and a half terms in office. The city's economy has boomed. The downtown has blossomed into a place rich with business by day and entertainment by night. The commercial areas outside downtown have taken on their own identities as community Main Streets. Crime is down.
New parks and fire stations opened, along with a new police headquarters. A new arena, stadium, and performing arts center went up. The SunRail commuter train started. Bike paths and bike lanes rolled out. Two billion dollars is being spent on Interstate 4 improvements. Another $2 billion is being spent on the new terminal at Orlando International Airport. Two grand-vision, mega-developments, Lake Nona and Creative Village, are coming out of the ground.
Ings charges, however, that Dyer has become complacent toward neighborhoods and residents, and not transparent in how he develops deals before they are presented to the City Council for consideration.
"He becomes very complacent because everything revolves around him and not the people he's supposed to be serving," Ings said. "That's where a lot of the problems come in from my perspective. And the lack of transparency.
"I would like to work with all the neighborhoods, so if when we go from College Park to another area, it should all look the same, free of crime," Ings said.
Ings and Dyer, both Democrats, have been close. When Ings got married in 2010, Dyer walked Ings' bride June down the aisle. That's in spite of past and current differences.
"It's not a hateful or disrespectful relationship at all," Ings said.
"Mayor Dyer has always respected Commissioner Ings as they share the same passion for making Orlando a great place to live, work, and raise a family," Dyer's campaign spokeswoman Jessica Garcia said. "While they've had some differences on policy issues over the years, the majority of the time they have agreed due to their mutual love for the City and shared goal of seeing it thrive."
Ings took on Dyer twice previously, finishing a distant third in the 2004 mayoral election, and seeing a special election canceled the following year when Dyer beat campaign corruption charges that had led, temporarily, to his suspension from office.
On the City Council, Ings is one of two commissioners, along with Republican Jim Gray, who challenge Dyer's agenda with any regularity. Ings also has called out Dyer on a number of bigger projects that won council approval. There was the Tinker Field controversy: a historic, minor league ballpark that Ings said the city, under Dyer, neglected to death. The city tore down in 2015 to make room for concert grounds. There is the deal for redevelopment of the Orange Center Boulevard property as a land trust, in which a developer seemed to have won the property rights without a requests for proposal process.
And there is the Grand Avenue School, reflecting a complex, multi-government deal that Ings said stank. The Orange County School Board closed the historic school in Holden Heights in 2017. The school board needed a new school, and Dyer wanted a new Parramore school located in his Creative Village development, a live-learn-work planned community planned just west of downtown. So the city swapped some Creative Village land to the school board for the Grand Avenue site. The city then decided the Grand Avenue School would be reworked as a community center, complete with a new gymnasium.
All well and good, Ings said, except he's not convinced the recreation center ever was the best idea for the Grand Avenue School site. The Creative Village development also displaced the Nap Ford Community School from the heart of Parramore. For 18 years it has been heralded as a success in serving largely African-American, low-income children, mostly from the Parramore neighborhood. It moved out of Parramore, to the Washington Shores neighborhood a couple miles away, even though the Grand Avenue School site would have been closer, better for the families, and grander, in Ings' view.
"The building of Grand Avenue School was the perfect building for Nap Ford Community School to go into. Perfect," Ings said. "
It was, Ings charged, the kind of behind-the-scenes deal that prevented him or anyone else from weighing in on Dyers' plans until they were too solidified to change.
Dyer's campaign responded that all of the deals that Ings criticized were complex.
But through it all, Ings contends, Orlando City Hall has become something of a palace. Access is increasingly limited to the powerful, not homeowners along Parramore. Deals seem to happen before anyone knows enough about them to object.
Dyer's lengthy, largely-unassailed tenure has begun to look imperial to Ings.
And, he contends, "The people haven't progressed."