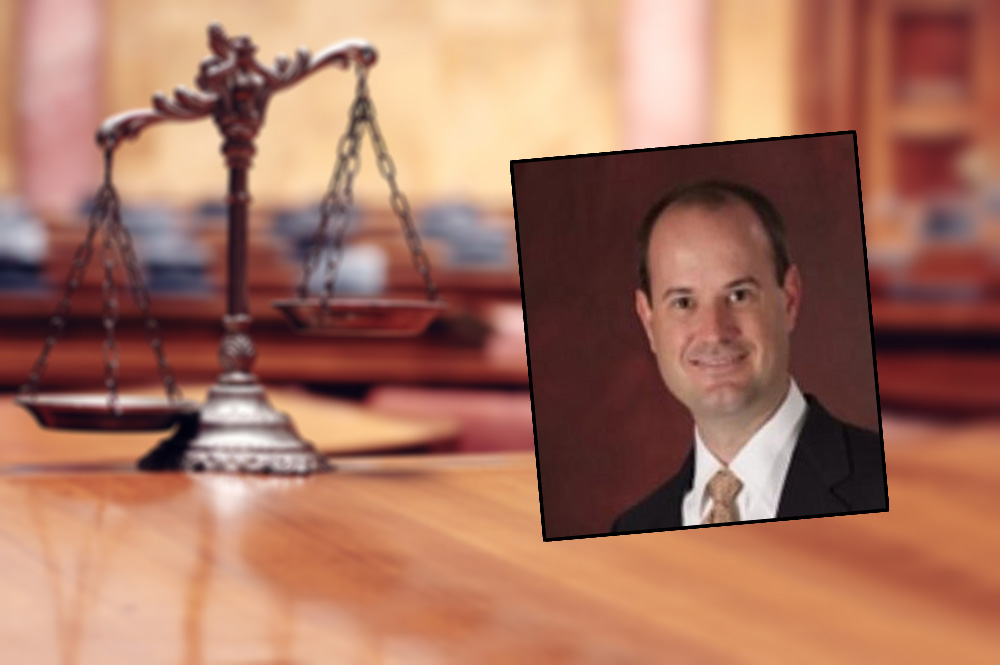 As Florida Solicitor General, Winsor defended the state's ban on same-sex marriage.
The U.S. Senate confirmed a conservative-aligned state appellate judge Wednesday as a new federal judge in north Florida.
Allen Winsor, a 1st District Court of Appeal (DCA) judge, was approved 54-44 to be a U.S. District Judge for the Northern District of Florida. He was nominated by President Donald Trump last April.
Winsor, 42, was Florida's Solicitor General under Attorney General Pam Bondi when then-Gov. Rick Scott tapped him to fill a vacancy on the 1st DCA bench in February 2016. He replaced Robert T. Benton, who retired.
The Northern District's Tallahassee division, in particular, is often the venue for federal lawsuits against the state, including many election-related matters.
Now, Winsor replaces longtime federal judge Robert Hinkle of Tallahassee, an appointee of President Bill Clinton. But Hinkle, who moved to "senior judge" status at age 65 in late 2016, says he isn't going anywhere. 
"I'll still have a substantial caseload," he told Florida Politics, saying Chief Judge Mark Walker and District Judge Casey Rodgers have been "pulling double duty, covering the two vacancies" in the district. Trump's nomination of another conservative-leaning 1st DCA judge, T. Kent Wetherell II, still is pending.
"With Judge Winsor's arrival, they'll cover the one remaining vacancy, which we hope will be filled soon," Hinkle said. "I'll still have my cases. When all the slots are filled, I'll have the same share of regular civil cases as each of the four actives, and a smaller but significant share of criminal cases."
Most notably as Solicitor General, Winsor defended — on Bondi's behalf — the state's ban on same-sex marriage. Winsor also has been a member of The Federalist Society, "a hugely powerful, nationwide organization of conservative lawyers," as NPR once described it. 
"I'm thrilled," said Scott, now a U.S. Senator, in a statement.
"Throughout his career, Judge Winsor has demonstrated a respect for the separation of powers and a devotion to the role of the judiciary in our democratic system," he added.
"As Governor, I had the honor of appointing Judge Winsor to the First District Court of Appeal in 2016, and I know he will continue to fairly uphold the rule of law and serve our state and nation well."
Added fellow GOP U.S. Sen. Marco Rubio: "Judge Winsor has served the state of Florida well since 2013, and I know he will continue that service in his new role as a federal-district court judge for the Northern District of Florida."
Progressive groups were not as elated.
The Leadership Conference on Civil and Human Rights, which bills itself as "the nation's oldest & largest civil rights coalition," tweeted that Winsor "is a conservative ideologue who's worked to roll back civil rights protections — and now he'll serve for life on the federal bench. We deserve better."
Winsor previously worked at the GrayRobinson law firm from 2005-13 and clerked for Judge Ed Carnes on the 11th U.S. Circuit Court of Appeal. He graduated from Auburn University and received his law degree from the University of Florida.
The Northern District of Florida stretches east from Pensacola through Tallahassee and then south to Gainesville.
Winsor's elevation also means that Gov. Ron DeSantis, a Republican, will get to make an appointment to replace Winsor on the 1st DCA.
DeSantis already has remade the state's seven-member Supreme Court with three new conservative justices that replaced longtime and liberal-leaning justices who retired in January — the same day he took office.