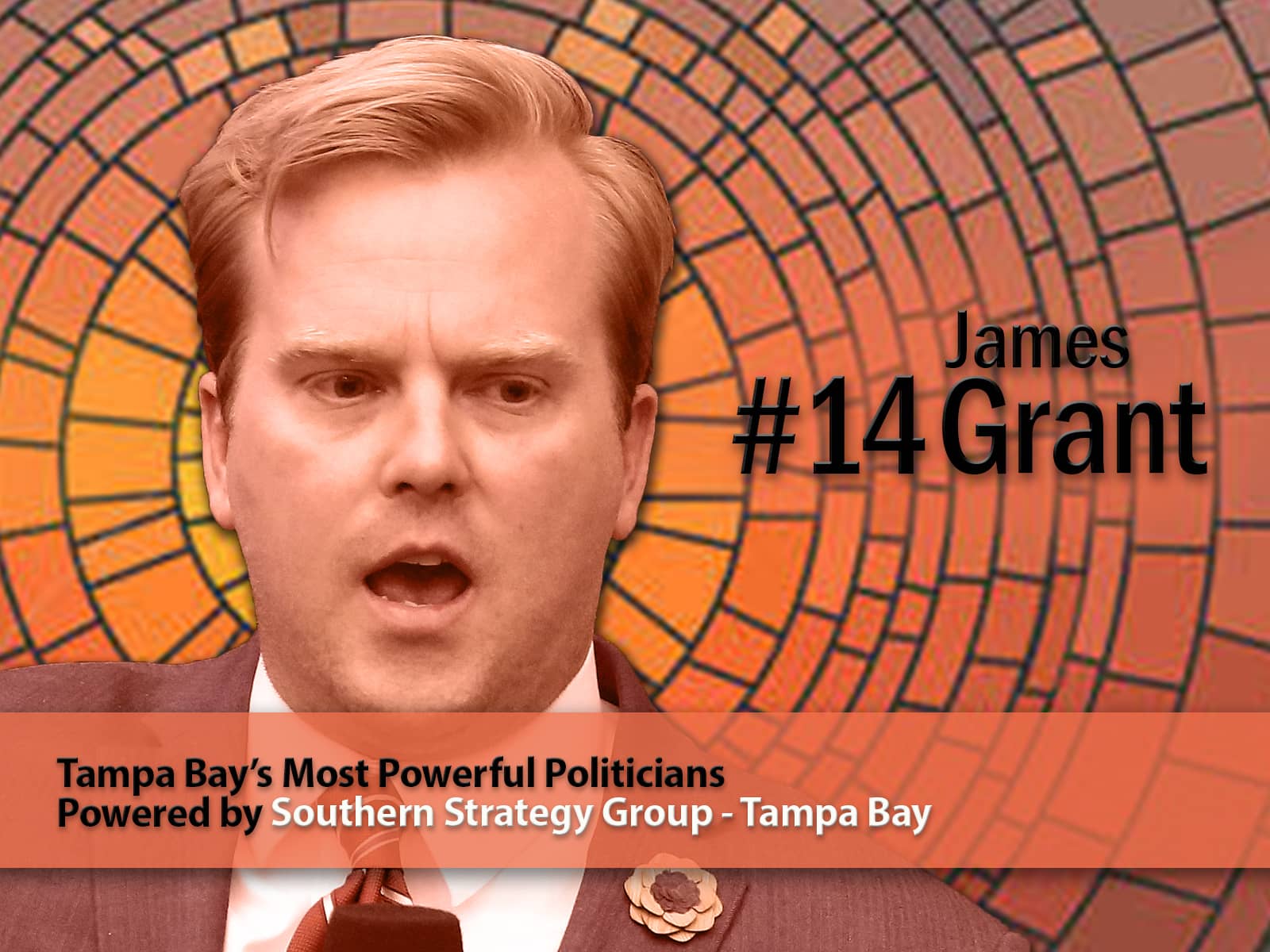 Think of Grant as the "super senior" of the Florida Legislature.
Florida Rep. Jamie Grant has had an interesting political career and it's one of the reasons he finds himself on this year's list of Tampa Bay's most powerful politicians.
Under normal circumstances, Grant would be either out of office or elected to a different office. He was first elected to his Florida House District 64 seat representing Tampa in 2010. Florida law caps terms to eight years.
But Grant, thanks to a bunch of legal drama surrounding his 2016 re-election campaign that would have been his final, gets to serve until 2024. Think of Grant as the "super senior" of the Florida Legislature.
A series of court challenges in 2016 questioned whether a write-in candidate should be able to close a primary when the only candidates in a race are in the same party. Without a write-in candidate, all voters would be able to vote in that primary since there would be no general election. But a write-in candidate made it so only Republicans could vote in Grant's 2016 race, lending Grant's name to a national debate about closed primaries.
Fast forward to 2019 and Grant is flexing his veteran lawmaker muscle.
Like it or not, Grant was the mastermind behind the Amendment 4 implementation bill ultimately approved this year that ties restoring ex-felons' voting rights to paying restitution and court-ordered fines and fees.
"This past session, Jamie Grant was on fire. Anyone who has watched a debate on the House floor knows if you want to debate Jamie, you'd better have a glass of water and an encyclopedia for a brain," said Republican strategist Anthony Pedicini. "He is a talented and smart Legislator who makes all of Tampa Bay look good when he grabs the microphone. He's one of Tampa Bay's strongest and most vocal advocates."
Voting rights advocates decried the measure, arguing it was not implementing the will of voters who soundly approved the ballot measure last November. Groups like the ACLU argue voters intended to immediately restore citizens' voting rights once they had paid their debt to society and that holding that right hostage to financial obligations was a bridge too far.
But Grant and those who supported the legislation, fired back ferociously claiming it was clearly stated in the Amendment 4 language that fulfilling financial obligations was necessary to have truly completed all requirements of their sentence.
Regardless of whether people agree or disagree, the issue put Grant front and center for one of this year's Legislative Session's most high-profile issues.
"Never one to shy away from a complex or controversial issue, Jamie Grant brings energy, enthusiasm and a deep commitment to his hometown to the Florida house," said Sydney Ridley, a lobbyist with Southern Strategy Group. "A free market thinker, he's passionate about disruptive technology and fair competition."
Joe Henderson's take: Just when I wanted to berate him for leading the effort to subvert Amendment 4's intent to restore voting rights of felons who have served their time, he was maybe the strongest voice in Tallahassee to demand state Rep. Mike Hill resign. Is it possible to "boo" and "yay" in the same breath?
Follow the entire list here, on Facebook, and on Twitter with #Top25InTB.