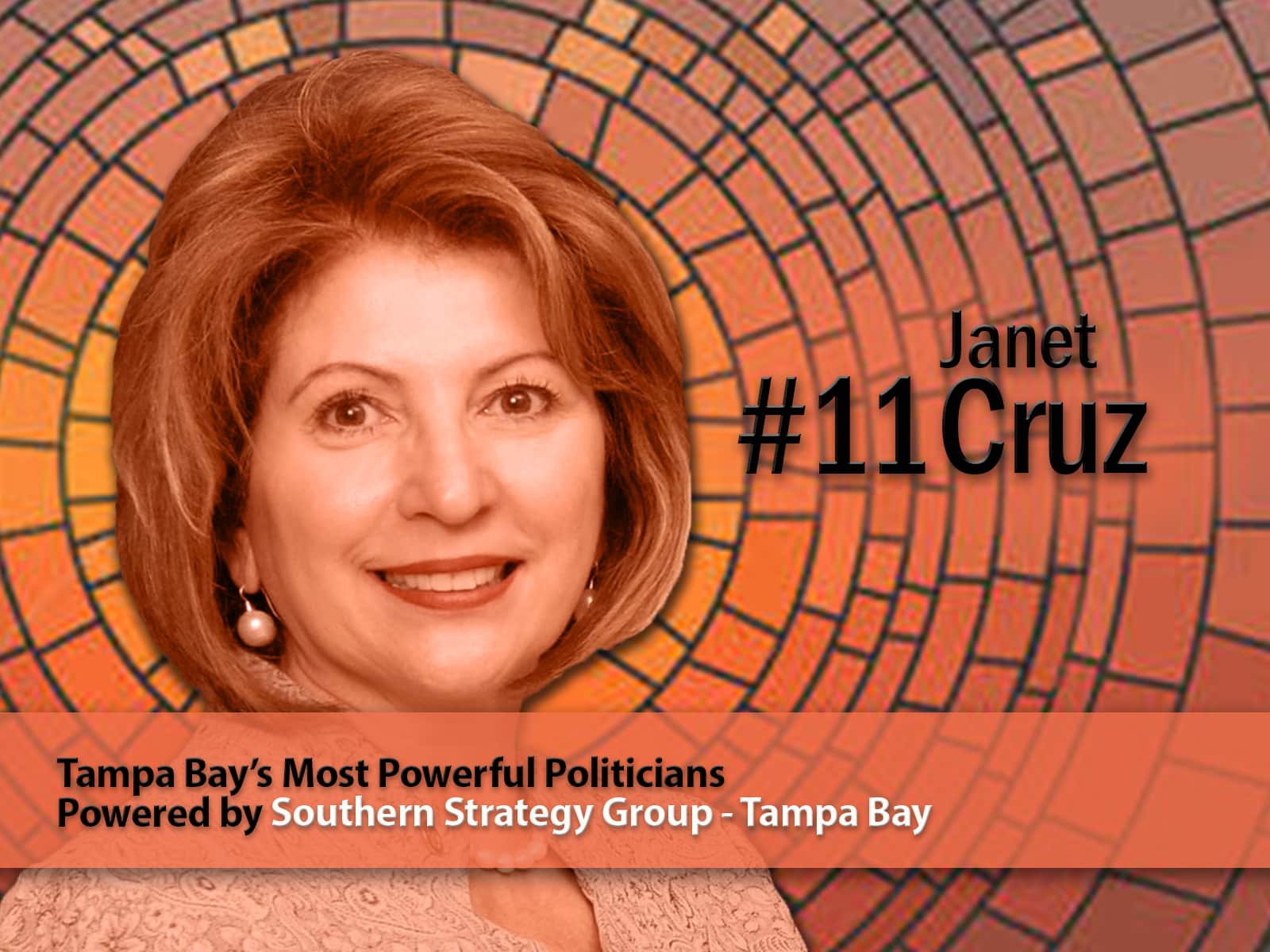 Janet Cruz's political savvy in Florida stands on its own.
Florida Sen. Janet Cruz combines independent political might with powerful family ties, making her one of the region's most powerful politicians.
"Sen. Cruz loves her home town of Tampa and is a strong advocate for causes she believes in.  She knows well how to navigate Tallahassee and how get things done for her constituents," said Southern Strategy Group lobbyist Seth McKeel.
Cruz bumped up one spot on this year's list, a small move considering her family now includes not only an influential lobbyist but also the Mayor of Tampa. Cruz's daughter, Ana Cruz, is the long-time partner of newly elected Tampa Mayor Jane Castor.
That family dynamic might be what boosted Cruz up a notch, but her political savvy in Florida stands on its own.
Cruz narrowly won election over an incumbent late last year in a race so razor thin it required a mandatory recount. She did so despite being outspent by about $1.6 million. Cruz also managed to outmaneuver an onslaught of negative attacks coming from her opponent, former Sen. Dana Young.
"Winning by a hair in what is now one of the hardest fought and costly Senate races in Florida history, State Senator Janet Cruz led her party as Minority leader in the house. Now she's making her presence felt in Florida's Senate," said Republican political consultant Anthony Pedicini. "Cruz has mastered the art of political theater. She plays the part her party requires, but skillfully works across the aisle behind the scenes to pass bills and bring home the things Tampa Bay needs." 
Early on, Young questioned whether Cruz was duping voters about where she actually lived. Records showed she owned a waterfront home outside Senate District 18 with her husband, but Cruz maintained she lived in a smaller house in the district. Cruz also faced criticism over filing two homestead exemptions, a blunder she said she quickly remedied by repaying taxes owed for the mistake.
Cruz's winning ticket was likely her emphasis on public education. Over and over she was able to draw distinctions between herself and Young over public education voting records on school voucher programs and charter schools critics say funnels money from traditional public education into private, for-profit entities. Young historically supported such programs.
In what was perhaps a pivotal moment in Cruz's campaign, she made a headline-grabbing quip.
"Damnit Dana, stop," Cruz said at a September press conference in front of Plant High School where yellow tubes could be seen emerging from windows helping to cool the school as its air conditioning system sat in disrepair.
Young and Republicans in the Florida Legislature who continually supported voucher programs were robbing school districts of money desperately needed to not only educate students, but to keep them comfortable.
She also latched on to issues in some Hillsborough public schools with drinking water. Some of the district's older schools have lead in the water. Cruz unsuccessfully sponsored legislation to fund filtration devices to clean the water in schools across the state facing similar issues. Since it failed, Cruz is now raising private funds to pay for filters.
Cruz is also known for her feisty willingness to call out politicians. She bashed Florida Gov. Ron DeSantis and Tallahassee Republicans for supporting legislation paving the way to arm teachers.
But she's also willing to reach across the aisle. In a move that angered her Democratic colleagues, Cruz voted for a bill that ultimately passed allowing plans to build hundreds of miles of new toll roads, including one connecting the Tampa Bay area to the Georgia state line. It's a project most Democrats said was harmful to the environment. Republicans and the handful of Democratic crossovers argued it was necessary infrastructure to ensure safe evacuation routes.
"When Janet Cruz speaks, people listen. She is a warrior and those who have underestimated her have consistently come up short. No one works harder or carries more passion in their heart for making Tampa Bay a better place than Senator Cruz," said long-time political ally Christina Barker, who serves as vice president of Community Partnerships and Policy at Vinik Family Office.
Joe Henderson's take: As the only Democrat to flip a state Senate seat, Cruz has a platform and has it use it to become a leading voice on gun control, against arming teachers, and other progressive issues. She is unafraid to speak her mind.
Follow the entire list here, on Facebook, and on Twitter with #Top25InTB.