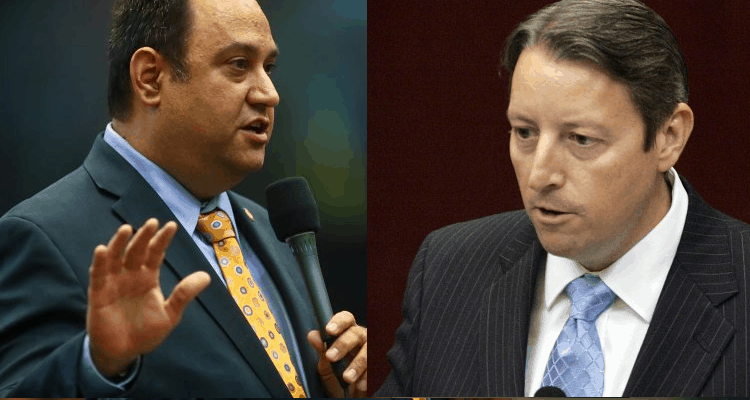 Senate president latest high-profile leader to back Estero Republican.
Senate President Bill Galvano wants state Rep. Ray Rodrigues to move into the upper chamber: The Bradenton Republican endorsed Rodrigues' bid for Senate District 27.
"Ray Rodrigues is a proven warrior for the hardworking people of Southwest Florida and is going to be a tremendous asset to the next generation of leaders in the Florida Senate," Galvano said.
"Opportunities for students, conservation of our environment and gains in the economy are examples of Ray's steadfast leadership and ability to get things done for the people of our great state."
Rodrigues remains unopposed in his bid for the open seat. The Estero Republican looks to succeed state Sen. Lizbeth Benacquisto, who cannot run again because of term limits.
He has quickly amassed support from leaders in the Senate.
Galvano follows Senate colleagues like Wilton Simpson, a Trilby Republican expected to lead the chamber starting in 2021. Sens. Kathleen Passidomo and Travis Hutson, the Republican senators vying for Senate President in 2023, also have backed Rodrigues.
In May, Rodrigues also heralded the endorsements of the mayors for every Lee County municipality.
He's also got the backing of nearly every member of the Southwest Florida Legislative Delegation. That includes Benacquisto.
Importantly, it also includes state Rep. Dane Eagle, a Cape Coral Republican. Many expected Eagle to run for the seat. Instead, he backed Rodrigues out of the gate.
The other state Representative whose district overlaps much of Senate District 27, Heather Fitzenhagen, has already announced she won't run for Senate in 2020.
Rodrigues made particular note of Galvano's support.
While Galvano will leave the Senate following the 2020 elections, he kept the chamber in Republican control in 2018 in the face of national Democratic headwinds.
As Rodrigues championed banner conservative issues in the House this year, Galvano helped push difficult issues forward in a more closely divided Senate.
"While at the helm, President Galvano has fought for the shared conservative values of Southwest Florida and I couldn't be more honored to have his support," Rodrigues said.
"I am traveling the district and talking with folks every day to hear their concerns, share my record and earn their support."