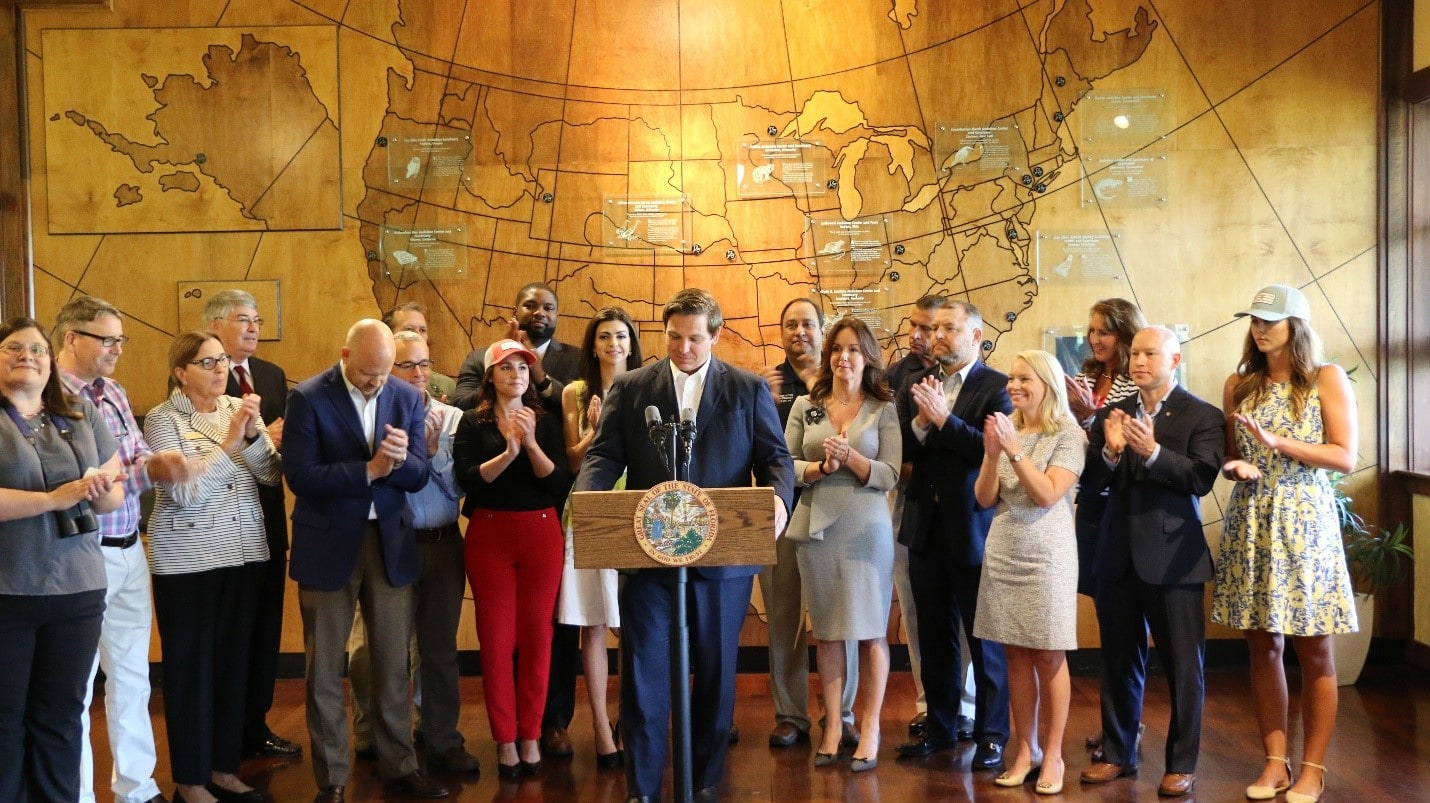 Event took place near where Governor announced water quality priorities
Gov. Ron DeSantis stopped by an Audubon reserve to tout environmental spending in this year's budget.
The Governor visited the Corkscrew Swamp Sanctuary in Naples for a ceremonial budget signing event. The legislation was already signed last week.
"The signing of the Bold Vision for a Brighter Future budget marked a new day for Florida, one where our environment is the priority," DeSantis said.
"I thank the Florida Legislature for their strong support and for exceeding my request of $625 million in funding, including more than $400 million for our Everglades – the highest amount ever. Our water and natural resources are so important to so many, it was time we put forth the necessary investments to protect them."
 The Naples site wasn't far from the Bonita Springs location where DeSantis issued an executive order calling for water quality spending. The new Governor on his second day in office called for a $2.5 billion investment in environmental efforts during his first four years.
The Governor's Office released highlights from the new budget, including $400 million for Everglades restoration.
State Rep. Dane Eagle, a Cape Coral Republican, attended the ceremony. He has celebrated the Everglades funding as one of the top victories for the region this year.
DeSantis also noted $40 million in state contributions to elevate a portion of the Tamiami Trail to better water flow. That comes on top of $60 million from the federal government.
Southwest Florida leaders especially welcomed $25 million for combatting blue-green algae discharges and red tide blooms.
An additional $50 million will go toward reducing nutrient pollution into water bodies.
The budget also includes $100 for spring protection and restoration. There will also be $40 million set aside for alternative water supply grants.
"Under the leadership of Governor DeSantis, the Florida Legislature passed the largest environmental budget in Florida's history," said state Sen. Rob Bradley, a Fleming Island Republican and the Senate Appropriations Chair.
"I'm proud of the strides my colleagues and I have been able to achieve by working side-by-side with Governor DeSantis for Florida's environment. This historic investment includes more than $417 million for Everglades restoration and $25 million specifically for combatting harmful algal blooms through research, innovative technologies and remediation."
State Rep. Travis Cummings, the House Appropriations Chair, also celebrated the budget.
"With the signing of the largest environmental budget in Florida's history, Governor DeSantis has made it clear that the state's environment is a top priority," he said.
"I am proud of the work my colleagues in the Florida Legislature accomplished this last session to ensure that our state's precious natural resources will be protected for generations to come."
Department of Environmental Protection Secretary Noah Valenstein said the budget would allow his agency to act proactively to aid Florida environmental resources.
"This is a hallmark moment for Florida," Valenstein said. "The Governor's leadership and support of the Florida Legislature have resulted in a historic budget that will accelerate Everglades restoration, improve water quality, enhance water supplies, further coastal resiliency efforts, and restore our beaches."