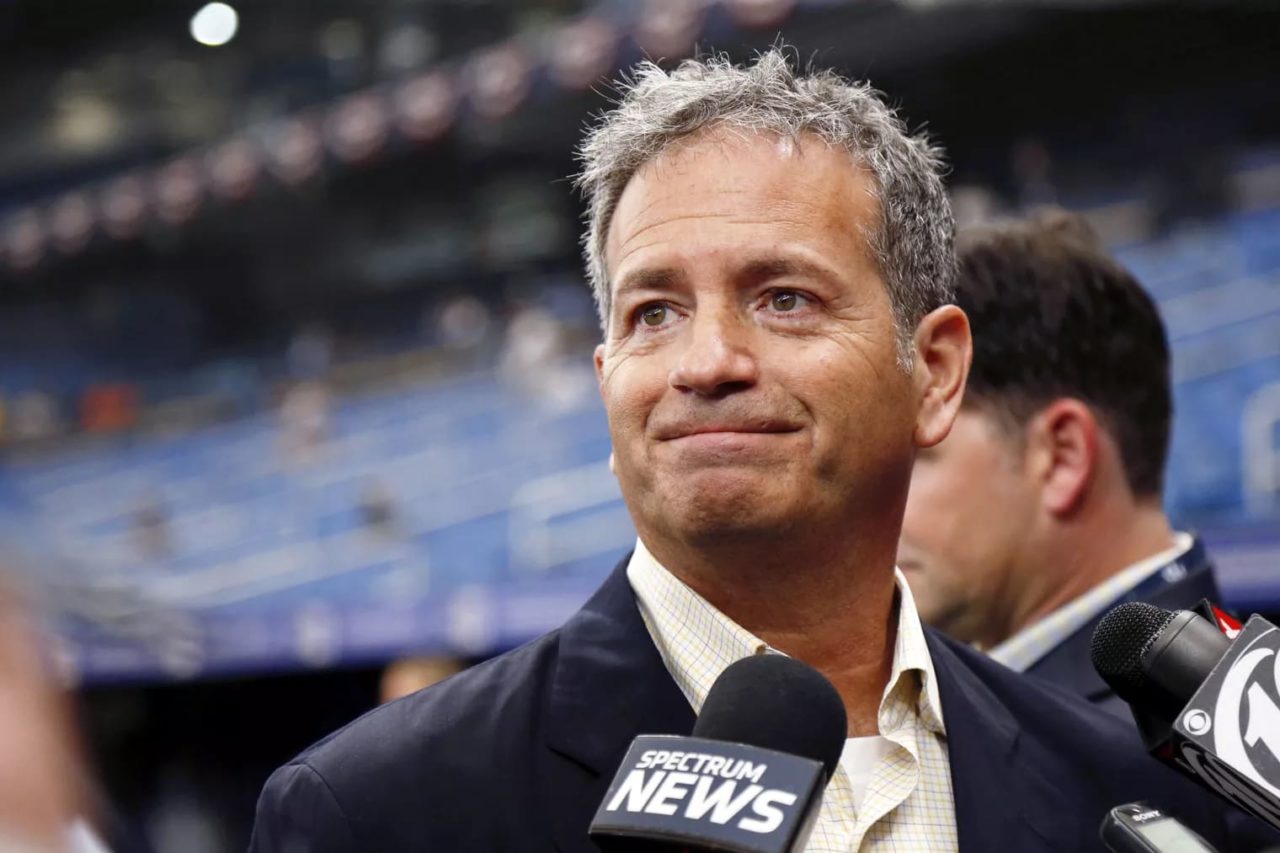 Five takeaways from what Sternberg detailed in the Rays' 45-minute press conference.
Stu Sternberg rolled out his "sister-city" idea Tuesday afternoon, pitching that the Rays split their 81-game schedule between new, open-aired stadiums in Tampa Bay and Montreal, possibly as soon as 2024.
"We are asking for people to keep an open mind and join us on this exploration," Sternberg said from the atrium of St. Pete's Dali Museum with the glistening waters of Tampa Bay behind him.
"We certainly don't have all the answers …(but) today begins a conversation, an exploration, and a collaboration."
Here are five takeaways from what Sternberg detailed in the Rays' 45-minute press conference:
DID STERNBERG JUST ADMIT TO VIOLATING HIS CONTRACT WITH ST. PETE?
Several Canadian journalists made the trip down to Tampa Bay, curious about the role MLB-to-Montreal booster Stephen Bronfman would play in the Rays' proposed new venture.
"Stephen had asked us about relocation (years ago) and I immediately shot that down," Sternberg said.  "He talked about if the team would potentially be for sale; (that) didn't go any further than about 12 seconds past that as well."
But Sternberg said the two men "maintained a dialogue" because Bronfman was talking to other MLB owners about expansion.
"At some point, this idea of sharing (the Rays) came up," Sternberg continued, saying he didn't remember exactly when they first discussed the idea, but it was "a couple of years ago."
If Sternberg has already discussed playing home games in Montreal prior to 2027, it would be a violation of his contract with St. Petersburg, which requires the Rays to obtain specific permission from the city to have any sort of discussion about playing home games outside of Tropicana Field.
Mayor Rick Kriseman's office apparently agreed, dispatching its city attorney to review the video of the press conference, specifically looking to see if Sternberg violated his contract with the city or if any Montreal parties committed tortious interference by trying to lure the team out of its contractual obligations.
According to mayoral spokesperson Ben Kirby: "The City Attorney's office has been in contact with the general counsel for the Tampa Bay Rays and received assurances that the Rays will not commence exploration of the shared city concept, or conduct any other activities related to a pre-2028 future stadium site, without an agreement with the City of St. Petersburg. The Rays' general counsel also confirmed that all conversations related to Montreal were limited to the time period after expiration of the use agreement."
MAYBE STU IS SERIOUS ABOUT THIS WORKING … AT AL LANG
Sternberg took an early shot at his critics, saying "this is not a page out of a playbook to gain leverage," while suggesting the unprecedented sister-city arrangement was credible. "We all can — and — do find problems in new things, especially when listening to the blaring voice of social media these days."
So, despite Sternberg's lack of clarity on many logistical questions, it was clear from some of his responses he has thought about exactly where the Rays could play open-aired games the first half of the MLB season: Al Lang Stadium.
As Florida Politics wrote last week, Sternberg has always loved the idea of playing baseball along St. Pete's waterfront. That's the reason Sternberg chose the Dali Museum for his Tuesday press conference.
And, unlike his proposed 2008 sail stadium idea, Sternberg wouldn't necessarily need voter approval to get major stadium construction done this time. He purchased the Tampa Bay Rowdies soccer club, who received voter approval in 2017 to assume long-term control of Al Lang Stadium.
Sternberg also had a message for critics who say the team wouldn't draw any better for 40 games than it does for 81, suggesting a reduced supply of games would help pack the stands early in the season.
HOW WOULD MONEY WORK?
Sternberg said he had no idea how two regions would each afford a new ballpark, and he didn't offer any contributions himself.
Nor did Sternberg specify a preference between St. Petersburg and Tampa for the site of a new ballpark, but it isn't hard to figure out his preference: Pinellas County, where bed tax revenues are robust and available.
The Rays already have rights to some redevelopment revenues derived from the 85 prime downtown acres underneath Tropicana Field and its parking lots, and Kriseman has also suggested general revenue dollars could be on the table if the team were to stay in the city long-term (albeit, prior to the split-season pitch).
As for the bed tax, Pinellas' beaches keep the money pouring into tourist tax coffers, whereas Hillsborough County is largely tapped out, paying for three other stadiums already.
Sternberg didn't say how much a new stadium would cost him — or taxpayers — but it's safe to say a smaller, part-time, open-aired stadium would be far lower than the $900 million stadium pitched in Ybor.
We'll find out if he played this hand well — hit Tampa Bay with sticker shock in Ybor, then settle for something a lot more practical later?
WHAT EXACTLY IS STERNBERG ASKING FOR?
The Rays opened their press conference with nine minutes of accomplishments they wanted to make sure everyone in Tampa Bay was aware of: from actions in the community to progressive policies.
It was clear Sternberg was asking the region to forget any ill-will that may have built up in the past.
Then, he asked for the region to simply have an open-mind.
"What happens next, I do not know," Sternberg said. "But even though is seems like a long-shot concept and a cockamamie idea … we really feel great about it and believe it can be done."
That was the public ask. But read between the lines, and Sternberg was also clearly asking for support for the taxpayer subsidies to make it happen … as well as an enormous request from St. Petersburg: permission to talk to Montreal about playing games there prior to 2027.
Mayor Kriseman just responded to the press conference, saying the city would not help fund a stadium for a part-time team and the Rays need to reestablish a "good working relationship" with his office, but you can bet permission to discuss relocating home games to Montreal won't be part of that anytime soon.
THE ECONOMIC IMPACT OF LOSING 41 HOME GAMES A YEAR
Sternberg, who spent years talking about how valuable the Rays were to the region, talked repeatedly about the economic engine the sister-city arrangement would create for the region.
In short, he suggested losing 41 home games a year — while also paying for a new Rays stadium — would pay for itself, as new Canadian tourists would come down to see their "home" team early in the season.
Back-of-the-napkin math on this suggests St. Pete would need tens — or even hundreds — of thousands of new Canadian tourists to make this work, which seems somewhat ridiculous, given that no Montreal fan is going to want to watch their team in Florida's June humidity when they could wait three weeks and watch them up north in July.
You could also simply count all the empty seats at Blue Jays' spring training games in Dunedin to know hundreds of thousands of fans aren't coming down to watch their home team play baseball in Florida.
Could a sister-city arrangement create new economic opportunities for Tampa Bay? Absolutely. But enough to pay for a new stadium? Of course not.