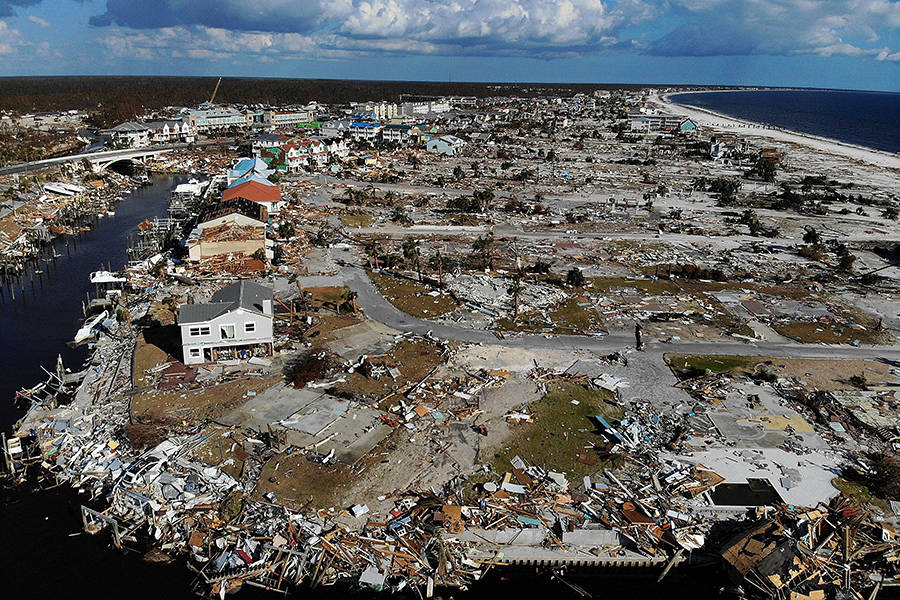 Nearly half of respondents thought the panhandle had already recovered.
Public support for Hurricane Michael recovery efforts in the Florida Panhandle is lacking, according to a REBUILD 850 survey released Tuesday.
The results showed nearly half of respondents would do nothing to help people affected by the hurricane and nearly 75 percent said they would not consider donating money to help with relief efforts. 
The lack of public support might be because Floridians mistakenly think life has gone back to normal in the panhandle after the hurricane leveled parts of the coast. 
As a new hurricane season ramps up, residents in the panhandle are still trying to recover from last year's Category 5 storm. Sachs media group  conducted the survey of 1,000 Floridians for the National Hurricane Survival Initiative and Rebuild 850. The survey was meant to gauge statewide awareness of the storm and its continued effects. 
"These panhandle residents need the support of our entire state," said Allan Bense, REBUILD 850 co-chair and former Speaker of the House. "These communities are suffering. We're all Floridians, and we need to come together. We are urging all Floridians to lend a hand to our most vulnerable citizens."
The group is trying to raise awareness for the fact that thousands of panhandle residents are still struggling with homelessness, unemployment, and mental health issues. The survey showed more than one in four Floridians think homelessness and unemployment are no longer issues following the storm, and more than three in four believe that mental health, food insecurity, and the threat of wildfires are no longer concerns.
News reports earlier this month highlighted an emerging mental health crisis in the panhandle and estimates suggest there are still about 72 million tons of forest debris from the storm creating a wildfire threat. 
"Many Panhandle residents feel like they've been forgotten by their state," said former Congresswoman Gwen Graham. "These survey results are incredibly frustrating. Families are camped out in tents and children are struggling with anxiety, and Floridians in other areas of the state are unaware."
The report found the lowest support for panhandle recovery efforts in South Florida. Nearly half of those respondents didn't know which hurricane had hit the panhandle and fewer than half understood the severity of Hurricane Michael. 
"While we're thankful for the federal and state funding the Panhandle relief and coverage effort has received, we need to come together as Floridians to do even more," said former House Speaker Will Weatherford. "This was the second most powerful storm to ever hit the mainland United States, and it will continue to take more time and money to recover and rebuild." 
The REBUILD 850 initiative launched in November to advocate on behalf of hurricane victims still trying to rebuild their lives. Bense, Weatherford and Graham co-chair the group. It seeks donations from private citizens and companies to assist with efforts.