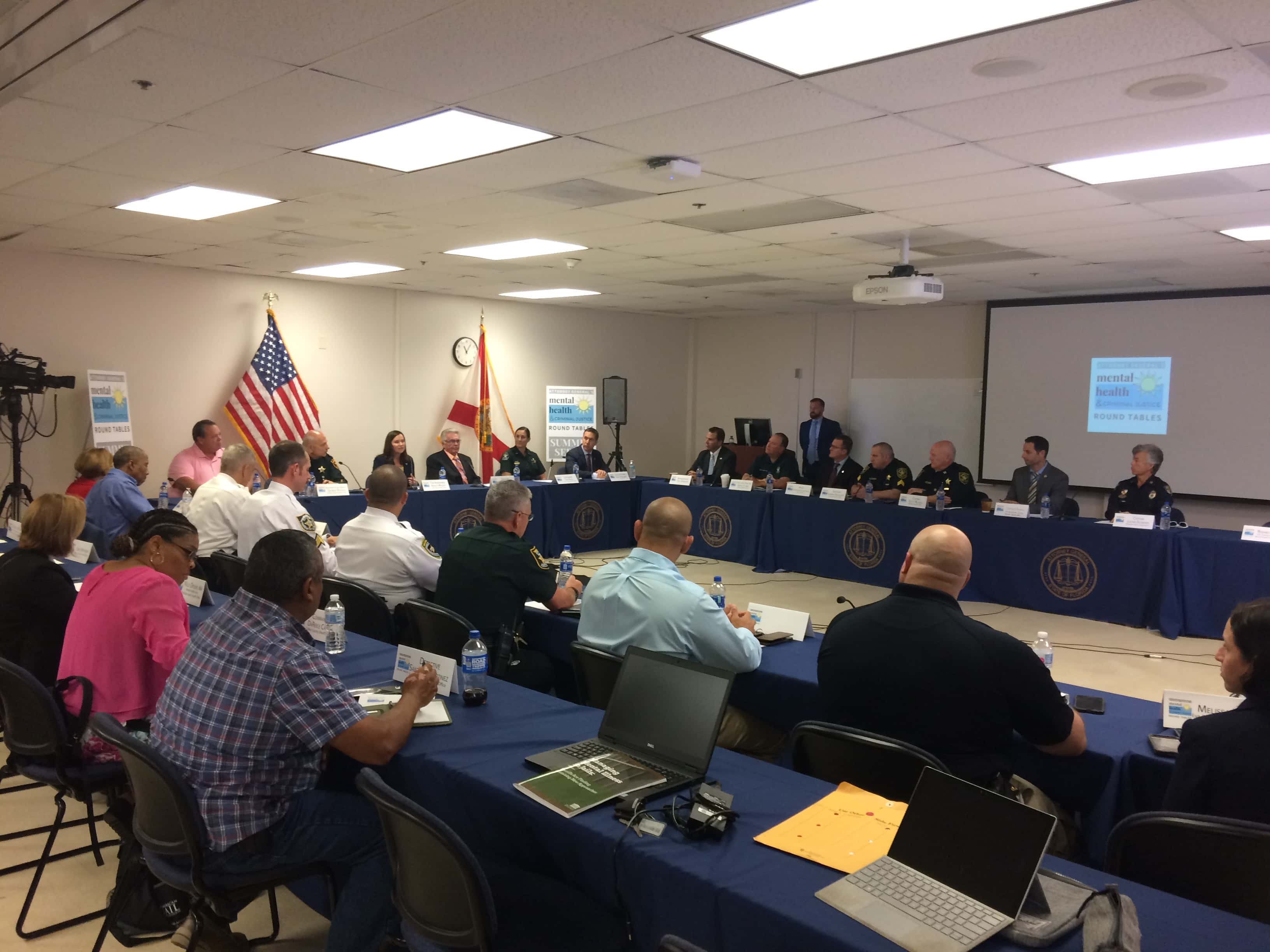 "It is necessary that we are successful statewide."
Attorney General Ashley Moody traveled to West Palm Beach Wednesday to lead the second in a series of roundtables focused on the importance of addressing mental health issues in the criminal justice system.
Wednesday's meeting dealt with pre-arrest interactions between law enforcement officials and members of the community dealing with mental illness or substance abuse issues.
"We ask law enforcement, and some who signed up and never knew that would be part of their job, to make very critical and time-sensitive decisions on what to do in these very unique situations," Moody said to lead off the meeting.
"And sometimes we ask them to do that with very little training or very little background in dealing with mental health."
Several elected officials were on hand to discuss how to ensure those interactions go smoothly. State Sens. Gayle Harrell and Darryl Rouson, state Rep. Toby Overdorf and Palm Beach State Attorney Dave Aronberg were among those officials.
Joining them were representatives from law enforcement agencies across the state, including individuals from sheriff's offices in Broward, Pinellas and Palm Beach counties.
Moody laid out some numbers to highlight the need for law enforcement agencies to be prepared for these interactions.
"We know statistically that those with a mental illness are more likely to encounter a law enforcement officer than they are a medical provider," Moody said.
"And that is why we see about two million people that need to be dealt with in the medical arena end up in jails nationwide every year."
The Attorney General stressed her goal is not to keep dangerous people out of jail.
"We are merely trying to cut down on crime and get people that are mentally ill … that are not a danger, out of our jails."
Among the speakers Wednesday was Sgt. Skip Reasoner of the Palm Beach County Sheriff's Office. Reasoner is also a licensed clinician and has set up units to respond to calls that could require mental health expertise.
Reasoner said if the individual is known to the agency, his deputies make sure to research any background information to help deal with the situation. In addition, all Palm Beach deputies undergo 40 hours of training to help handle situations involving someone dealing with mental illness or substance abuse.
"We would like not to make that arrest if we don't have to," Reasoner said, pointing to other actions, such as the Baker Act, that can be utilized by law enforcement.
Lt. Toni Roach of the Pasco County Sheriff's Office detailed some of her agency's efforts regarding those suffering from addiction.
"In 2017, we required all of our patrol response to carry Narcan," Roach said. The drug is used to reverse opioid overdoses and prevent death.
Roach said deaths from overdoses have dropped significantly, but that the overdose rate has not yet gone down due to the continued severity of the opioid epidemic.
Roach also detailed the county's statistics with regard to calls dealing with mental health-related issues.
She says the Pasco County Sheriff's Office received nearly 175,000 calls for service in 2018. Just over 19,000 of those calls, or 11 percent, were prompted by mental health concerns.
Roach cited data showing the national average for calls for service related to mental health is 7 to 10 percent, putting Pasco above that average.
Moody also noted these individuals can often cross state lines, and argued it's not good enough for just a handful of agencies to improve their ability to respond to these calls.
"In order to be successful in one county, it is necessary that we are successful statewide."
The first roundtable in the series dealt with mental health among law enforcement officers. The next roundtable will take place in Panama City on July 10 and will deal with addressing mental health post-arrest.
The final meeting will occur in August and will deal with mental health issues in the court system.