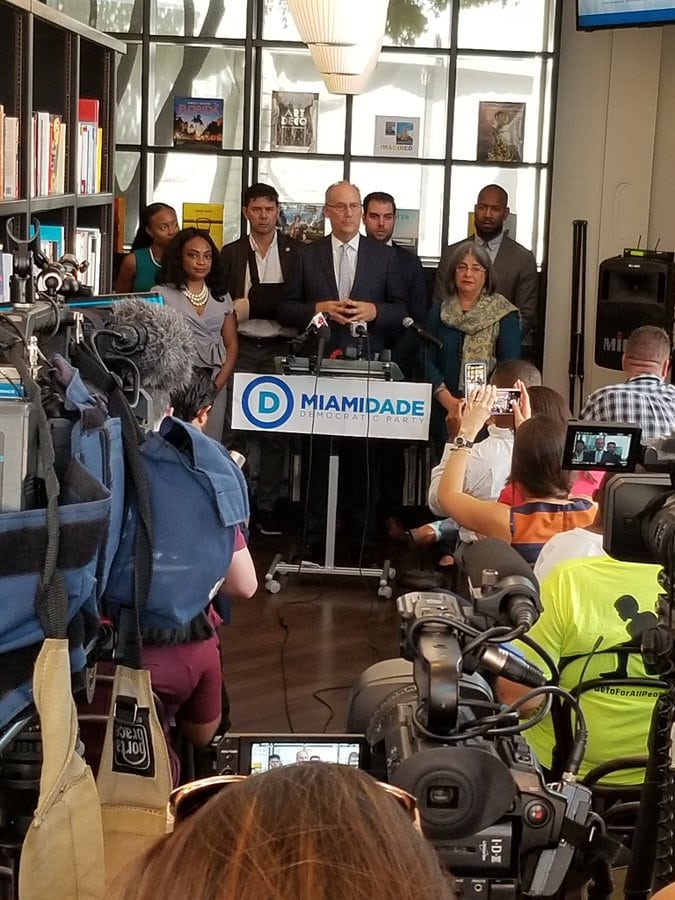 Party leaders label Donald Trump policies failed, racist.
Miami-Dade Democrats say presidential candidates must draw a contrast with Republicans on gun control, immigration and especially climate change.
At a press conference at Books and Books, just outside the venue for the first presidential primary debate, elected officials and Miami activists slammed President Donald Trump's record on all three fronts.
"Our children deserve better. Our country deserves better," said state Rep. Dotie Joseph, a North Miami Democrat.
Miami Beach Mayor Dan Gelber stressed the need to address sea level rise, calling the Florida metropolis "ground zero" for the crisis.
"We cannot abdicate our responsibility to address the greatest environmental challenge in generations," he said.
At a local level, Gelber said Miami leaders are raising roads and reforming stormwater systems. But he said the area has enjoyed no federal help because Republican leadership cares more about fossil fuel interests.
"These are surmountable challenges if you have political will and desire to address them," Gelber said.
State Sen. Annette Taddeo called on candidates to address humane immigration policy. She criticized a so-called sanctuary city ban just signed into law by Gov. Ron DeSantis.
Taddeo also slighted Trump for voicing support for the Venezuelan people fleeing the regime of Nicolas Maduro but cracking down on asylum policies.
She contrasted that with what she considered a proactive approach by President Barack Obama.
"We actually controlled the border," she said. "We put more people on our border than ever seen, and put more resources there. But we also invested money in Central American and South American countries."
She asserted Trump allowed the crisis on the Mexican border to escalate for political reasons.
"The crisis is what he needs to bring out his racist base," she said.
A failure to engage with Latin America appropriately, she said, has led to a border crisis.
Of course, all this messaging means little if Democrats can't turn out voters. Miami-Dade party leaders, representing the greatest concentration of Democrats in Florida, acknowledged a need to mobilize better than in 2016 or 2018.
Miami-Dade Democratic Party Chair Steve Simeonidis said there will be an aggressive focus on turning out voters during next years' elections. In particular, there will be efforts to activate Hispanic voters troubled by Trump's policies.
"This is the most important county in the most important swing state," he said.
Joseph expressed optimism that Florida could turn blue, noting Democrats continue to hold an edge in voter registration regardless of GOP success at the ballot box.
"Florida is a blue state," she said. "It just happened to be a state tricked into voting purple and red."
If Democrats recognize the value of their vote in advancing the state and winning back the White House, the party can win, she said.
"We are literally fighting for democracy now," she said. "If we don't practice that right to vote, it will be eroded."