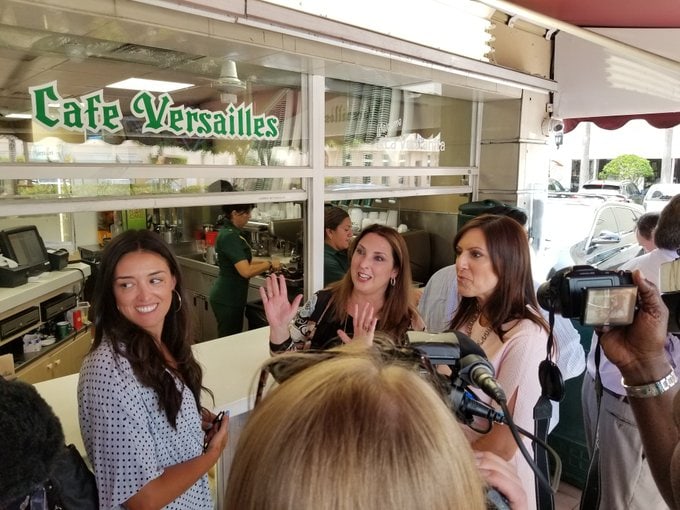 RNC Chair, Lt. Governor issue appeal to Latino voters.
Democratic debates on Wednesday drew Republican leaders into Miami as well, ready to decry the policies of the left as socialism.
Republican National Committee Chair Ronna McDaniel and Lt. Gov. Jeanette Nuñez chose a Cuban café as the venue for slamming Democrats.
From the Café Versailles, both stressed Cubans in South Florida know the impact of government takeover on every aspect of life.
"We are highlighting the left leaning toward socialism," McDaniel said. "No community understands that better than the Cuban family here in Miami … It's not a buzzword for them. It's something that's frightening."
The Cubano population in South Florida remains one of the few reliably Republican Hispanic voting blocs in the country. Much of that stems from the community that fled from Fidel Castro's government.
"We don't want the likes of Bernie Sanders and those failed policies," said Nuñez.
Sanders, a Vermont U.S. senator and self-described Democratic socialist, was the Democratic presidential candidate most commonly named by the GOP leaders.
But McDaniel suggested a zeal for hard-left policies has pulled the entire field of Democrats toward socialist goals.
"We've seen Joe Biden say he has the most progressive record," she said. "We have seen them all lurching further left."
A St. Pete Polls survey this week shows Biden dominating the field in Florida and Sanders in fourth place.
Policies like Medicare for All and universal higher education will be seen by voters with knowledge of Castro-style communism as problematic, McDaniel said.
"We'll see what happens in the debate," she said. "But we have seen the Democratic Party embrace a socialist takeover."
Meanwhile, the GOP leaders stressed that a booming economy in the U.S. allows more opportunity, especially for Latino families in South Florida and elsewhere.
"The Latino median income is as high as ever," Nuñez said. "We are not clinging to the false narrative of the other side."
The GOP presser took place less than an hour after Democrats across town slammed President Donald Trump for failing to address sea level rise.
But Romney suggested the GOP platform won't ignore climate change this year.
She declined to get ahead of Trump on laying out any agenda, praised the president for walking away from the Paris Agreement.
The United States must be a global leader on environmental issues, McDaniel said, but can't go it alone. Countries like China and India, which have booming populations, must come to the table as well.
Any solution must be addressed as a "global scale," she said: "We can't hamstring our economy when other countries aren't doing the same thing for the environment."