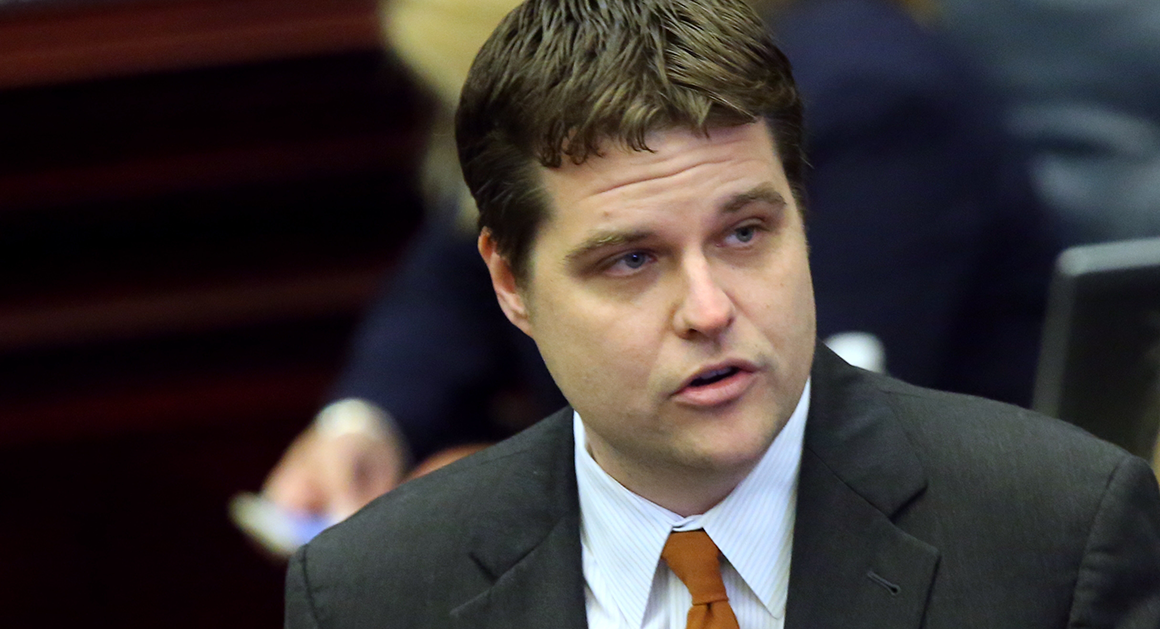 "People that behave this way should face the consequences before a court."
U.S. Rep. Matt Gaetz says he plans to pursue charges against the woman who reportedly tossed a partly filled beverage cup at the Congressman during a rally in early June.
"I had a circumstance just a few weeks ago where someone threw a drink at me leaving a town hall meeting," the Panhandle Republican told Sean Hannity of Fox News. (From various videos, it looks like a red-colored sports drink.)
"I am going to press charges."
Following the incident, police arrested Amanda Kondrat'yev, a Pensacola activist. In 2016, Kondrat'yev filed to run against Gaetz in Florida's 1st Congressional District, but eventually withdrew.
Gaetz argued by not pushing for criminal charges against Kondrat'yev, he'd be setting a bad precedent.
"If there are no consequences, then maybe it is me getting hit with a drink one time, but what if it's a member of my staff?" Gaetz asked.
"What if (next time), instead of a drink, it's acid or urine or something else like that?"
The trend known as "milkshaking" began in the U.K., where several politicians have been hit by that beverage courtesy of rowdy protesters.
The term has since expanded to cover other drinks being thrown at lawmakers.
The incident involving Gaetz appears to be the first time it's happened in the U.S.
Kondrat'yev allegedly threw the drink at Gaetz following a town hall at Brew-Ha-Ha restaurant in Pensacola. That exchange was picked up on video and posted to social media.
Matt Gaetz got milkshaked in Pensacola pic.twitter.com/yqz3bPgjw5

— jordan (@JordanUhl) June 1, 2019
"I think it's real important we send a message that we as conservatives have a right to our views, just like anyone else has a right to their views, and we're not backing down from anybody," Gaetz said on his decision to pursue charges.
"And people that behave this way should face the consequences before a court."